How Much Auntie Anne's Employees Really Make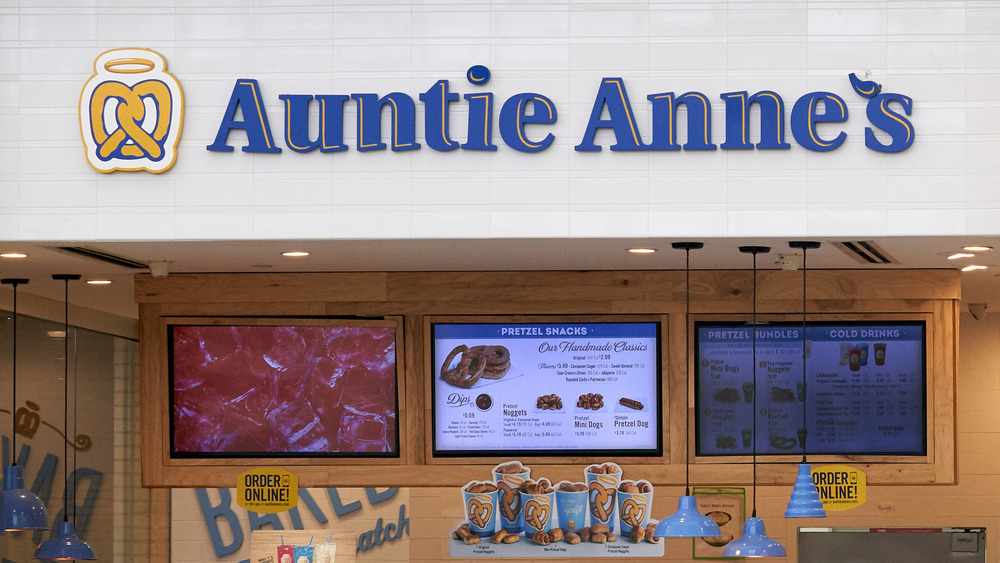 Bloomberg/Getty Images
When it comes to a trip to the mall, there's one snacking destination that's arguably even more exciting to visit than your favorite store: Auntie Anne's. Similar to the sweet scents from its sister company Cinnabon, the smell of fresh, buttery pretzels seem to hit you the second you step into the mall, nearly making you forget why you ventured out to the shopping center in the first place. 
According to the company's website, Auntie Anne's has been around since 1988, and opened its first location at a farmer's market in Pennsylvania. And despite over 30 years of foodies attempting to recreate its recipe at home, nobody seems to make Auntie Anne's pretzels as delicious as the employees standing behind the counter. That being said, you may find yourself working your way through a tub of pretzel nuggets, wondering just how well employees are compensated for crafting those delectable treats.
Auntie Anne's managers make less than $40,000 a year
Auntie Anne's employees seem to be split when it comes to their compensation from the pretzel-producing establishment, with Indeed reporting that just over half of its employees (51 percent to be exact) said that they were satisfied with the rate at which they got paid. One former team member noted that their pay was "good for a 16-year-old looking to make a quick buck," while another called the gig "stressful" with "low pay and too many rules." 
Per Indeed, crew members at Auntie Anne's make an average of $9.63 an hour, which could be considered on the lower side given the duties that the position entails. For example, one Redditor revealed that all the pretzels have to be replaced every 30 minutes. Meanwhile, shift leaders make $10.30 an hour on average, meaning those promoted from crew member to shift leader see a pay raise of less than $1 an hour. Assistant managers can expect to make $12.72 each hour of work, while general managers rake in $39,702 a year. Overall, the pay seems a little bleak but hey — at least there's the promise of free pretzels, according to Reddit.