These Big Changes Are Coming To Taco Bell
Taci Bell
Chugging along to their goal of opening their 10,000th restaurant before this decade's out, Taco Bell has announced that they will integrate two concepts into both pre-existing outlets and those yet to come.
The first of these adjustments, according to a press release shared with Mashed, is the drive-thru Cantina, the first of which has opened in Danville, California. It combines the urban sensibility of the Cantina with the recognition that during the pandemic, drive-thrus have proven a lifeline to the industry. Once conditions are better, the Cantina will open a dine-in bar as well as "an outdoor firepit and game area."
Altering the Cantina concept so that it includes a drive-thru makes sense in the current environment and reflects just how much things have changed since Taco Bell introduced it. As Taco Bell Chief Executive Brian Niccol said in a 2015 statement concerning the Cantina's debut, "Today's consumers are living in more urban settings and our new restaurants cater to their lifestyle in adapting our traditional restaurant concept to fit their modern needs" (via L.A. Biz). The point of the Cantina was to address their potential customer base among pedestrians. 
In the statement that Mashed received, SG Ellison, President of Diversified Restaurant Group (the Taco Bell franchisee which collaborated on the drive-thru Cantina) expressed confidence that the Danville Cantina will prove to be not just a location but a "destination" like the "flagship Taco Bell Cantina in Las Vegas."
Franchisees are pushing for innovation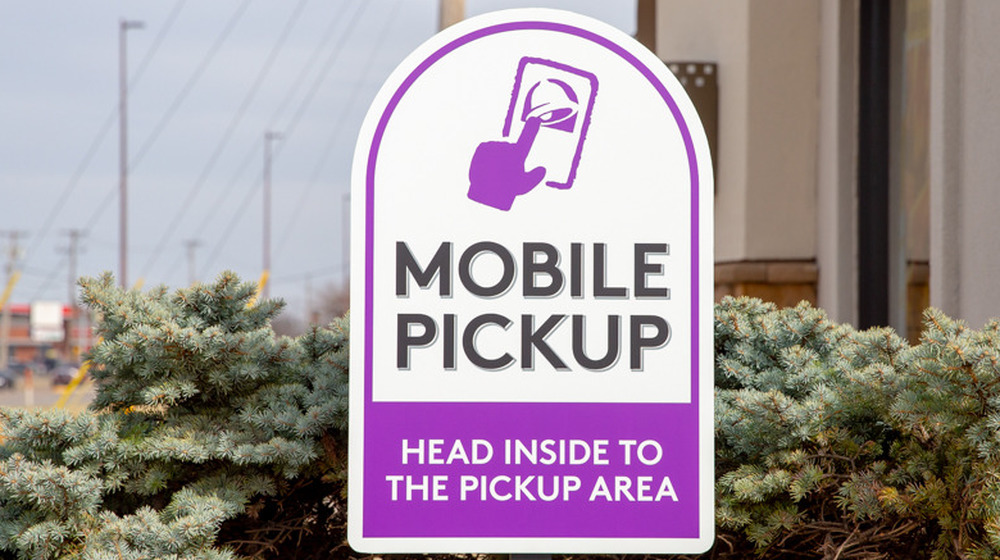 Taco Bell
The clearer message concerning Taco Bell's drive-thru expansion, however, is in their Go Mobile concept. The Go Mobile concept minimizes the physical space of the store in favor of dual drive-thru lanes. As QSR explained during the concepts design phase in August 2020, Taco Bell will have employees assume the role of "bellhop." Bellhops will carry tablets with which customers can make orders themselves, thus streamlining the experience.
Another franchisee in Minnesota, however, has pushed the drive-thru concept even further. "Our team has set out to creatively solve for that like no one else has done before," Lee Engler, Taco Bell franchisee and  CEO of Border Foods, said in the press release shared with Mashed. "And we're thrilled by positive early responses to our one-of-a-kind concept coming to Brooklyn Park, Minnesota." The concept, as described by The Star Tribune, will use four lanes, one for the drive-up-and-decide customers and three to facilitate app-based orders. Additionally, the restaurant will operate two kitchens, one for walk-in customers and one, again, for the pre-orders.
Highlighted in Taco Bell's announcement is the role that franchisees like Ellisonn and Engler play in pushing Taco Bell towards opening 10,000 successful restaurants. "Even amid the challenging pandemic," Mike Grams, Taco Bell's President and Global COO, enthusiastically said, "we are continuing to grow due in large part to the strength in our franchise partnerships as well as the flexible formats we offer."