This Is Alton Brown's Favorite Pan To Cook With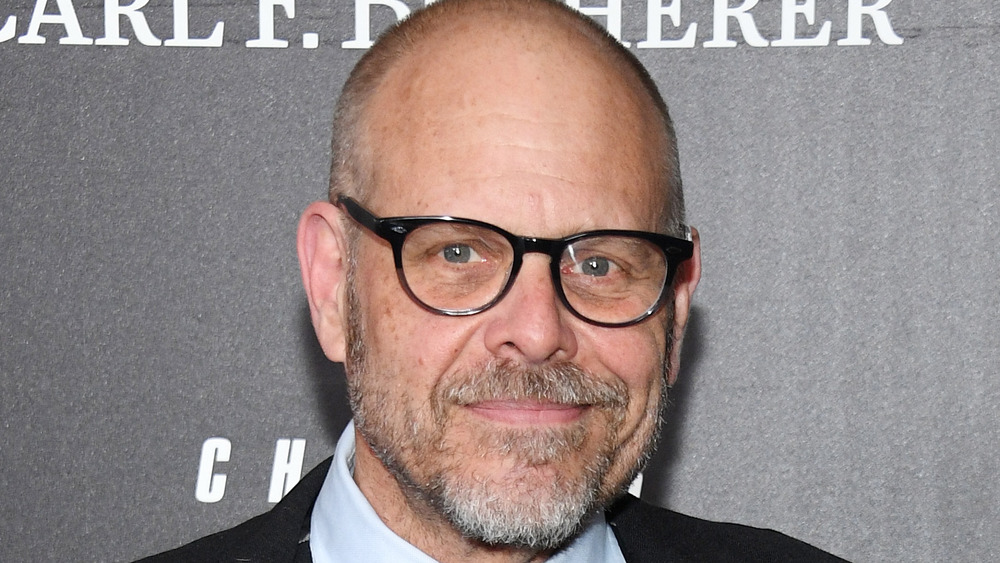 Dimitrios Kambouris/Getty Images
Alton Brown's website bio is shockingly sparse and simple for a chef with major accomplishments and such strong opinions. The ever-popular host of the Food Network show Good Eats is a lovable food "nerd" who's passionate about cooking (via Biography), though he says he has "never fetishized the food," which he mentioned in an interview with the Television Academy Foundation. "If the process is perfect, the result would take care of itself." And that is pretty much all you really need to know if you'd like to try your hand at guessing what Alton Brown's favorite pan to cook with might be.
Well, actually, there's a caveat. You'll never guess Alton's Brown's favorite pan to cook with on the basis of that hint unless you subscribe to the notion that there is nothing more perfect for cooking just about anything than a well-seasoned cast iron pan. Most people in this camp would admit that cast iron cookware guarantees a flawless cooking process, so it's no surprise that Brown adores these skillets, too.
Alton Brown's favorite pan to cook with won't surprise his fans
"If I owned just one single pan, this would probably be it," Alton Brown, posted on Instagram, along with a photo of what appears to be a Lodge brand 15-inch long-handled cast iron skillet. He also added the hashtags "#notsponsored" and #justafan," clarifying that his message of love regarding this sturdy all-purpose kitchen workhorse is the real deal and not merely a paid-for promotion. 
But if you've been following Brown's kitchen escapades for a while, you've probably already had an inkling that Brown is a major fan of cast iron cookware. For one thing, he's written about how to care for cast iron cookware on his website. For another, he's reverse-seared a rib-eye steak with a cast iron skillet and demonstrated how to season it (the skillet) on his show, Good Eats (via IMDb). What you may not know is what it takes to wield the pan that Brown is pictured with in this Instagram post — in terms of physical strength alone.
The 15-inch long-handled cast iron skillet is the largest and heaviest skillet that Lodge makes (via Lodge). According to the brand, it weighs a little over 12 pounds before you've even begun cooking. If you've ever held one, the only thing that might surprise you about it is that it doesn't weigh more. So if you're not making cornbread or searing a steak in it, why not repurpose it as a kettlebell alternative?