Aldi Fans Are In Love With These Land O'Lakes Flavored Butters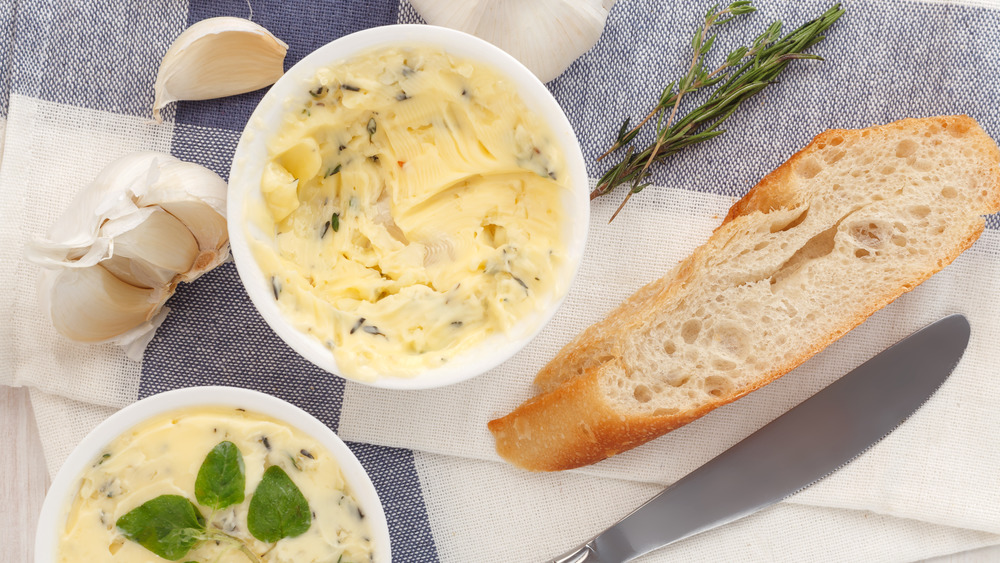 Shutterstock
Aldi Finds just revealed at least one great buy from the budget grocery store this week, and it seems that social media has also taken notice. One Aldi fan account on Instagram, @aldi.mademedoit, spotted the new Land O'Lakes flavored butters and shared it with their followers. Within a day, the new butters had received more than 1,550 likes. Naturally, with so many people responding to the product, other Aldi fans need to know what the stir is all about.
According to Aldi, the new Land O'Lakes flavored butters come in three flavors and are just $2.25 per 6.5-ounce container. The three flavors include honey, garlic and herb, and cinnamon sugar. The caption of @aldimademedoit's post read, "There's no one butter than you @landolakesktchn. I was going to say a butter joke but, I didn't want you to spread it. I was so excited for @aldiusa to have these I bought all three flavors. Think of all the possibilities! How are you going to use yours and which are you grabbing?" And the possibilities are pretty endless with these amazing options. Needless to say, Aldi shoppers were right to be excited.
Here's how to use Aldi's Land O'Lakes flavored butters
The comments came pouring in too. One person wrote, "omg, I need all these in my life." Another comment read, "someone said the cinnamon sugar one is like the butter from Texas Roadhouse!!!" Someone else added, "ok I need all of these!" The sentiment was pretty consistent across the comments. Clearly people want to try them all. Another wrote, "I need ALL the butter!" Someone else said that they had already "grabbed two garlic herb butters." One more wrote, "which was your favorite? I was eyeing the garlic herb one for tilapia." Luckily, the company has some great ideas for how to use the different butter variations.
The butter brand has already written about all different kinds of butters you can make at home with their plain butter (via Land O'Lakes). While their recipes for baked potato butter, cranberry orange butter, and even pesto parmesan butter sound amazing, they're tips for how to use them can easily be translated to the pre-made flavored butters they're selling at Aldi. Try slathering the garlic and herb butter on any kind of potatoes or other veggies, on top of pasta, or smeared on toasted bread. The honey and cinnamon sugar varieties would be great on sweet breads or muffins or added to sweet and savory sandwiches. So pick up one of each and get creative with how you use them.