Homemade Bouillabaisse Recipe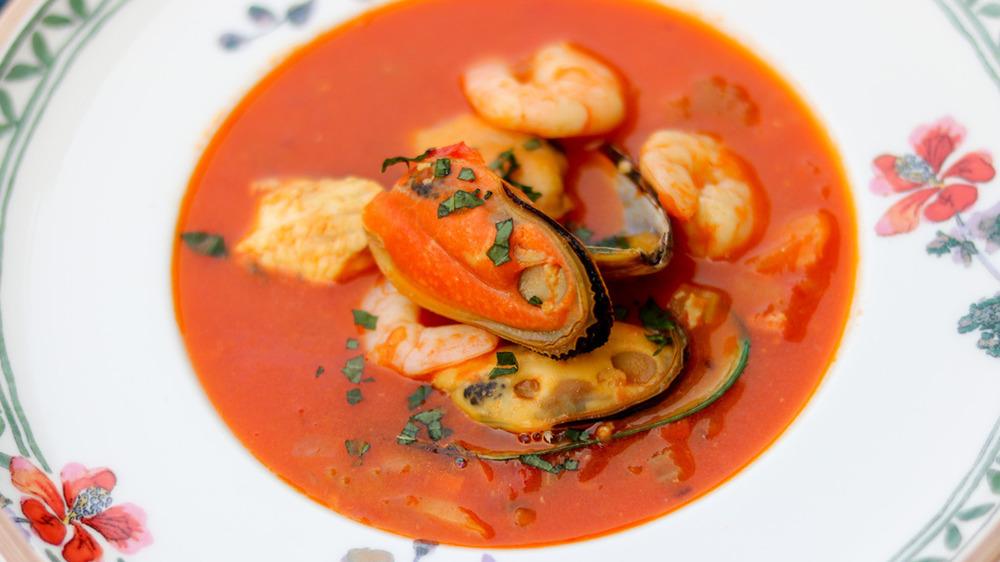 Tommy Leung/Mashed
This fancy-looking dish might look tough to pronounce, but you'll soon be singing the praises of bouillabaisse (boo-yuh-bays), a French seafood stew that's positively brimming with fresh fish and incredible flavors. If you love seafood, this is sure to be your new favorite recipe to prepare.
This tasty stew originated in Marseilles, France on the Mediterranean coast. There are plenty of bouillabaisse variations, but the bouillabaisse in Marseilles is known for its authenticity (via Britannica). Apparently, sailors from fishing boats created this dish by using the fish that wasn't sold and putting together a seafood stew with everything combined (via NPR).
This version from Tommy Leung, owner of the Gafell meal delivery kitchen, combines white fish, prawns, and mussels for a stew that's as lovely on the eyes as it is on the palate. And Leung has a secret ingredient that will push the flavor of this dish to the next level. A hint? It's definitely not French! You'll have to take a look at the ingredients and see for yourself.
Gather the ingredients for the bouillabaisse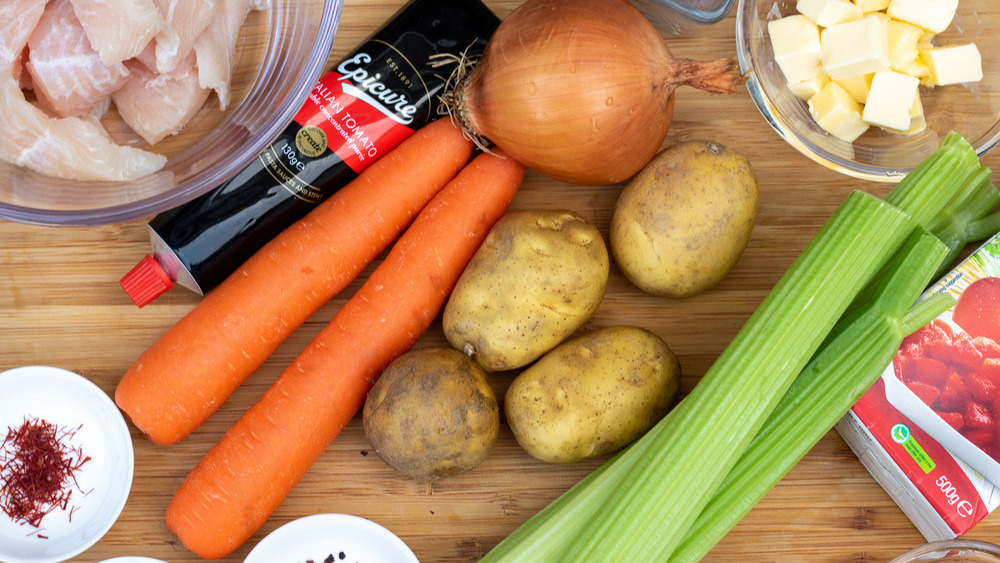 Tommy Leung/Mashed
It's time to assemble the ingredients to make this stew: 3 tablespoons of tomato paste, one can of chopped tomatoes, 16 fluid ounces of fish stock, ¼ cup of butter, 2 carrots, 1 onion, 3 stalks of celery, 3 small potatoes, 2 bay leaves, 1 tablespoon of fish sauce, a pinch of saffron, a pinch of chili flakes, and salt, to taste.
Saffron is one ingredient that you might not have on-hand — and some may balk when they see the price at the supermarket! But don't let that deter you from investing in a small jar to make this dish.
"Nothing compares or can replace saffron, to be honest. It's such a unique flavor and scent," says Leung. "Bouillabaisse is an extravagant dish with fresh seafood, fish, and saffron, so it's a dish for special occasions or celebrations!"
Gather the fish for the bouillabaisse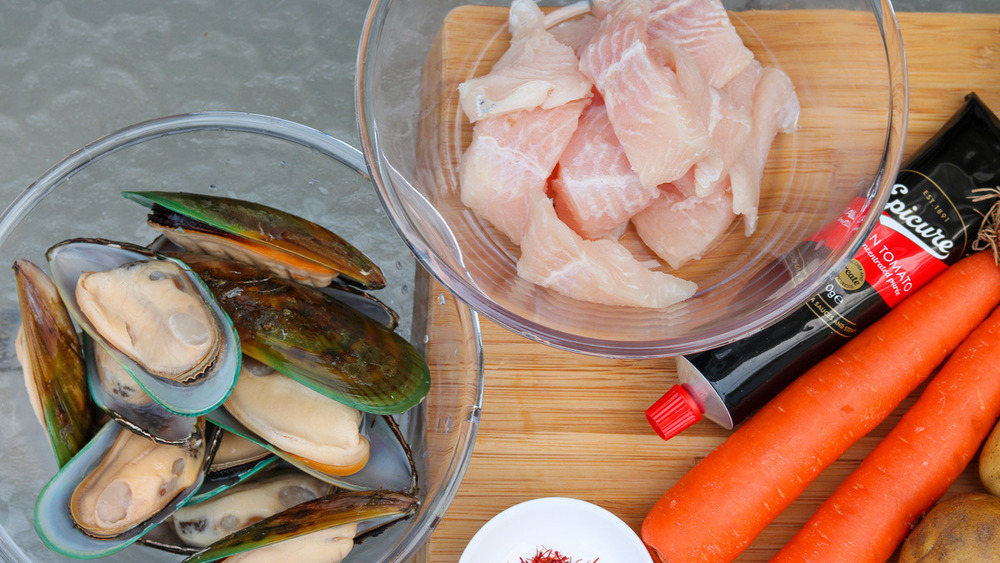 Tommy Leung/Mashed
Leung's bouillabaisse recipe calls for a combination of firm white fish, prawns, and mussels. But given its origin story, it's no surprise that pretty much any fish or seafood can join this delicious party!
"You can use any firm white fish or seafood that is available, including prawns, lobster, clams, or scallops," says Leung, noting that it's best to avoid fattier, richly flavored fish like salmon, tuna, or mackerel. Whatever you choose, just ensure that you've got the freshest seafood you can find, and be sure to rinse the shell fish, especially the clams, in several changes of water to remove any grit. Discard any that are already open before cooking, as they are likely dead and could make you sick.
Prepare the mirepoix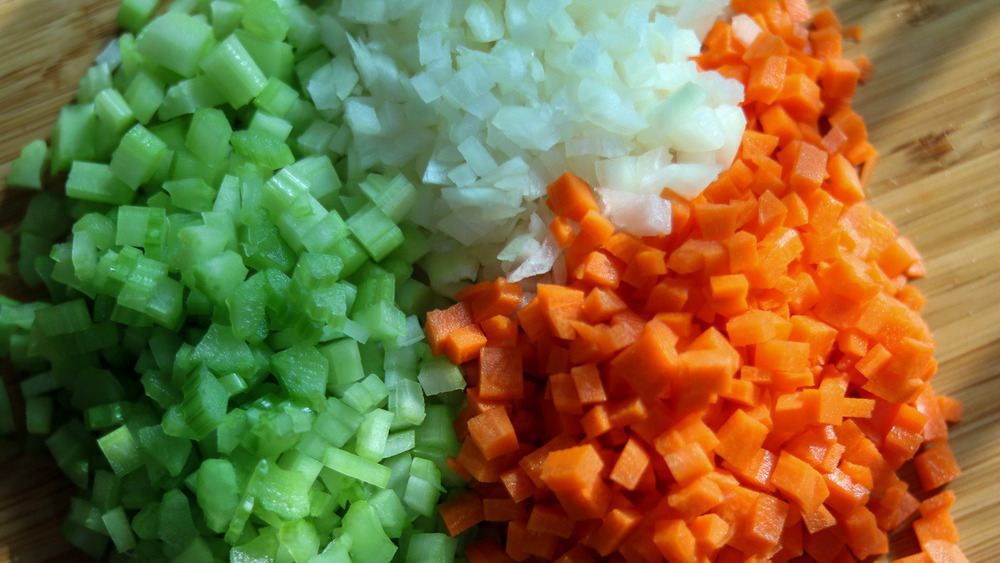 Tommy Leung/Mashed
As with many French soups and stews, bouillabaisse begins with an aromatic mirepoix, which is a combination of onion, carrot, and celery, all finely diced into small, even cubes. Take your time preparing your mirepoix: A perfect dice will cook through more evenly, which is essential for the base flavor of the soup.
Pro tip: This is a great opportunity to practice your knife skills for other recipes that require a nice, fine dice, like guacamole, salsa, or even homemade home fries!
Sauté the vegetables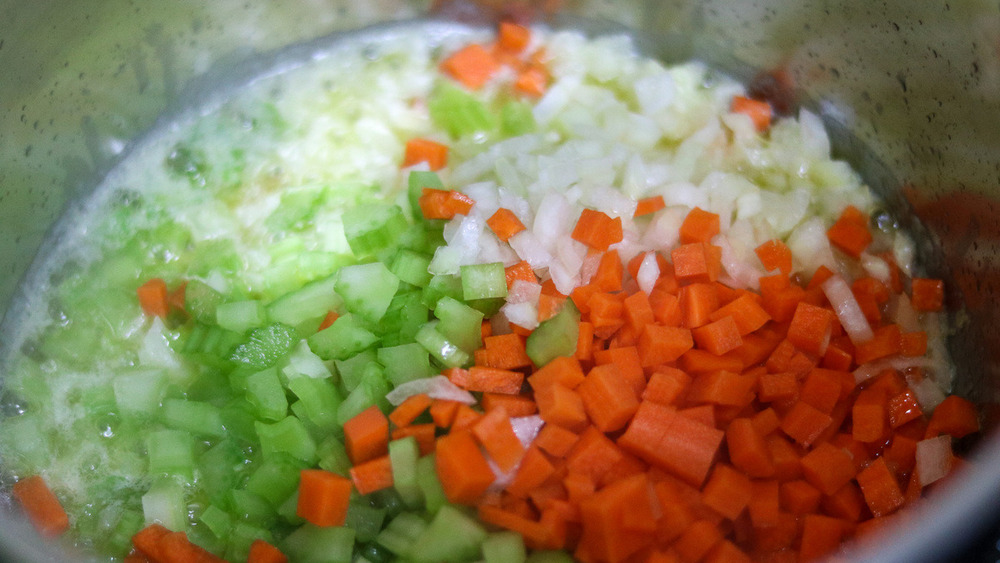 Tommy Leung/Mashed
Next, it's time to sauté the mirepoix to build the base of the soup. You don't want these vegetables to get too brown, so work over a low, slow heat, and keep an eye on them as they cook. Keep your nose on them, too. Cooking is about using all of your senses, and sometimes the aroma of an ingredient is the best way of knowing when it's done. When you can smell the rich scent of cooked onion after about ten minutes on the flame, it's time to move on to the next step.
Season the base for the bouillabaisse, and simmer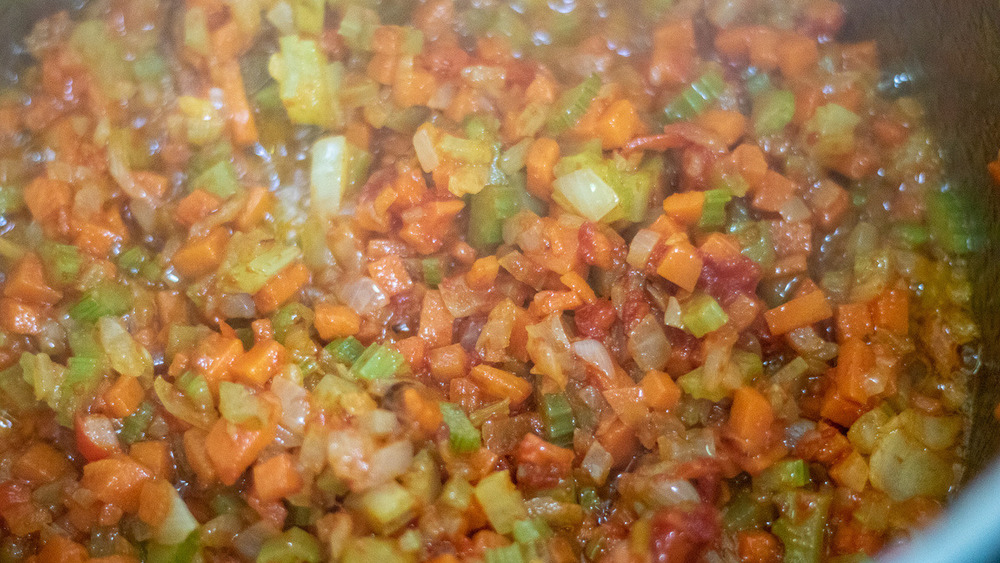 Tommy Leung/Mashed
Once the aromatics are tender, it's time to move on to the next layer of flavor: tomatoes. First, you'll fry the tomato paste for one minute — just enough time to bring out its natural sweetness — before adding the canned tomatoes, bay leaves, chili flakes, and saffron. Now, it's shaping up to be a really flavorful soup! Add the potatoes and fish stock, and simmer everything for ten minutes. 
Stir it every so often to keep it from sticking to the bottom of the pan. You're nearly there, so you don't want to burn anything now.
Add the fish and the fish sauce to the bouillabaisse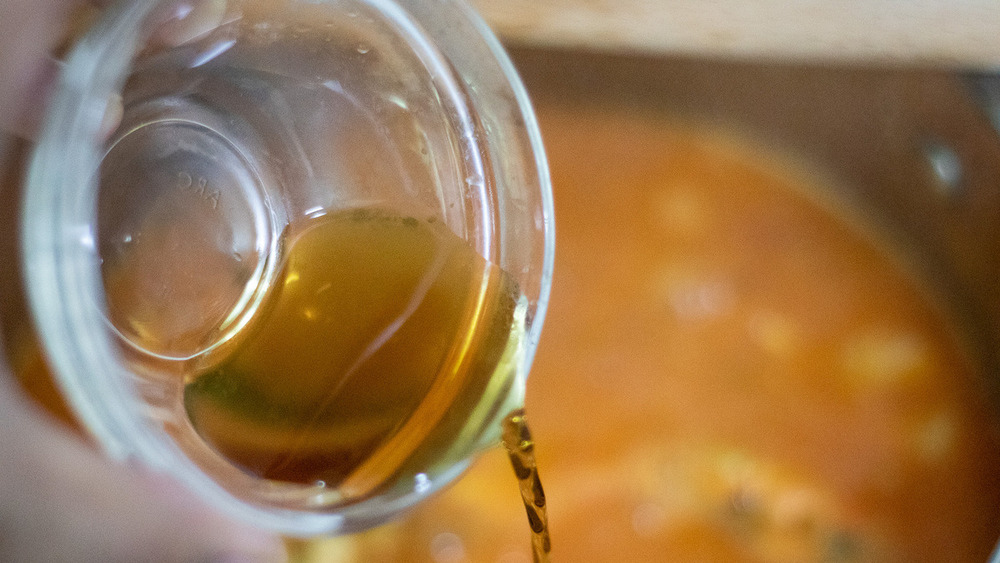 Tommy Leung/Mashed
The time has come to addd the final ingredients. First? The fish. They'll be added in steps, based on how quickly they cook. Mussels cook in about five minutes, while white fish cooks in about three. Prawns take just one minute to cook through, so they join the party last. 
If you're swapping any of the above fish for another kind, be aware of what new cooking times you're throwing into the mix. "The cooking time depends on what seafood you are adding and how big they are," says Leung. "Generally, I would say a fresh lobster tail would take about four minutes, scallops two minutes, and clams are done when the shells open up."
If you're ever unsure, you can always rely on two of your other senses: sight and touch. "For example, prawns and lobster tail will change color and turn red, and scallops will be firm, but still bouncy to the touch," says Leung.
As for that secret ingredient? Thai fish sauce! It might seem surprising, but for Leung, it makes all the difference in the flavor. "The fish sauce enhances all the flavors in the soup and brings the taste of the sea to the front of the palate," he says. "A tablespoon of fish sauce is actually quite a lot, but I promise your guests will not be able to taste the fish sauce, they will just delight in how savory and amazing the soup is."
Serve this stew in bowls with a fresh, crusty baguette, which Leung says "really brings it to the next level."
Homemade Bouillabaisse Recipe
This French seafood stew is brimming with fresh fish and incredible flavors. If you love seafood, this is sure to be your new favorite recipe to prepare.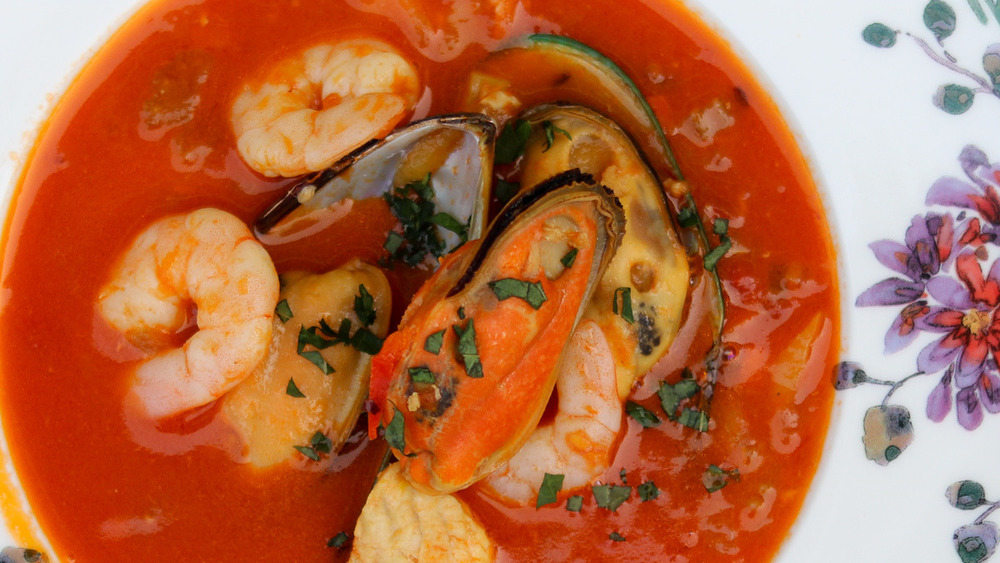 Ingredients
1 pound firm white fish (tilapia, pangasius, red snapper)
9 ounces prawns
10 ounces mussels
3 tablespoons tomato paste
1 can chopped tomatoes
16 fluid ounces fish stock
¼ cup butter
2 carrots
1 onion
3 stalks celery
3 small potatoes
1 pinch saffron
1 pinch chili flakes
2 bay leaves
1 tablespoon Thai fish sauce
Salt, to taste
Directions
Peel and wash the vegetables. Dice 2 carrots, 1 onion, 3 celery stalks, and 3 potatoes.
In a large pot, melt ¼ cup butter. Add the carrots, onions, and celery. Cook for about ten minutes, until fragrant. Add 3 tablespoons of tomato paste, and stir for one minute.
Add the chopped tomatoes and the saffron, chili flakes, and bay leaves. Add the diced potatoes followed by 16 fluid ounces of fish stock, and simmer for ten minutes.
Add the mussels, then the fish, and lastly the prawns, aiming to have all three perfectly cooked at the same time: Mussels need about five minutes, fish three minutes, and prawns one minute to cook.
Finish the dish with a dash of Thai fish sauce, and serve.
Nutrition
| | |
| --- | --- |
| Calories per Serving | 483 |
| Total Fat | 17.1 g |
| Saturated Fat | 8.8 g |
| Trans Fat | 0.5 g |
| Cholesterol | 188.6 mg |
| | |
| --- | --- |
| Total Carbohydrates | 36.5 g |
| Dietary Fiber | 6.1 g |
| Total Sugars | 7.0 g |
| Sodium | 1,540.3 mg |
| Protein | 47.2 g |