The Hands-Down Easiest Way To Prepare Asparagus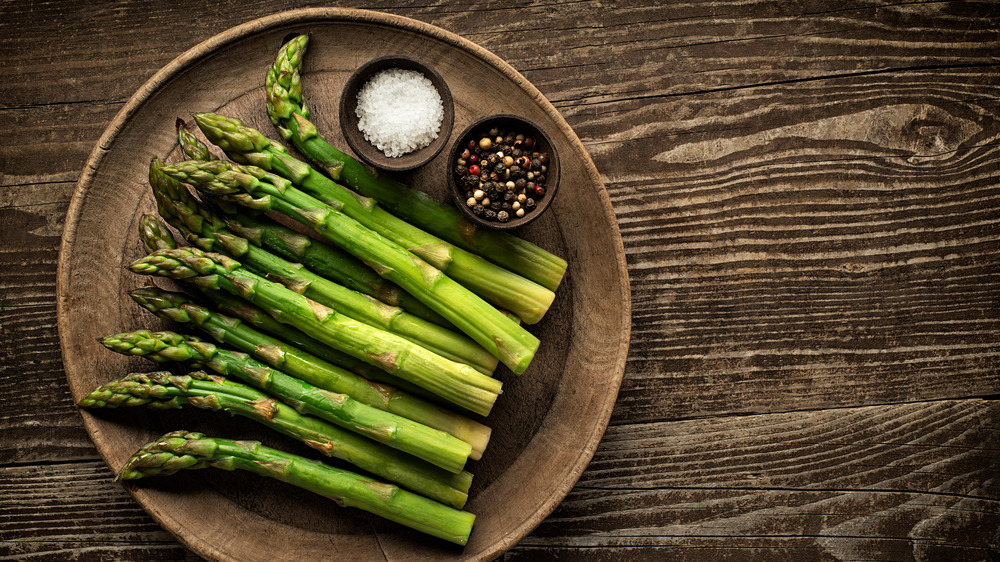 Shutterstock
Now that spring has arrived, it seems spring vegetables are calling out to most home cooks and chefs alike. From spring peas and green garlic to a crowd-pleasing favorite, asparagus, there are so many fresh ingredients to utilize this time of year (via USDA). While asparagus can be cooked and used in a number of dishes such as roasting them, sautéing them in butter with almonds, or even topping a quiche with them, there's a much easier way to enjoy the vegetable. 
Asparagus can actually be enjoyed raw without any cooking at all (via Healthline). An added bonus of eating them raw is that the vegetable will retain some of its healthy nutrients like its vitamin C.
However, sometimes asparagus spears have tough, woody stems which means you might want to dress raw asparagus with an acidic dressing to help soften them up. You should still remove the thick part of the stalk that's tougher, but after that, simply use a vegetable peeler or even a mandolin to create pliable thin ribbons of the asparagus (via Washington Post). 
How to eat raw asparagus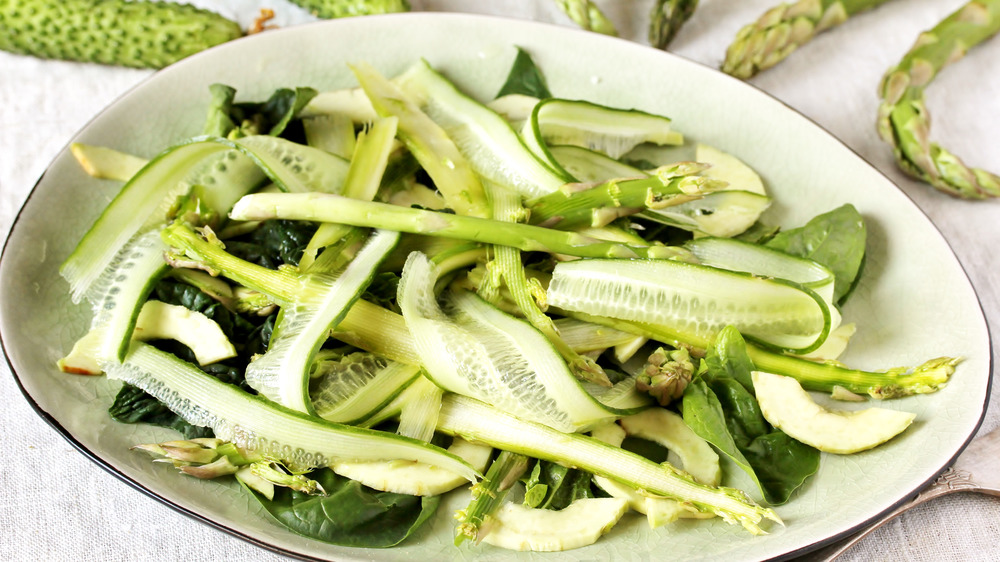 Shutterstock
Once you have shaved your asparagus into thin pieces, there are tons of ways you can dress the vegetable to create different salads. "Raw asparagus is sweet and slightly starchy, a bit like raw corn," chef Abra Berens explained to The Washington Post. One perfect combo is adding parmesan dressing made with lemon, olive oil, water, salt, and pepper drizzled over the shaved asparagus (via Food & Wine). The lemon and olive oil help tenderize the asparagus while the parmesan helps tone down some of its flavors. So if you want to serve this as a salad or even a side to a dinner, it will help make pairing a bottle of wine easier too. You can, of course, simply add the shaved ribbons to any other favorite salad you make.
There are plenty of asparagus recipes that call for thinly chopping the vegetable too. Once Upon A Chef suggests adding almonds and a ginger-sesame vinaigrette. Together, these additions pack tons of delicious flavor into the dish and add even more crunchy texture too. Kalyn's Kitchen suggests adding chopped radishes and feta along with a simple lemon and olive oil dressing to amp up the flavor and crunch instead. So, consider what flavors you want to add to your asparagus because there are tons of great options that can work wonders for the spring vegetable. No cooking required.