What Is Thandai And What Does It Taste Like?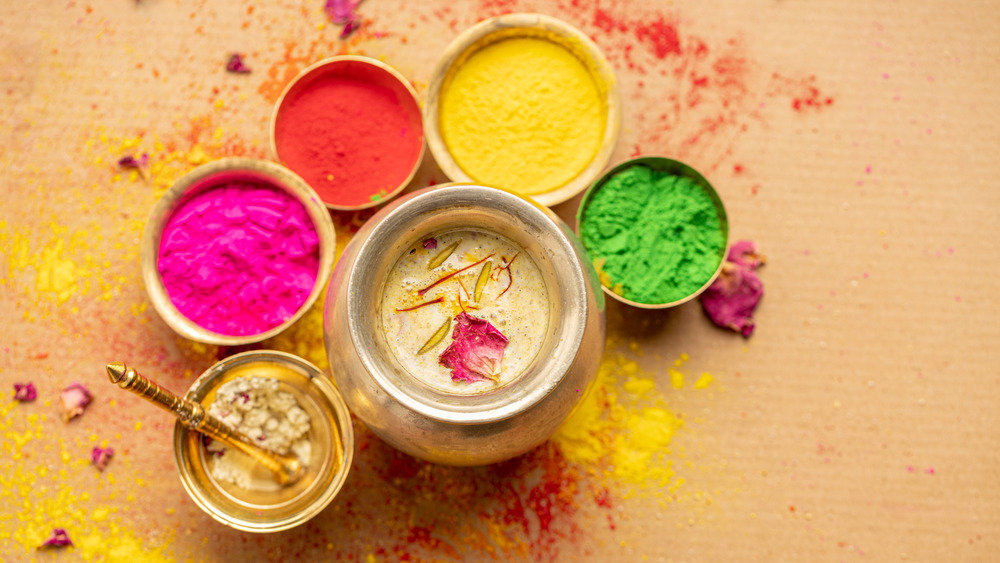 Shutterstock
Spring has finally arrived and that means we can look forward to celebrating Holi soon. The holiday marks the end of winter as revelors play with color and greet each other to make new beginnings (via The Culture Trip). According to the Times of India, the celebrations fall on March 29 and feature the preparation of a massive pyre, a massive feast, and multiple after-parties in honor of color, Krishna, and Radha. 
And no Holi feast comes complete without a glass of thandai, a creamy, rich drink that can help cool you down. According to The Kitchn, this milk-based beverage combines together a spice masala that features melon seeds, poppy seeds, nutmeg, saffron, milk, syrup, and ice for a special drink that we associate with Holi. For a texture like no other, the traditional preparation of the drink requires one to mash the spices into a paste to blend with the milk. For those of us with spice grinders, we can also grind the masala spices into a powder to shake with the milk to form this refreshing drink.
A spiced beverage that's perfect for spring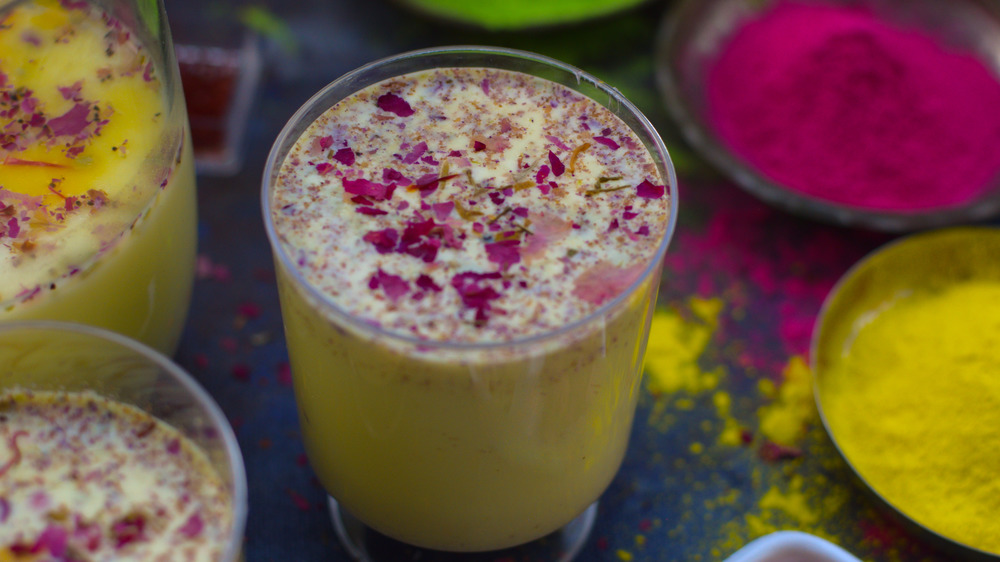 Shutterstock
If you throw a party in honor of Holi this year, no table spread comes complete without multiple glasses of thandai. If you want to find the perfect food pairings for the drink, make sure to serve up some puran poli, a crepe-like dish that features flat pancakes stuffed with chana dal and sugar, or badam phirni, a thicker, creamier version of kheer (via Times of India). If you whip up an accompanying thandai and end up with more ground spices then you bargained for, you're in for a special treat. According to The Kitchn, you can sprinkle this unique masala on top of breakfast oatmeal or into smoothies for a refreshing kick that can keep your day going strong.
If you want to celebrate Holi, make sure to include thandai in your meal spread. For a refreshing, cooling burst of flavor, this iconic drink has become synonymous with Holi and deserves a starring role on the holiday. If you can get ahold of all of the required spices, give this drink a shot for a beverage that you won't forget anytime soon.