Everything You Need To Know About Ramps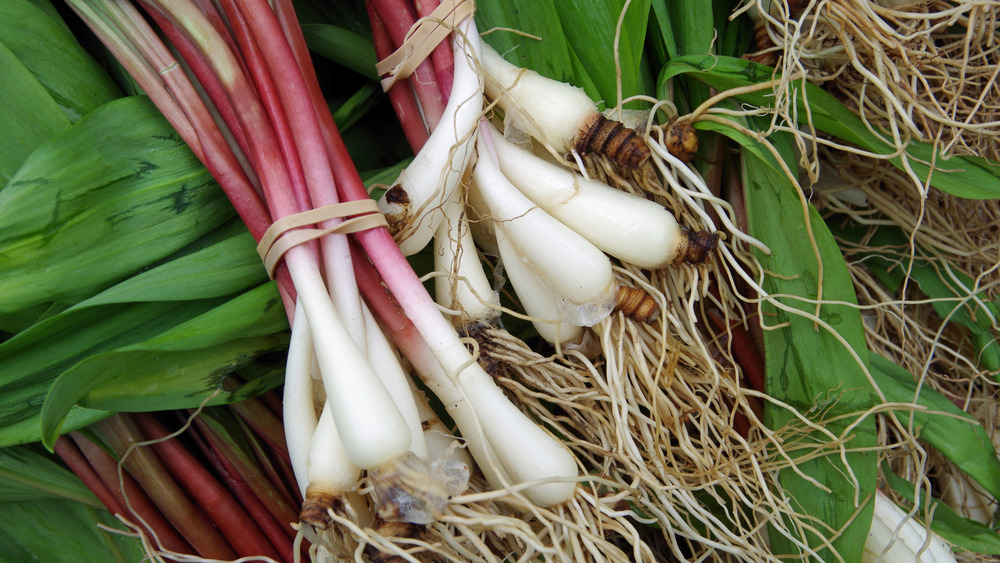 Shutterstock
Springtime is truly a foodie's dream. It's the time of year so many seasonal delicacies become available, making for a rejuvenated cooking experience. It's when meaty morel mushrooms start peeking through the soil; it's when cutely coiled fiddlehead ferns first pop up (via Farmer's Almanac), and it's also when pungent ramps make their debut. According to Eater, ramps are one of the first vegetables to emerge after winter. Sometimes called wild leeks or spring onions, ramps resemble scallions, but are smaller with broader leaves.
Their season lasts for less than three weeks, according to Epicurious, so if you're interested in obtaining some for your own cooking experiments, you only have a short time to get to the farmers market (and be sure to bring enough cash, according to Eater, ramps can go for a staggering $20 a pound). Once you're there, you should look for non-wilted, dark green ramps that don't have any see-through areas. You'll also want to choose ramps with long, thin stalks between ten and 14 inches long (via Epicurious). Then, it's time to bring them home and ramp up the kitchen.
Going on a cooking ramp-age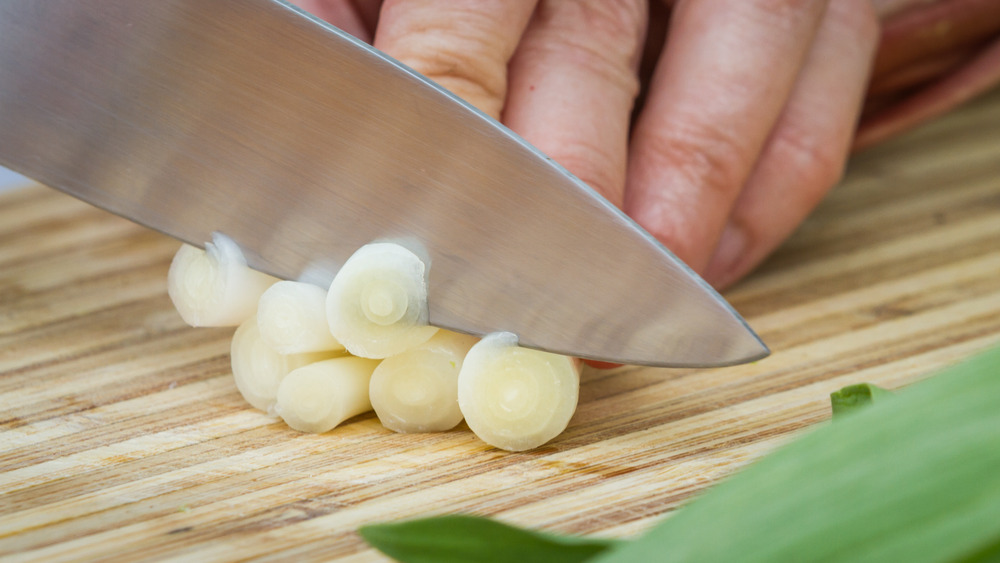 Shutterstock
According to the Food Network, ramps have a mix of onion and garlicky flavor, and all that tangy taste packed in organically makes them a versatile ingredient that doesn't require a lot of preparation (but, may require an acquired taste). If you've had ramps before, found them appetizing, and are looking for a simple way to prepare them, Cooking Channel TV has a list of suggested recipes, including grilling or sautéing them and lightly seasoning them with olive oil, salt, and pepper.
If you're new to cooking with ramps (and tasting them), Food Network recommends starting with a familiar dish, like pesto. You can use the outlet's Basil Pesto recipe as a starting board and swap in one cup of chopped ramps, including the leaves and stems, for each cup of basil. The result is more flavorful than the original dish, but shouldn't be too overwhelming since it has recognizable tasting notes. 
However, if you're really looking to serve up spring on a platter, check out Emeril's recipe for Pacific Coast Salmon and Wild Ramps, with a Morel, Crawfish, and Fiddlehead Fern Ragout. You might have to go on a fishing-foraging (or Googling!) expedition to find all the ingredients, but from the looks of it, your guests will think it well worth your effort!