The World Just Got A Colorful New Pasta Shape Perfect For Spring
If you count yourself as a pasta fan, this year just keeps on giving. Several days ago, the creator and host of The Sporkful podcast unveiled their latest creation — a new pasta shaped specially designed to hold onto sauce (via CBS). This new design, called cascatelli, took the Italian cooking world by storm and boxes of the new pasta quickly sold out. On the heels of this latest noodle comes a gorgeous challenger perfect for anyone who wants to add a bright hit of color into their meals.
Pasta artist Linda Miller Nicholson posted a video of their signature multicolored pinwheel-like noodle to Instagram, dubbing it "ortensie-hydrangeas," (via Instagram). The design, featuring dyed dough folded together to form blossom-like noodles, has definitely gotten everyone talking. Responses have poured in, with followers' replies ranging from: "These are freakin gorgeousssss," all the way to "Ommggg these are just so delightful and perfect for the season! What fun to make and eat."
While the new pasta design has wowed followers, some much bigger names in the food world have taken notice.
A pasta design that attracts attention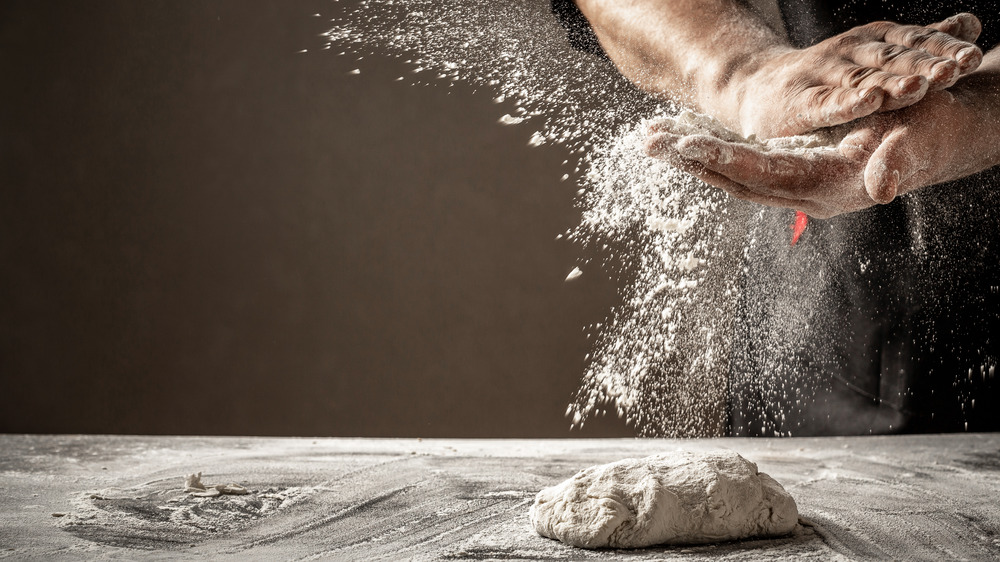 Shutterstock
On the other end of social media, Andrew Zimmern took notice of the ortensie-hydrangeas, calling them "incredible" on his Twitter account (via Twitter). This comes as no shock, as the video post on Instagram that highlights this new design has garnered over 8,000 likes, while a separate post showcasing a prototype of the pasta raked in over 12,000 likes (via Instagram). Even in its initial stages, people couldn't get enough of this new shape. Many replies stated that the shape greatly resembles hydrangeas, and commented that, "This is the most beautiful thing I've ever seen," and "They look like colorful 4 leaf clovers! And I bet they're magically delicious too!"
Nicholson shared that the "sauce pockets" of this shape make this one of their favorite pasta inventions. They served the ortensie-hydrangeas with a vegan cauliflower crema and peas. While these colorful pasta shapes aren't sold in a box, those of us inclined to make pasta at home can follow the instructional video that the creator posted on their Instagram channel. In the meantime, the rest of us have to keep holding out and dream of the day we can incorporate these colorful, flower-inspired delicacies into our cooking life.