What People Are Saying About This Aldi Chicken Schnitzel
If you want to capture the genuine experience and taste of traveling while you're stuck at home, or if you just love the flavor of hearty chicken with delicious seasoning, then you won't want to miss out on the Deutsche Kuche's frozen chicken schnitzels that are now available at Aldi. The chicken schnitzel is inspired by classic German cuisine and delivers a truly authentic flavor. 
Aldi's Deutsche Kuche chicken schnitzel is such a great find that some Aldi shoppers couldn't keep it to themselves: "Just had these tonight for dinner, would highly recommend...only 200 cals per chicken piece and was very filling" (Reddit). Apart from not being overloaded with calories, each chicken cutlet has 18 grams of protein, 4 grams of sugar, and just 1.5 grams of saturated fat, making it a great meal that will fill you up without being too heavy (via Aldi Reviewer).
These Aldi chicken schnitzels can be prepared in under 10 minutes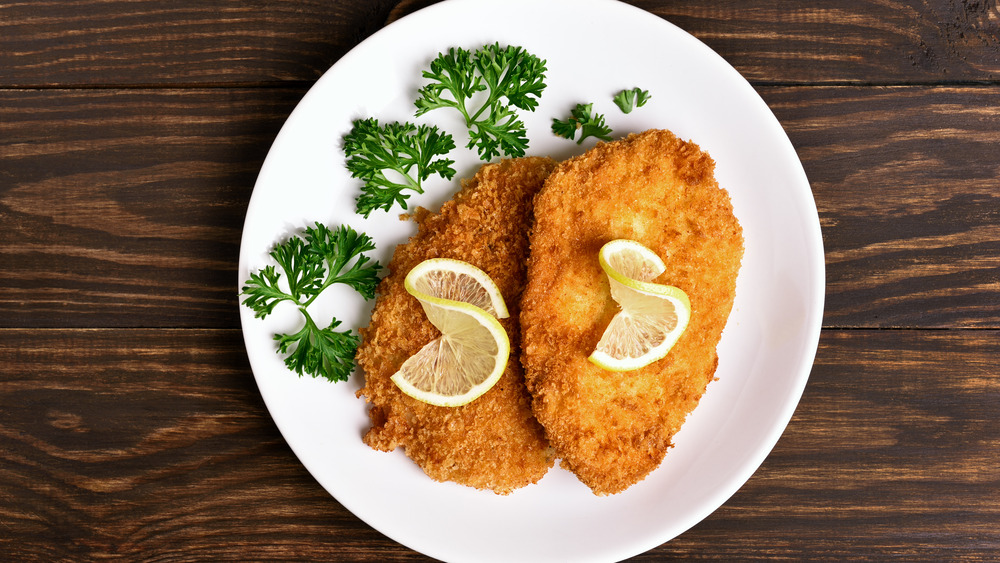 Shutterstock
These schnitzels are also quick and easy to prepare. Just heat up some oil in a pan and fry the chicken for around 3-4 minutes until it is crispy, then flip and repeat on the other side. These schnitzels will be ready to serve in under 10 minutes. They could also be put in the air fryer for an extra-crispy taste. No matter how they're prepared, Aldi shoppers only have good things to say about this item.
It seems like you can't go wrong with any of Aldi's Deutsche Kuche line of German food products. "If I see Deutsche Kuche, I immediately pick up at least two packages and know I'm gonna have a good meal," a Reddit user raved. Each box sells for just $7.99 and comes with six individual pieces of breaded chicken, making it not just a tasty meal but an affordable one (Aldi Reviewer). So whether cabin fever has you down, or you just want to mix up your dinner menu this week, head down to Aldi to get your hands on a box or two of these savory chicken schnitzels. Guten appétit!