Jack In The Box Has Sad News For Fans Of Its Sourdough Jack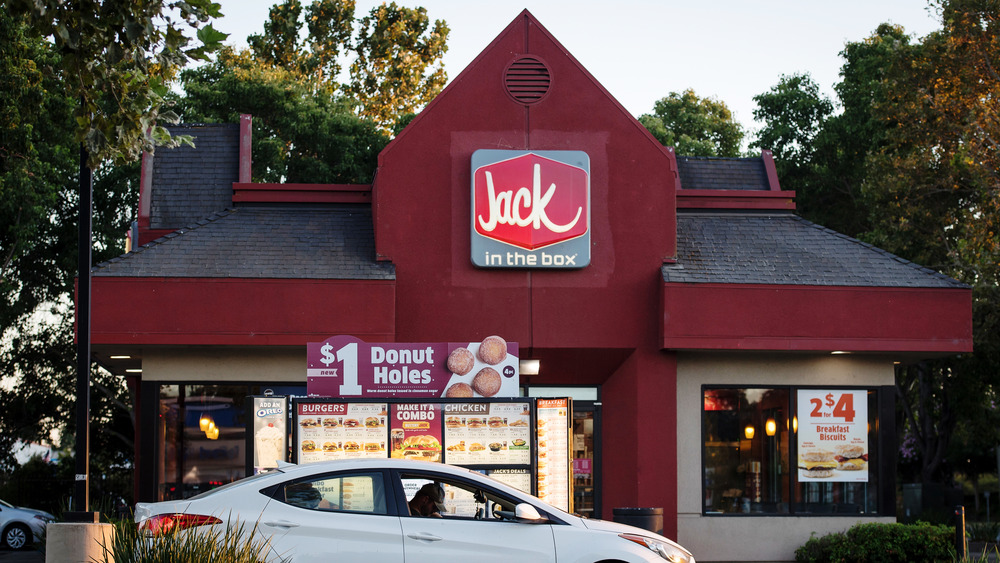 Bloomberg/Getty Images
Update: Jack in the Box reached out to Mashed to let us know this was their April Fools' Day joke for 2021. They announced this news to the relief of fans through Twitter.
Jack in the Box is one of those fast food brands that you can rely on when you're not sure where to go for a hearty meal that takes care of all your cravings. As per Delish, the brand has been serving its customers for a long time: since 1951, to be precise. For decades, Jack in the Box has not been afraid to push its boundaries and try something new. For example, it was one of the first fast food chains to take a risk and add items like breakfast sandwiches and salads when no one else was doing it (via Delish). It definitely set the way forward for other brands in the industry. 
One of its more unique items, the Sourdough Jack, is rather appealing thanks to its great combination of ingredients and nontraditional bun. As Brand Eating reports, this burger is full of yummy ingredients such as bacon, cheese, tomatoes, a sauce made of mayonnaise and onions coupled with a beef patty. But you're a fan of this classic menu item, there's some unfortunate news in store. 
Jack in the Box is discontinuing this one
As per an Instagram post by Jack in the Box, the company has decided to get rid of the Sourdough Jack. The post read, "Hate to sour your day, but sadly, I'm taking the Sourdough Jack off of our menu." It went on to add that customers should order the dish through the brand's app for $3 before it's discontinued. 
A disheartened fan expressed their disappointment at the news in a comment. They wrote, "This better be an April Fool's joke. Don't play with my heart like this." Another follower wrote that the menu item is one of their primary reasons for going to Jack in the Box. And a third person saddened by the news said that they've been feasting on Sourdough Jacks for more than ten years. It looks like this one will be sorely missed, but you never know, Jack in the Box might surprise fans and bring it back somewhere down the road.