Tom Colicchio Gives A Sneak Peak Into The New Season Of Top Chef - Exclusive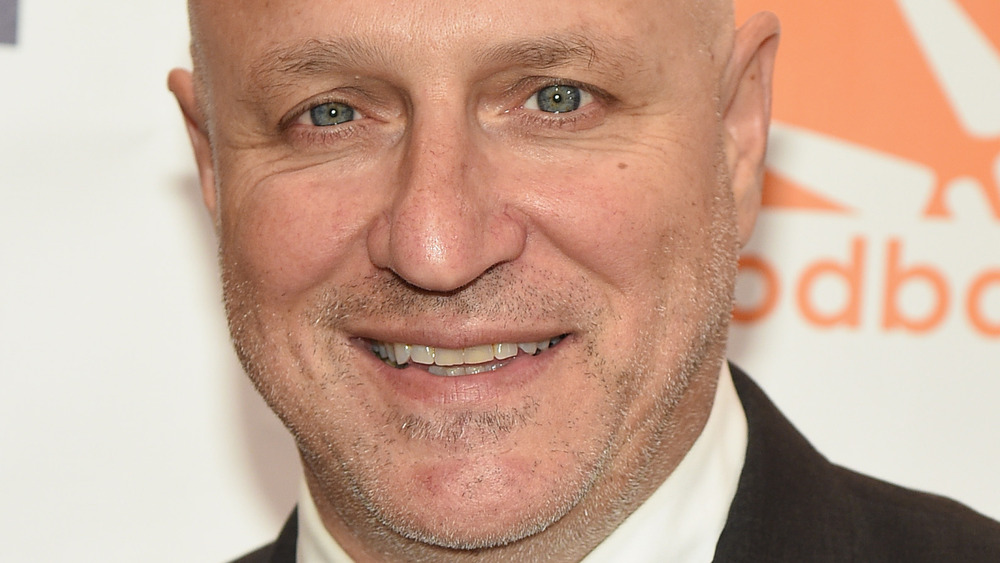 Bryan Bedder/Getty Images
With the premiere of season 18 of Top Chef just around the corner, the excitement is building. The latest season, which premieres on April 1st, takes the latest cohort of chefs around the Pacific Northwest and tests their skills as they navigate kitchens filled with local ingredients sourced from around Portland (via Bravo). These new challenges run the gamut, from crabbing on the Oregon coast to preparing meals for hundreds of frontline workers. Of course, since it was filmed in September 2020, this Top Chef is unlike any other. In an exclusive interview with Mashed, we caught up with Top Chef judge Tom Colicchio to get the scoop on the completely unprecedented season. 
"[Filming] happened in Portland, and it went really well," Colicchio said. "Obviously, we had to shoot in a bubble, and we managed that. There were about 150 people on the crew and they all stayed in a hotel, and they were allowed to go from hotel to set." Masks were a must for everyone, except for two crucial times: When contestants were cooking and when judges were testing out their dishes. "It worked out for the almost two months we were shooting. No one got sick, no one came down with COVID," Colicchio explained.
Considering all the variables of shooting Top Chef during a pandemic, things couldn't have gone better. "It's a great season," Colicchio said. "The contestants were fantastic. Clearly, there were some emotions because of where we are and what we're doing, but it went really well."
New challenges for a new location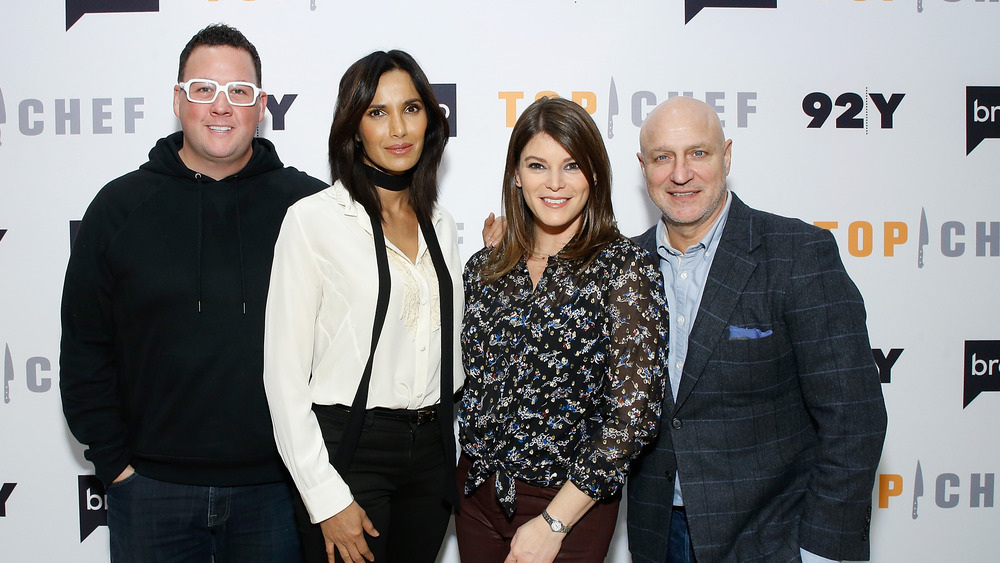 John Lamparski/Getty Images
While the set had some new features — like a socially distanced judges' table and personal spice containers for contestants — the crew also had to shift their expectations (via Variety). "Unfortunately for us, there's so many great restaurants in Portland, but we couldn't go out," Colicchio said. "We kind of had a deal with our cast and crew that we weren't going out."
"So it was kind of frustrating because there were so many great restaurants," Colicchio explained. "A guy who worked for me for ages — started working when he was 15 years old — owns a restaurant in Portland, and this was the first time I'd been there since he moved and opened this restaurant. He was really excited for me to go, and I couldn't go even though the restaurant was open."
The Top Chef cast and crew also had to avoid blazing wildfires, which threatened millions of acres in the Pacific Northwest during the time they were filming (via New York Times). "We lost, I think, one or two days of shooting, but it was rough because, for a couple days, it was pretty bad," Colicchio said.
Despite the twists, Tom Colicchio thinks this season turned out great. Keep your eyes peeled for a certain dish that he says might rank as his all-time favorite. "There was some really inspired cooking," Colicchio said. "There was one particular dish that I liked a lot during Restaurant Wars. I'll leave it at that."
The new season of Top Chef premieres on Bravo on April 1st, and be sure to check out the MustSwitch sandwich, Colicchio's latest collaboration with French's.