This Meal Kit Is Perfect For Justice League Fans
Big Belly. Koul Brau. Jitters Coffee. Some of us may have never heard of these brands before, but eagle-eyed fans of the DC Comic Book Universe will recognize them as iconic food brands whose fans and patrons include heroes like Superman, Batman, the Martian Manhunter, and Aquaman. Now, thanks to a bit of imagination on the part of Wonderland Restaurants and Warner Bros., which owns the rights to the DC movie franchise, those brands will actually be available to enjoy at home as part of a specially designed and curated meal box (via The Telegraph).
Wonderland Restaurants' James Bulmer says the meal boxes are meant to fill the longing you feel when you see your hero consume things you may never get to try in real life. "As a child I always loved Roald Dahl's Charlie and the Chocolate Factory, and in particular I was obsessed with the idea of Wonkavision where you could reach into your TV and pull out your favourite chocolate bar. I just thought that was so cool," Bulmer says.
The meal box, or Mother Box as Wonderland and Warner Bros. call it, is a collectible crate filled with fiction-inspired food for two.
The elaborate meal box was meant to supplement the movie-watching experience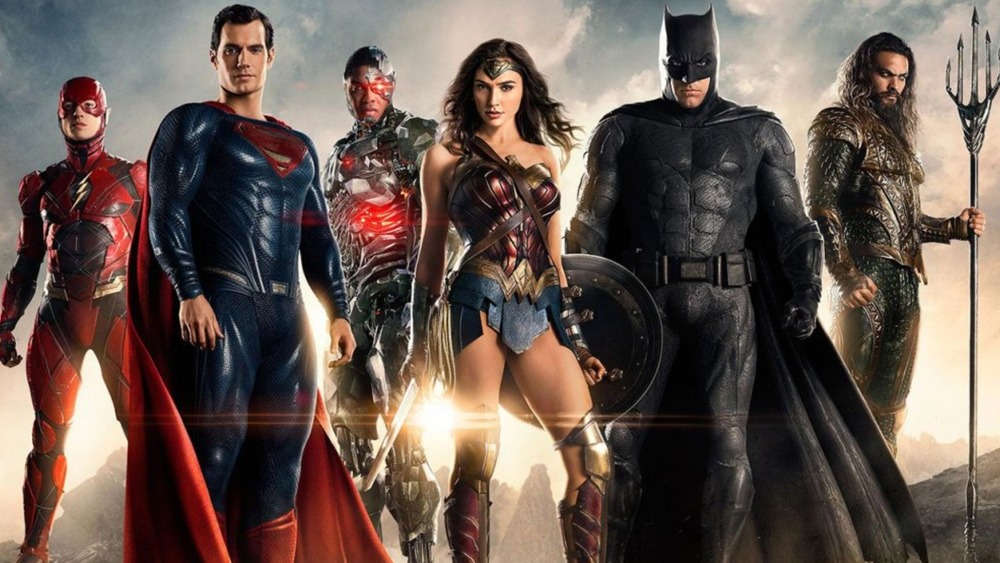 Warner Bros. Pictures
The meal kit has an array of offerings: There's the Ocean Trench, featuring cod and chips with trench dressing for Aquaman; The Flash's Big Belly Burger with cheese, crispy potato, and onion rosti with Wonderland sauce (this has a vegetarian option, too); a corn and maple soufflé with silver popcorn named "Resurrection" (after Superman); Wonder Woman-approved smoked marshmallows called Ancient Themysciran Fire; snacks in the form of jalapeno and salsa Corn Clouds and cheese cookies in green in the Martian Manhunter's costume theme; and a chocolate bat simply called "The Bat," for you-know-who (via Syfy).
The meal box isn't a BYOB affair: It provides an energy drink, two specialty beers, and cold-brew oat milk coffee latte in a can, called Jitters. All this was pulled together for a specific purpose — to make the Justice League Snyder Cut experience as real for the home viewer as possible. "We're trying to use all the weapons we have to fully immerse you in what you're seeing on screen. There's a binaural sound experience [in the movie] which connects with smell and food; you get the smell of what's going on in that scene," Bulmer tells The Telegraph.
If you want to get your own slice of storytelling with food, the sets will be available for home delivery from April 15 to May 29. We don't know if it will change your movie-watching experience, but we applaud you for trying.