International Dunkin' Munchkin Flavors You'll Wish You Had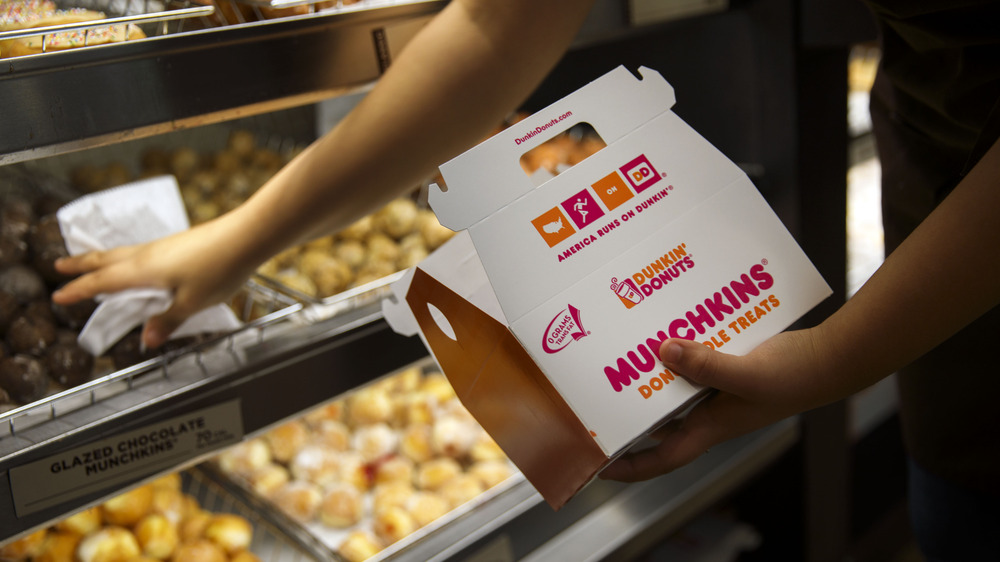 Bloomberg/Getty Images
Who doesn't love a Munchkin from Dunkin'? The cute, bite-sized treats have long been a fan favorite and come in a wide variety of flavors, from the tasty Glazed Blueberry to festive seasonal options like Pumpkin. There are even some limited-edition donut flavors that have only been released in Munchkin size, such as Red Velvet, Buttermilk, and Confetti, according to Rick Golden, Dunkin' Manager of Donut Excellence (via Dunkin'). (Even though we're still missing a few discontinued Dunkin' favorites.) However, it may come as a surprise to find out that there are some Munchkin flavors you haven't tried, even if you are the biggest fan in America. Dunkin' also has a special international Munchkin menu, complete with flavors that are only available in certain locations abroad. 
Residents and visitors in Europe can enjoy the Boston Creme Munchkin, which is a bite-sized take on the classic donut filled with Bavarian creme and smothered in chocolate icing. There are also other unique Bavarian creme-filled flavors that come in either dark or white chocolate and are then sprinkled, such as the Strawberry-Filled Coated Munchkin. The Raspberry Truffle Munchkin (made with white cake, raspberry jam, and chocolate sprinkles) is another European favorite, per the Dunkin' blog.
Dunkin' has a wide variety of international Munchkin flavors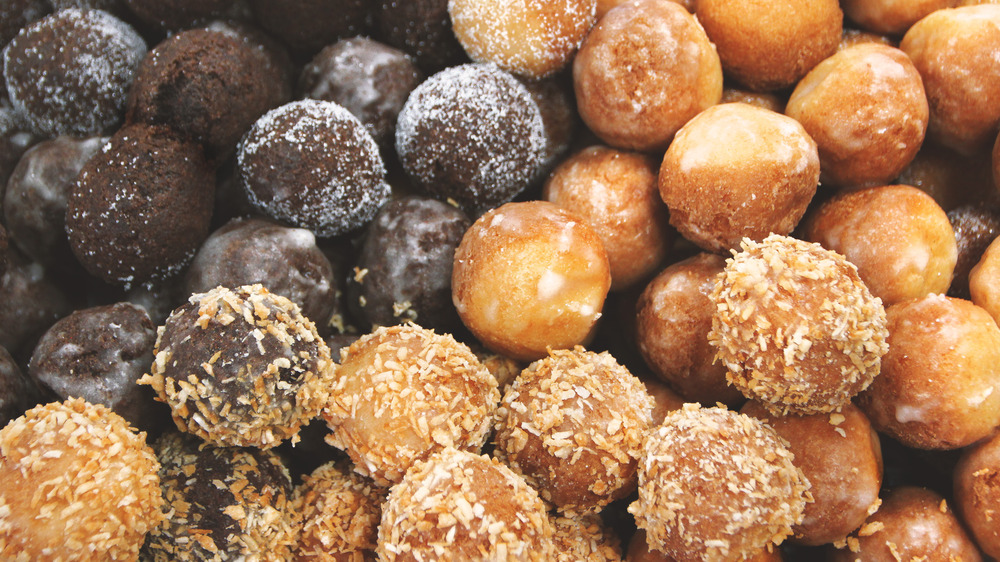 Shutterstock
On April 27, folks in the Netherlands can enjoy the festive orange-and-chocolate Munchkin, which is released each year on this date to celebrate the birthday of King Willem-Alexander, otherwise known as King's Day. Filled with chocolate and covered with orange-colored vanilla icing and sprinkles, these mini treats are only available for a limited time around the holiday. However, the Dutch—along with the rest of Europe—can enjoy other options year-round like the popular Hazelnut Munchkin, which is rolled in crunchy hazelnut crumbs.
Over in the Philippines, one of the most popular flavors is the Butternut Munchkin, which is available in either a white or chocolate cake base and then glazed and covered with chocolate, white chocolate, or orange butternut crumbs.
If you're not able to afford plane tickets to travel around the world and sample these unique favors, Dunkin' has plenty of specialty Munchkin varieties right here at home. The Cinnamon Sugar Munchkin, which features a sweet white cake base smothered in cinnamon sugar, is a popular choice here in the States. The chain also regularly offers special holiday-themed selections, such as the Apple Cider flavor, per their blog. However, despite the many delicious specialty varieties, the traditional Munchkin flavors remain the most popular, with Jelly, Glazed and Chocolate flavors consistently outselling all the rest.