The Difference Between A Frittata And Tortilla Española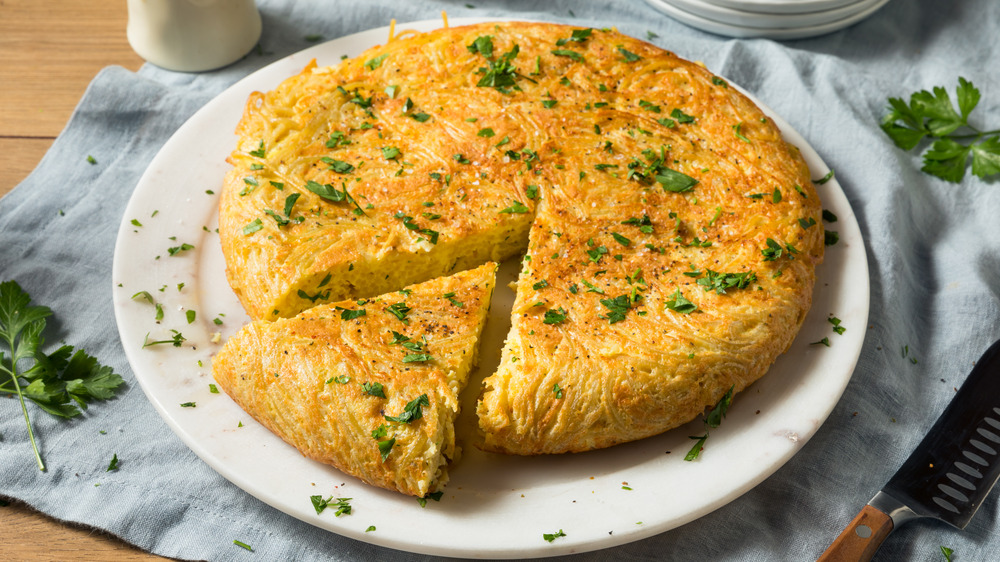 Shutterstock
When it comes to making breakfast, folks have a plethora of options they can go for. They can make pancakes, waffles, toast, and most notably eggs. Eggs are fairly simple, versatile, and quick to prepare. Within minutes, you can have anything ranging from scrambled eggs to eggs benedict to popovers. The list of delicious and savory things you can make with eggs is bountiful and limitless.
But what happens if you're making breakfast for several people and are looking for something somewhat more international and substantially filling? You could always take a page out of Spain and Italy's cookbook and go for a frittata or a tortilla española. While both have some similarities, they are vastly different.
According to Delighted Cooking, the Spanish tortilla (also known as a tortilla de patatas) and the frittata are the Italian and Spanish version of the omelet from France, but with the addition of potatoes and other ingredients that make each piquantly unique and special.
The tortilla española is cooked on the stove, while the frittata is finished off in the oven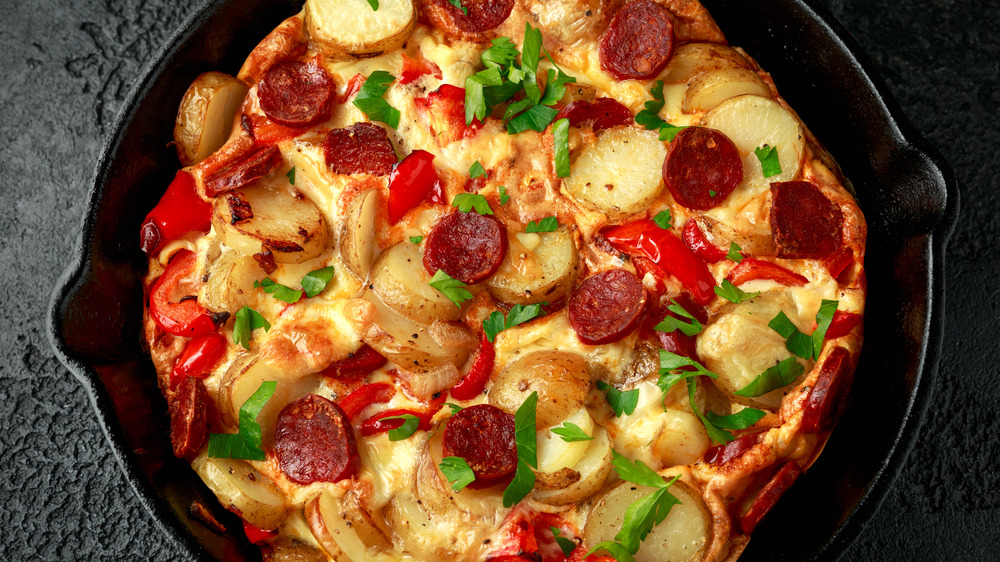 Shutterstock
While both require similar ingredients, the frittata requires ingredients like eggs, sausage, peppers, cheese, garlic, onions, nutmeg, salt, and pepper, per Delighted Cooking. But, the frittata isn't limited to just these ingredients. You can add spicy peppers, grilled pork, or even matzo balls, if you want to enjoy it during the Passover holiday.
While tortilla españolas require fewer ingredients, the ratios are somewhat higher. According to Serious Eats, all you need to make this famously delicious dish are eggs (about eight), Yukon gold potatoes, extra-virgin olive oil, and yellow onions. The biggest difference between the two, says The Gourmand Mom, is how they are cooked. While the tortilla española is made on the stovetop, the frittata is finished off in the oven — something that helps give it that crunch upper layer (per The Spruce Eats).
Something that also separates the frittata from other omelets is the incorporation of dairy. According to The Spruce Eats, cream (or milk) is added to the eggs, essentially making the eggs a custard (The Kitchn calls it a "quiche without the fuss of a crust").