Tabbouleh Recipe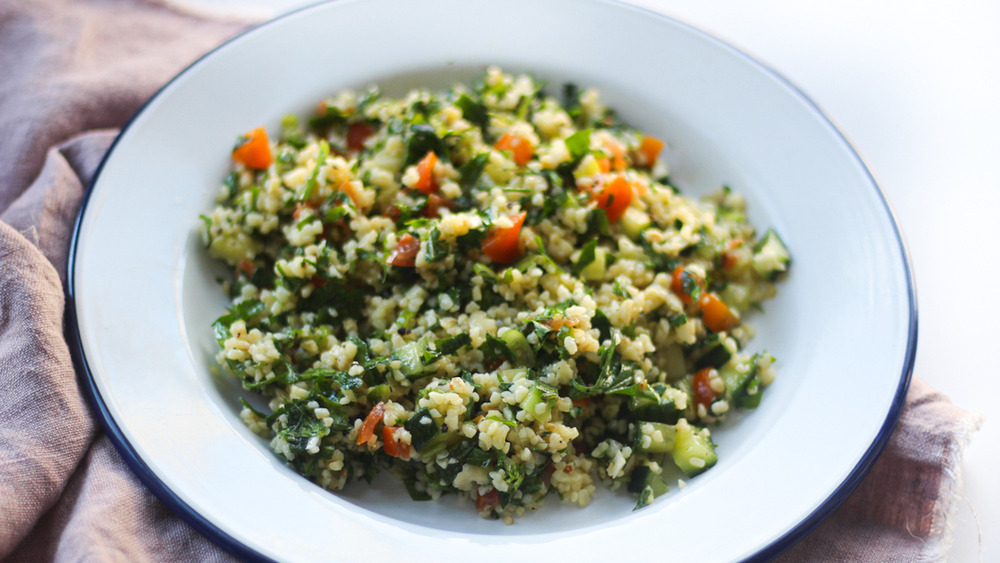 Susan Olayinka/Mashed
If you are looking for a light, healthy recipe to shake up your everyday salad, it's time you tried tabbouleh. Susan Olayinka, who blogs at The Flexible Fridge, shared a perfect, approachable recipe for this Mediterranean delight with Mashed, noting to the uninitiated, "If somebody hasn't tried tabbouleh before, it can be described as a salad dish mixed with grains." 
The grain typically used to create tabbouleh is bulgur, which Olayinka describes as "a cross between rice and couscous." She adds, "Bulgur is quite firm and is perfect in salads." When it comes to tabbouleh, the U.K.-based recipe creator notes, "It's so fresh and filling — perfect for the spring and summer." We say a fresh and filling side — or meal for that matter — is ideal for anytime of year. Olayinka also mentioned, "This serves well with some grilled fish, chicken, or steak. It's a wonderful addition to a barbecue as a side dish."
Assemble your ingredients to make this tabbouleh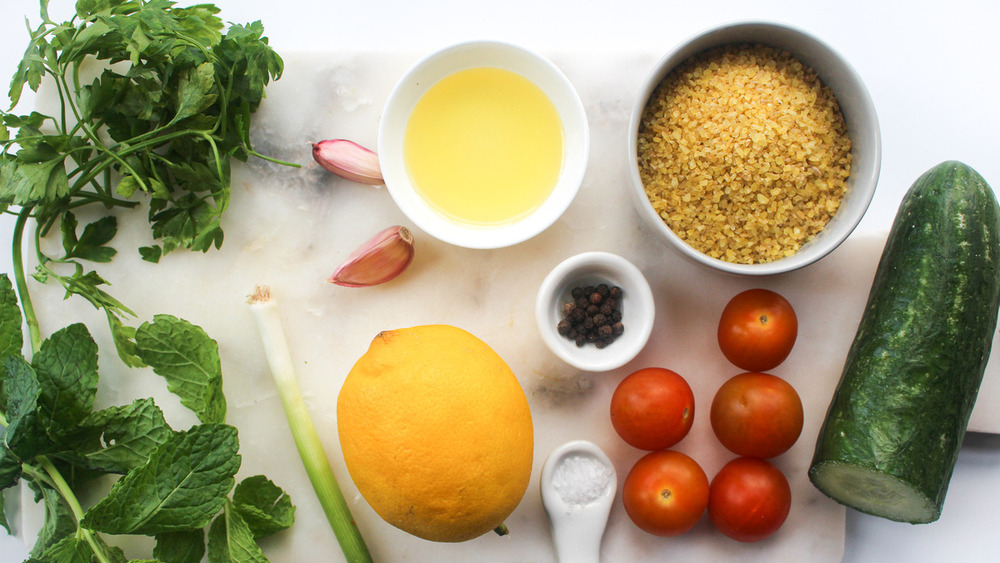 Susan Olayinka/Mashed
Get your tabbouleh from plan to table by adding the following ingredients to your shopping list, or gather them from around your kitchen: bulgur, of course, as well as parsley, mint, cherry tomatoes, cucumber, salt, pepper, your favorite extra virgin olive oil, garlic, and the juice of a lemon. Olayinka's recipe also calls for spring onions. Not familiar with these long, green veggies?
"Spring onions are salad onions," Olayinka explained to Mashed, adding, "They add a garlic taste without being too strong, and they taste fresh." If you are wondering if spring and green onions are the same thing, they pretty much are.
Cook your bulgur and prep your veggies and herbs for this tabbouleh recipe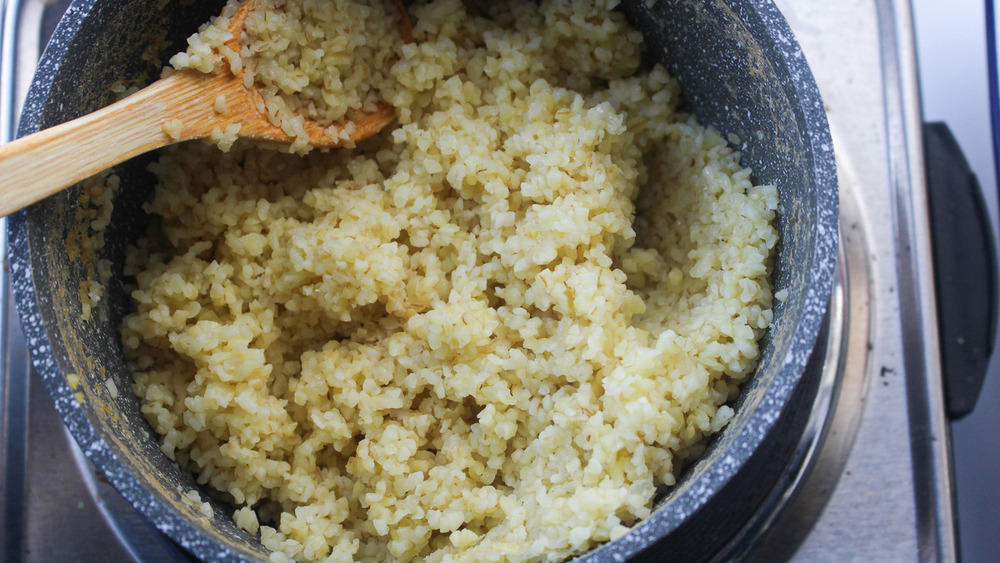 Susan Olayinka/Mashed
So, your ingredients are at the ready. To start your tabbouleh rolling, first, Olayinka instructs home cooks to prepare the bulgur per the instructions on the package. Meanwhile, you've got a lot of veggie and herb slicing and dicing to do! The mint and parsley is to be chiffonaded, with the recipe creator explaining, "To chiffonade is to cut vegetables — or in this case, herbs — thinly." Her best tip for pulling off this technique? "Just be sure to use a sharp knife and slice slowly," she told us.
Next, you will quarter your cherry tomatoes. The spring onions get sliced into thin discs, and the cucumbers are quartered as well. The garlic will be minced, with Olayinka noting a garlic press is preferred for this step. You can also use jarred minced garlic to save time.
Combine your bulgur and veggies to make your tabbouleh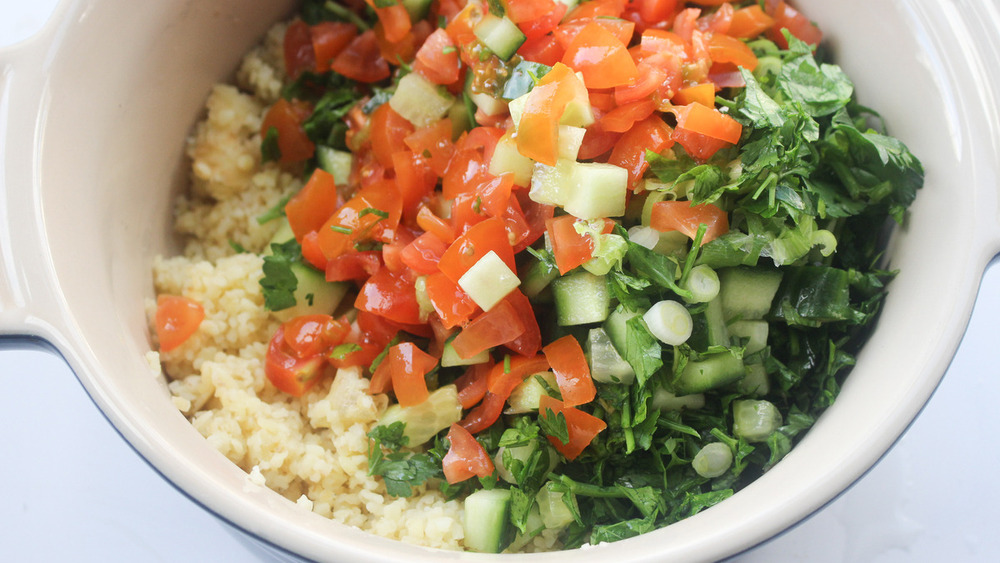 Susan Olayinka/Mashed
Now it's time to combine your ingredients. Olayinka instructs home cooks to place the cooked bulgur in a serving bowl and add in the chopped mint, parsley, cherry tomatoes, spring onions, and cucumbers. Gently fold the grains and veggies together.
The only thing left to do is create your dressing. In a small bowl, you will combine the extra virgin olive oil, your lemon juice, salt, pepper, and minced garlic. Olayinka recommends mixing the dressing ingredients together with a fork. The final step is to coat your beautiful, colorful tabbouleh salad with the fragrant dressing. Gently toss the salad to incorporate the dressing, and then, it's time to taste, adding salt and pepper to your preference.
You can either enjoy the dish right away or store it for a meal later or the next day. Olayinka told Mashed, "This definitely does taste better over time. You can even leave it in the fridge to marinate more."
Tabbouleh Recipe
If you are looking for a light, healthy recipe to shake up your everyday salad, it's time you tried tabbouleh. You're going to fall in love.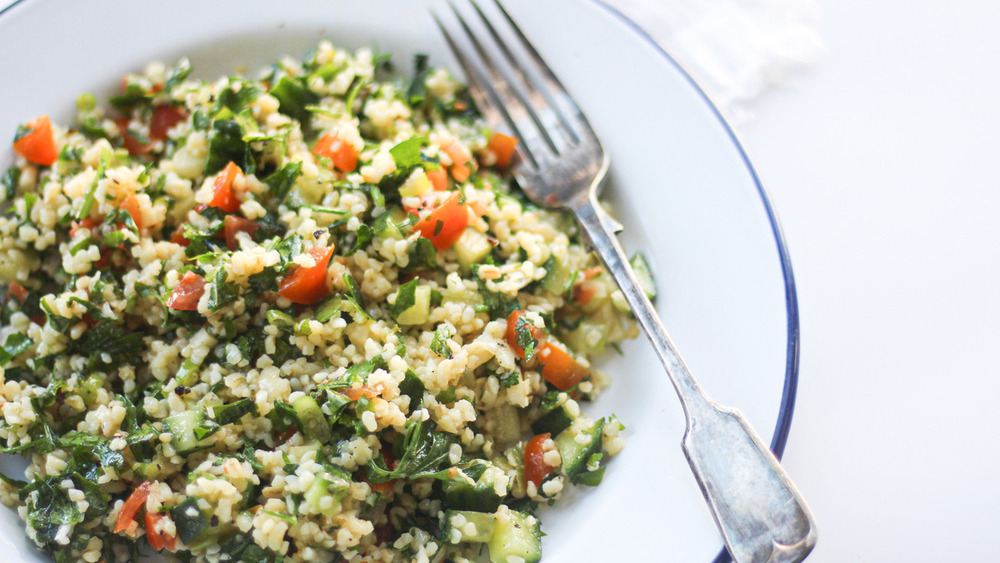 Ingredients
½ cup of bulgar
2 cups water
1 cup mint
2 cups parsley
1 cup cherry tomatoes
½ medium cucumber (about 1 cup chopped)
½ teaspoon salt
½ teaspoon black pepper
2 spring onions
2 cloves of garlic
⅛ cup extra virgin olive oil
1 lemon, squeezed
Directions
Cook the bulgur per instructions on the packet.
Chiffonade the mint and parsley into very thin strips.
Cut the cherry tomatoes into quarters.
Slice the spring onions into thin discs.
Slice the cucumbers into quarters.
Mince the garlic, preferably using a garlic press.
Once the bulgur is cooked, place it in a serving bowl followed by chopped mint, chopped parsley, chopped cherry tomatoes, sliced spring onions, and chopped cucumbers, then mix together.
In a small pot, add extra virgin olive oil, lemon juice, salt, pepper, and minced garlic. Mix together with a fork.
Pour the dressing over the bulgur, mixing together until incorporated. Enjoy!
Nutrition
| | |
| --- | --- |
| Calories per Serving | 162 |
| Total Fat | 7.6 g |
| Saturated Fat | 1.1 g |
| Trans Fat | 0.0 g |
| Cholesterol | 0.0 mg |
| | |
| --- | --- |
| Total Carbohydrates | 22.5 g |
| Dietary Fiber | 6.1 g |
| Total Sugars | 2.5 g |
| Sodium | 326.8 mg |
| Protein | 4.8 g |