This Japanese Airline Is Using Grounded Planes For Pricy Dining Pop-Ups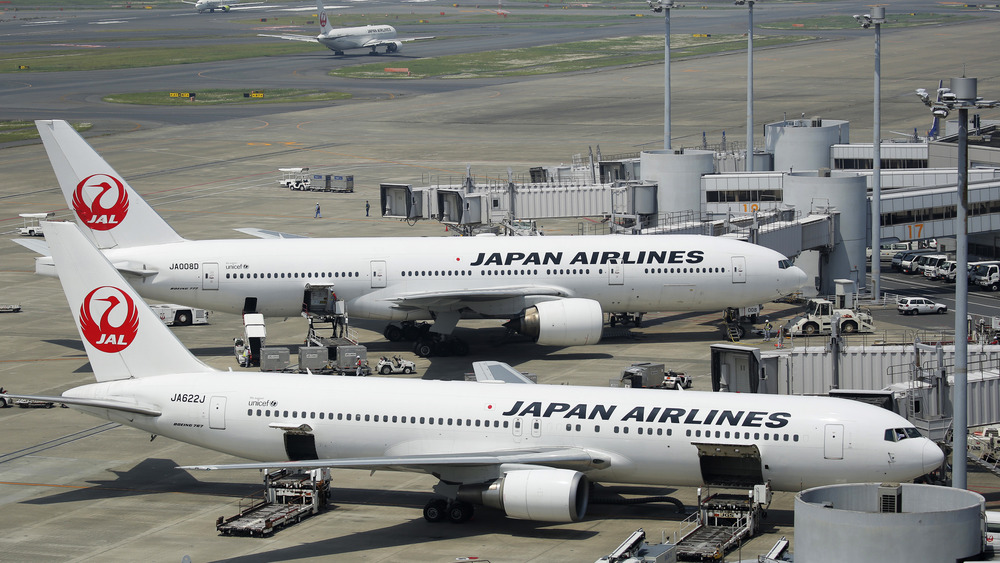 Bloomberg/Getty Images
If you find normal dining establishments boring and want to take eating out to the next level, you surprisingly have a good amount of options available. According to Thrillist, a wide variety of quirky restaurants dot the globe, ranging from an underwater restaurant in the Maldives with glass windows so you can dine with the fish, all the way to a cathedral-themed Tokyo cafe with menus shaped like coffins. If those culinary locales can't get you excited to dine out, perhaps Japan's latest culinary destination can win you over. 
According to Inquirer, for a single day in Tokyo, All Nippon Airways turned a Boeing 777 into a high-class restaurant experience, serving up delicacies like foie gras and crabmeat mousse for a price tag of $540. If that sounds ridiculous, you could also bump your ticket down from first class to business class and book a meal for half the price. While this restaurant only served diners for one day, the popularity of the experience won over everyone who tried it. If the Japanese government doesn't tighten pandemic restrictions, the firm that runs the restaurant plans to keep the venture serving up meals for some time to come.
A fine dining experience like no other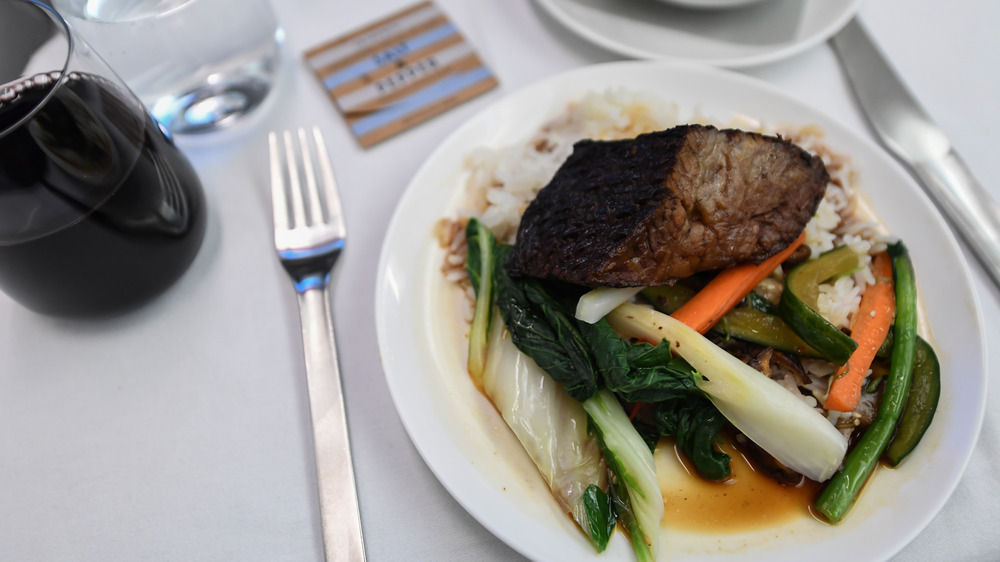 James D. Morgan/Getty Images
This restaurant has the potential to truly transform the preconceptions we have about airline food. According to The Guardian, restaurant patrons could select a meal in advance, consisting of full courses like grilled sablefish with saikyo miso, simmered beef and tofu; Wagyu beef with Kobe wine mustard; or sautéed sea bass and shellfish bisque, in addition to several more Japanese and international menus. Each selection also came with a choice between local sake, plum wine, or Krug champagne. Chefs prepared the courses in a separate facility and delivered each course to the "passengers." These booked meals take place over the course of three hours and thanks to the support the restaurant received, has scheduled 22 more upcoming dates where we can book a table and enjoy fine dining on a plane.
In addition to receiving a world-class meal, patrons also walk away with amenity kits that they can use in the lounge at the airport where the Boeing restaurant currently sits. If you find yourself in Japan and want to treat yourself to a world-class meal in a location you would never expect, make sure to give this dining experience a shot. You can find out for yourself whether this experience can compete with the weirdest restaurants and the highest culinary establishments alike.