8 Glorious Ways To Eat Dessert For Breakfast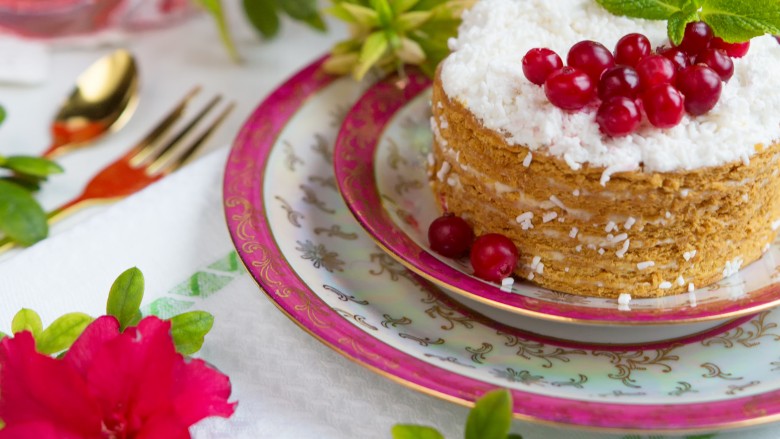 Shutterstock
Eating dessert for breakfast is one of a handful of reasons I get up in the morning at a reasonable time instead of hanging out in my pajamas all day. Just kidding — sometimes I eat breakfast in my PJs. And after a night of slumber, I wake up ravenous.
What am I usually hungry for in the morning? The short answer is something sweet that doesn't make me feel like I've made all the wrong decisions already! To that end, I want to share with you some tips and tricks for how you too can enjoy eating dessert before you even leave the house for the day.
Grab a muffin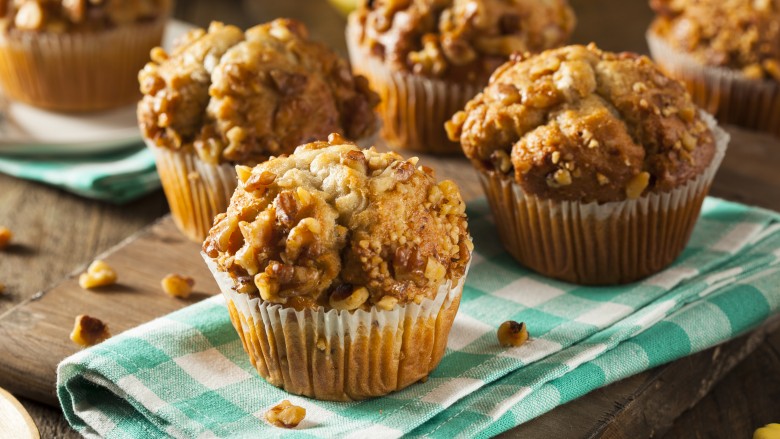 Shutterstock
What is the difference between a muffin and a cupcake? This long-debated culinary question thankfully leaves plenty of gray area, allowing you to eat dessert for breakfast in good conscience until a definitive resolution is reached.
Since muffins are thought of as somewhat nutritious, they're commonly eaten in the morning as a breakfast food. They can either be sweet or savory, but if they're the sweet variety, they don't usually flaunt their sugar. Muffins tend to be denser and drier than cupcakes as well. Whole-wheat flours, nuts, and fruits can be incorporated to further emphasize the health aspect.
On the other hand, cupcakes are basically little cakes, clearly belonging to the dessert category. Coming in flavors like chocolate, vanilla, red velvet, and dulce de leche, these delectable treats aren't exactly the breakfast of champions. They're unabashedly sweet and almost always frosted. This sugar-on-sugar makeup sets them firmly apart from their heartier muffin buddies.
Can't-lose breakfast muffin recipes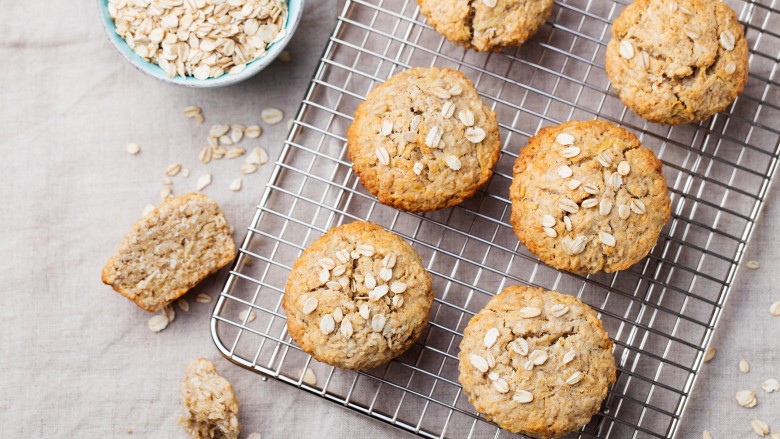 Shutterstock
Luckily for all of us, some baked goods ride the line between breakfast-appropriate muffin and sinfully indulgent cupcake. If you like the idea of eating cake first thing in the morning but want to assuage your guilt, check out these fun, clever AM muffin ideas that defy labels.
This vanilla muffin recipe from Edible Perspective steers you away from store-bought muffins, which tend to be shockingly high in sugar content. If you want just the right touch of sweetness to start your day without falling into a sugar-induced coma before lunchtime, try making a batch of these gluten-free muffins. They happily bring together versatile coconut oil, oats, and real vanilla bean seeds. An irresistible topping of cacao bean nibs lend depth of flavor and delightful crunch.
Even though this cheesecake streusel muffin recipe from Serious Eats contains the word "cake" in the name, I'm giving it a thumbs-up for breakfast since it bakes up to be pretty light still. Tender crumb, lemony cream cheese filling, and brown sugar streusel are all things I can get on board with. The ratio of muffin to "cheesecake" in this recipe isn't outrageous, and I guarantee you won't be able to resist the bright notes of citrus throughout.
Doughnuts are fine before 8 a.m., right?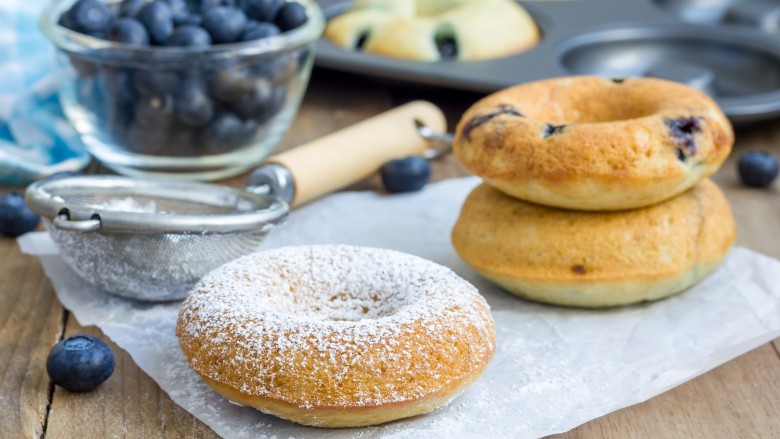 Shutterstock
Doughnuts are a staple of breakfast on the run and staff meetings at the office. I think they're a great example of the way our food culture allows a pass on eating dessert before 8 a.m. if we're talking about beloved doughnuts! Even so, I find that most doughnuts at chain shops or even local establishments are incredibly sugary, overly doughy, and usually enormous in size.
I say there are much better ways to have your doughnut in the morning without taking in so many empty carbs. Making them at home is a good way to get your dessert fix in the morning without overloading on sugar. Homemade doughnuts can be much healthier because you get to choose what you put into them.
Best doughnut recipes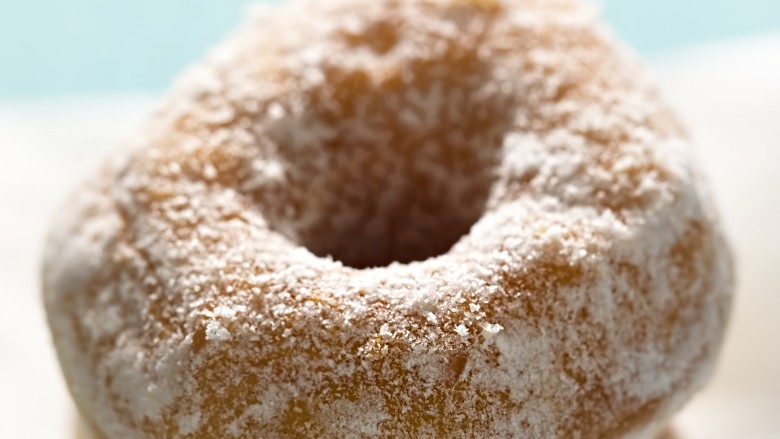 Shutterstock
Here are a couple of recipes to help get you going.
This easy recipe for buttermilk spelt baked doughnuts skips the frying in favor of baking and still manages to produce some of the most delicious gluten-free doughnuts ever. Made with spelt flour and maple syrup instead of refined sugar, the doughnuts receive an oven-baked treatment that's healthier than frying. Lest you think they're way too good for you to approximate dessert, they're then glazed with a simple, sweet milk chocolate ganache. Go on, you know you want to make these ASAP.
Another baked version of traditionally fatty doughnuts, this pistachio pudding doughnuts recipe incorporates pudding into the batter. The result is an impossibly tender, moist cake you'll love from the first bite to the last. A simple honey glaze adds sweetness, while a handful of chopped pistachios lend pizzazz.
French toast is just toast
Shutterstock
Nothing says "It's the weekend!" better than a warm platter of French toast. I can't think of a more socially acceptable way to enjoy dessert for breakfast than by eating slices of custard-soaked bread cooked to perfection. This sweet and charmingly iconic toast meal is all crisp edges, soft centers, and butter pats drenched in syrup. After a full week of activity, you deserve to slow it down with eggy bread that transforms into yummy pastry.
According to Slate, food historians have yet to come to a consensus about whether or not French toast even has roots in France. As other European countries such as England have had their own versions of battered and fried bread since the Middle Ages, it's hard to say who came up with the idea. Call it what you want, but there's no denying the universal appeal of this classic dessert-adjacent breakfast dish.
Favorite French toast recipes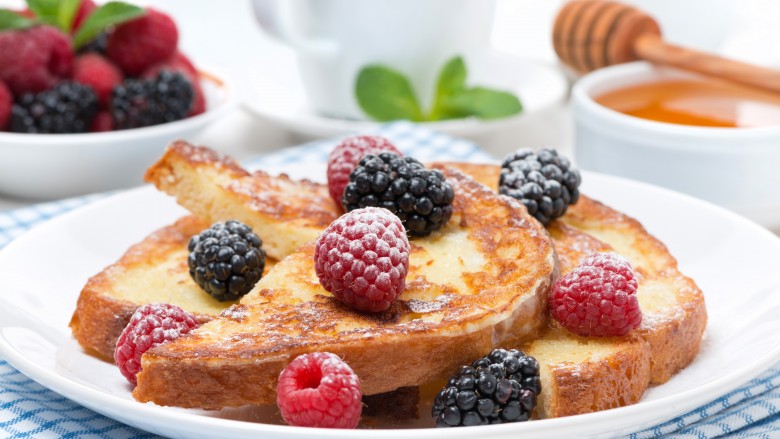 Shutterstock
Without further ado, here are two takes on French (?) toast to take your morning from good to terrific.
There's no need to feel guilty about indulging when you make this baked multigrain blackberry French toast recipe from Life Is But a Dish. It boasts many of the nourishing elements you want to have in your breakfast. Multigrain bread is soaked in a custard made with almond milk, eggs, sugar, lemon zest, and vanilla extract. Bake until everything is golden and serve with fresh blackberries and real maple syrup.
This recipe for multigrain French toast with honeyed strawberries and bananas from Runner's World is for the health-conscious foodie who secretly wants to eat dessert for breakfast. A lighter custard gives multigrain bread slices just a hint of richness, while honey-soaked strawberries and bananas lend the dish natural sweetness. It's a simple recipe that lets you indulge without feeling stuffed before noon.
Waffles are the answer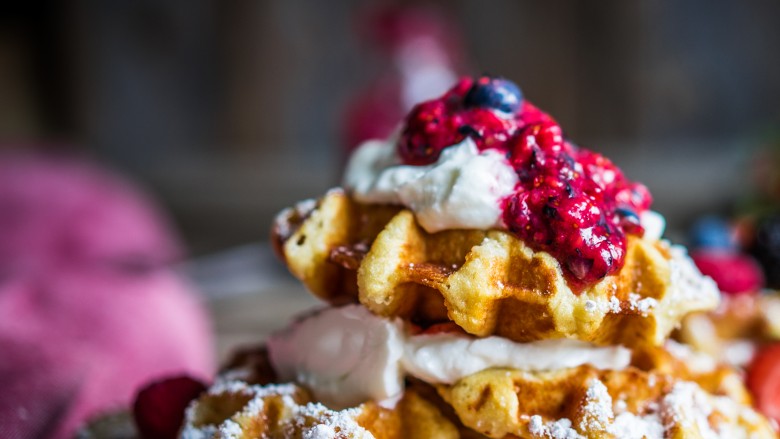 Shutterstock
With a tad more sugar and a touch more fat than pancakes, waffles are the way to go when you want to have something sweet for breakfast without feeling like a monster. Caramelized and crispy on the outside and lighter on the inside, you can think of this classic a.m. dish as doughnuts — aka fried dough — in a different form. Instead of being dunked into a vat of oil, waffles are cooked in a waffle iron coated with oil.
As far as similarities to pancakes go, both breakfast breads are made with similar ingredients, although the slight differences in proportions results in two distinct foods. Pancakes are golden on the outside and cake-like and spongy on the inside. With waffles, you're dealing with a firmer, more structured vehicle for holding on to butter and syrup. Just sayin'.
Unbeatable sweet waffle recipes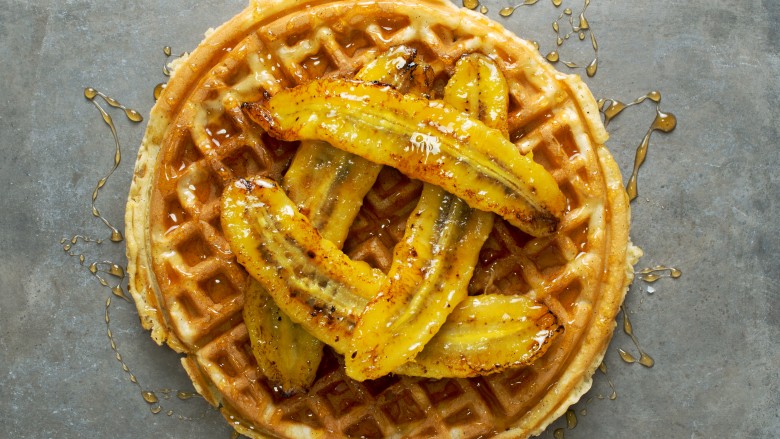 Shutterstock
To test out the famed gridded syrup pockets, have a look at two of my favorite recipes.
This recipe for banana bread protein waffles from Imma Eat That promises to give you tons of morning energy to keep you going until the next meal. It's a deliciously protein-forward way to wake up, that's for sure. Made with oat and coconut flours, vanilla protein powder, and mashed bananas, these waffles bake up like a dream. Pile on fresh fruits and add a drizzle of maple syrup if you like.
Try these multigrain waffles from How Sweet It Is when you're looking for a wholesome start to a hectic day. These whole-wheat waffles are made with all the good stuff: rolled oats, whole-wheat flour, wheat germ, and flaxseed. Warmly spiced and just sweet enough, they cook up crisp, light, and ridiculously fragrant.
Take a stack of pancakes up one or two levels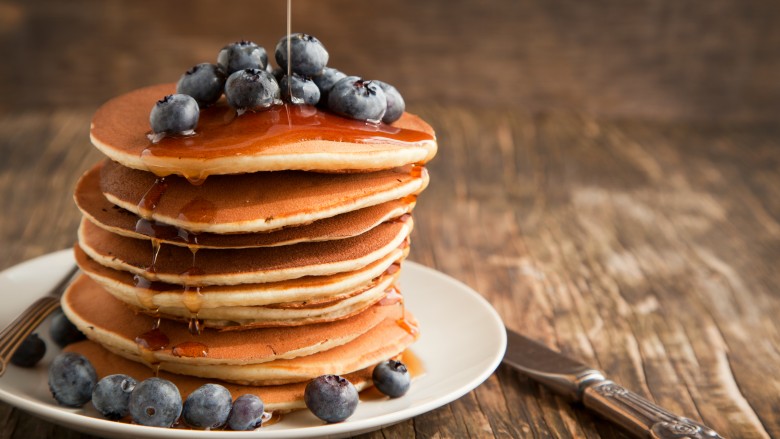 Shutterstock
A stack of breakfast pancakes is #goals whichever way you look at it. Like waffles, they present the ideal opportunity to enjoy sweet bready things early in the day. The ideal heap is a light golden brown color on the exterior with a soft and tender crumb. Whether you shake powdered sugar on top, drizzle with maple syrup, or add loads of fresh-cut fruits, it's hard to resist the aroma of pancakes cooking away on a greased griddle.
While classic pancakes like the ones you enjoyed so voraciously in childhood are one way to go, there's no shortage of ways to change up the basic formula. I love how customizable these tasty flat breakfast cakes truly are! Fold in chocolate? Sure, why not. Blueberries work, too. The possibilities are endless.
Top-notch pancake recipes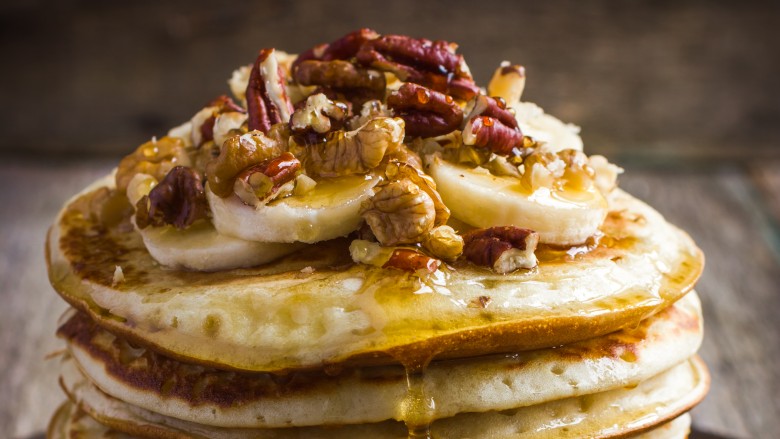 Shutterstock
Looking for something new? Give these recipes a try as a kick-off to your pancake bonanza.
These taco-style banana pancakes are a must-try. Full of energizing protein, they're made with oat flour, mashed bananas, honey, cinnamon, and creamy Greek yogurt. After whipping up a batch on your griddle, simply spoon dollops of yogurt into the center and pile on banana slices. Fold upward like a taco and enjoy sans utensils. This handheld take on pancakes makes me happy.
If you love the balance of flavors in Italian tiramisu, then you probably want in on this vegan tiramisu pancake recipe from A Little Rosemary and Thyme. First, it makes for a stunning presentation. In addition to boasting major wow factor, these pancakes are flavored with mocha protein powder along with espresso powder, cacao, and rum extract, resulting in a stack of chocolatey bliss on a plate. Top with lightly sweetened yogurt cream, chocolate syrup, and fresh strawberries. Then call all your friends because you just won at breakfast — and at life.
Chocolate to start the day is clearly a good sign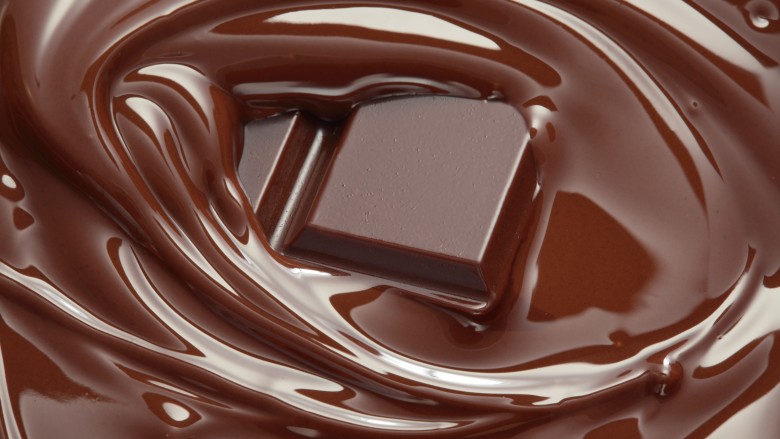 Shutterstock
I haven't gone a day without eating dessert in about six years so naturally, I'm very proud. "How does she do it?" you might find yourself asking. Well, let me tell you. I turn breakfast into another chance to eat dessert in ways big and small all by adding chocolate. It's easy and you can start doing it, too. Never too late.
The trick to incorporating chocolate into your breakfast without raising any eyebrows is to do so in seamless ways that make you seem more like a culinary genius than a glutton. You should never add over-the-top amounts of chocolate and definitely avoid gratuitous uses. It's important to take away the stigma.
Delicious breakfast chocolate recipes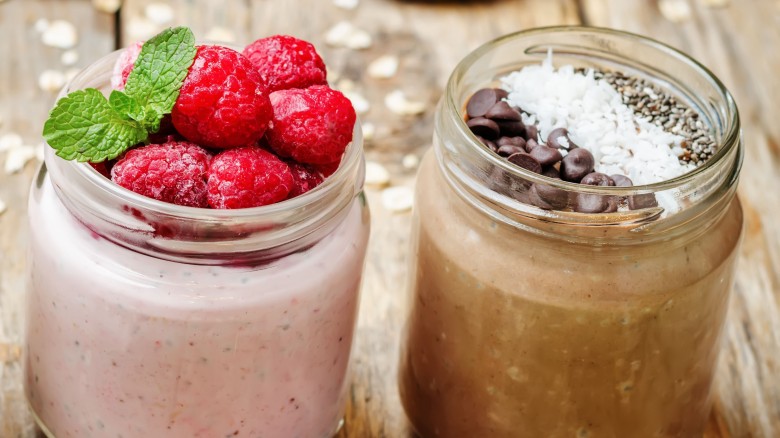 Shutterstock
Here are some delectable ways to make chocolate a part of the most important meal of the day.
I personally attest to the addictive powers of this surprisingly nutritious dark chocolate quinoa breakfast bowl from Minimalist Baker. A base of ancient grain quinoa cooked in coconut milk and almond milk is satisfying and warming on cold mornings when you find it hard to wake up. Cocoa powder, maple syrup, and vanilla extract lend chocolatey flavor and sweetness, while pieces of dark chocolate add another layer of textures. If you want to eat brownies but don't because of societal perceptions, enjoy this bowl instead.
Want to prep ahead? Try this convenient chocolate raspberry overnight parfait recipe from The Healthy Maven. Made in a cute jar, these parfaits become tastier as they sit in the fridge. Simply combine rolled oats, cocoa powder, chia seeds, and maple syrup in said jar. Seal and chill overnight. The next morning, layer Greek yogurt with your oat mixture and raspberries for a sweet cup of joy.
Breakfast cookies are totally a thing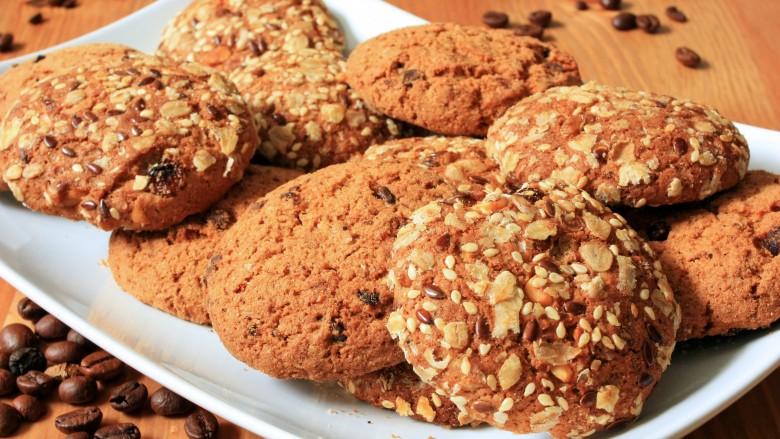 Shutterstock
Yes, you can. Yes, you can. Yes, you can eat cookies for breakfast and quite frankly, you totally should. Think of these morning versions of your favorite afternoon snack as much sexier granola bars. If you haven't been eating cookies on your morning commute, I highly recommend that you start soon, probably tomorrow.
There are so many reasons to make and eat cookies for breakfast. In addition to tasting like an approximation of happiness, they can be whatever you want them to be. Load them up with oats, nuts, and flaxseeds. Add some chocolate chips. Dried fruit lends subtle sweetness. Make a batch on Sunday and grab one each morning for the rest of the week.
Best breakfast cookie recipes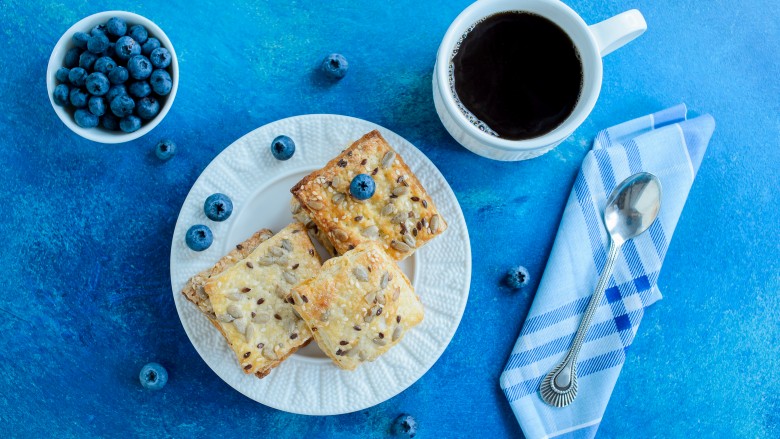 Shutterstock
Sold on the idea? Check out these recipes for some inspo.
This recipe for healthy breakfast cookies from Just a Taste packs a lot of healthy ingredients into portable little pucks. Instead of flour, peanut butter acts as the binder for oats, bananas, dried fruits, and chopped nuts. Tuck one away in your pocket for a healthy bite on your way to work. Full of potassium, protein, and fiber, this is the ultimate health cookie.
Iowa Girl Eats' recipe for lemon blackberry breakfast cookies makes gluten-, egg-, and dairy-free look pretty darn good. Gluten-free oats are combined with applesauce, mashed banana, coconut oil, honey, lemon juice, lemon zest, and fresh blackberries. Firm enough to grasp and chewy enough to make you smile, these cookies are a no-brainer for weekday mornings.
Coffee cake has the word "coffee" in it so...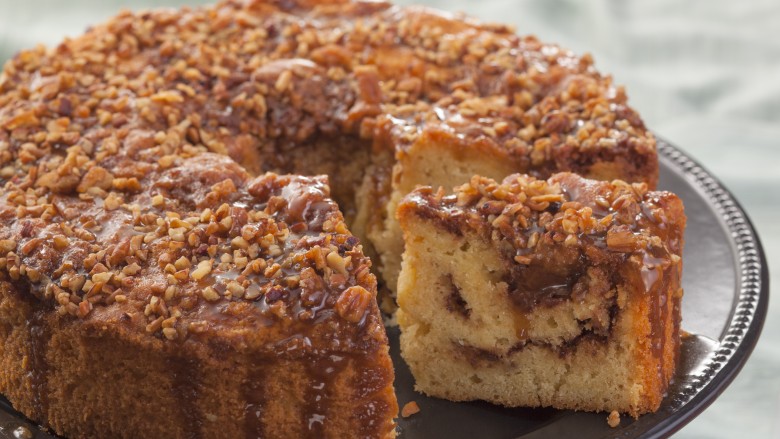 Shutterstock
Cake for breakfast is the dream. Don't even try to deny it. The good news is that by adding "coffee" to the name, it gives you full permission to eat a slice any morning you're feeling the call of cake. I am thankful everyday for coffee cake and its prominent place in my breakfast rotation.
Does coffee cake have coffee in it or is it a cake meant to be enjoyed with a cup of coffee alongside? While either definition holds true, in the U.S. we tend to think of coffee cake as one you eat alongside your morning cuppa. That works splendidly for me since I'm not always in the mood for coffee-flavored cake, but I'm always feeling cake in general.
Irresistible coffee cake recipes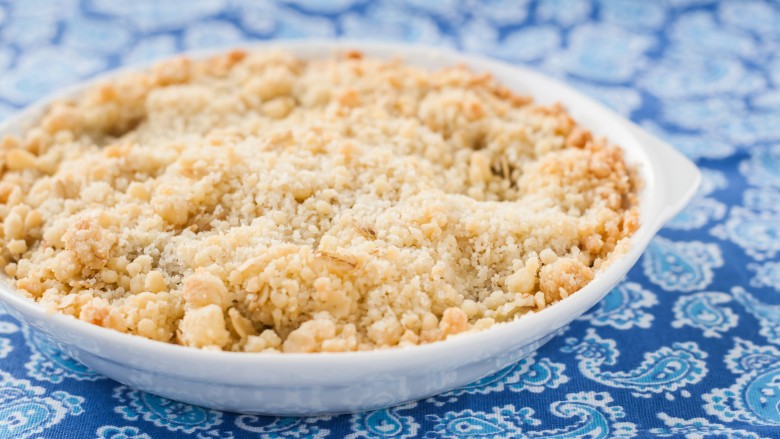 Shutterstock
Bake up either of these two (or both) and have yourself a good morning.
This big crumb coffee cake recipe from Smitten Kitchen speaks to me on a very base level. I love the crumble on top of coffee cake as much as I love the cake itself, and this version is all about that heap of sweet crumb. Traditional sour cream cake is speckled with sweet and tart chunks of rhubarb and topped with a ginger-forward crumble that's rich with brown sugar flavor. You need this cake with your next cup of coffee.
While I'm not usually one to love a recipe that comes from the back of a package, I'm quite taken by this whole wheat coffee cake recipe from Bob's Red Mill. Interspersed layers of sweet and tangy cake batter pair well with a filling of pecans, brown sugar, and cinnamon. Since the cake is made with whole wheat flour and wheat germ, it has a unique earthy, nutty flavor that's made for morningtime.
Indulge your sweet tooth to your heart's desire even if it is 8 a.m.