Costco Fans Are In Love With These Summery Fruit Sorbets
Memorial Day is getting closer, and that can only mean one thing: the official start of summer is almost here, and with it, summer snacks. From summer grilling to warm days at the beach, it's just about time to start filling your fridge and freezer with all the treats and snacks that are best enjoyed in hot weather. But if you're getting tired of the same old classic ice cream flavors or traditional freeze pops, never fear, because Costo has you covered with the return of their Island Way Sorbet.
Each box features an assortment of handmade sorbet in natural fruit shells, for just $13.99 for 12 shells (via Instagram). It's a steal at just over a dollar per shell. Each box contains three of each sweet and fruity flavor: heavy coconut, ruby red berry, passionate mango, and zesty pomegranate. But not only is each delicious sorbet made with decadent cream and refreshing fruity flavor, they are also gluten and GMO-free. Coming in under 190 calories per serving, this is the perfect snack for everyone to enjoy on a warm summer's evening (via Island Way Sorbet).
Costco shoppers couldn't stop raving about this sorbet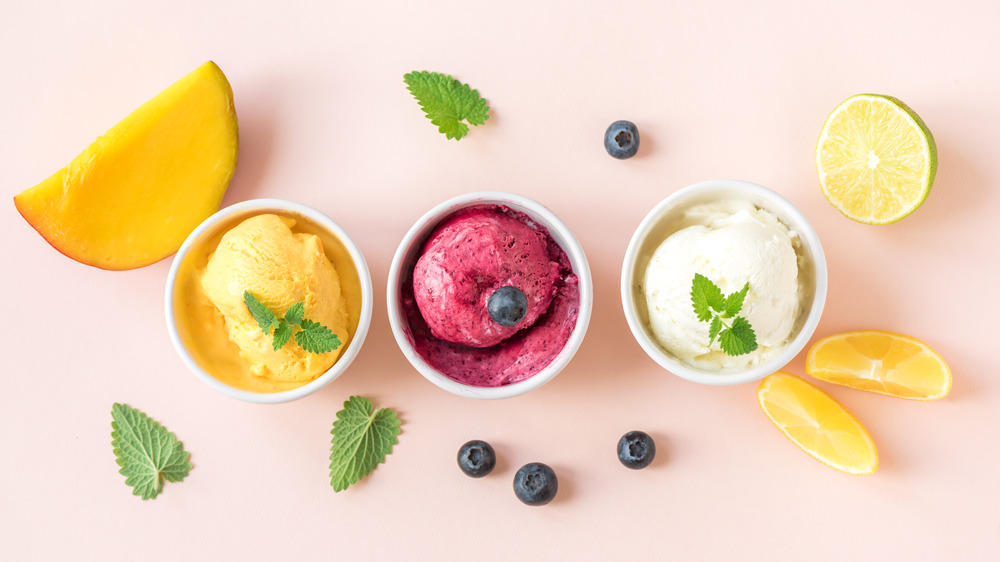 Shutterstock
Costco shoppers were thrilled to see the arrival of this perfect hot weather treat. The popular Instagram account @costcobuys alerted their followers to the find, posting: " I'm so happy that my Costco has Island Way Sorbet again for $13.99! This fruit sorbet has a touch of cream and comes in natural fruit shells! I'm not exaggerating when I say these are some of my favorite treats...are you guys a fan?"
According to the responses on social media, the answer was a resounding yes. Many of their Instagram followers chimed in to celebrate the return of Island Way Sorbet to Costco's shelves. Follower @amagolay celebrated: "Omg I missed these so much!" "I've had these. They are really great," @jody.parise agreed. "They are very refreshing and delicious flavors," follower @helen_n_james chimed in. So whether your plans this summer involve tanning by the pool, heading to the beach, or just relaxing in your own backyard, these refreshingly fruity, creamy sorbets are sure to make it a little sweeter.