Fancy Feast Wants To Help You Eat Like Your Cat. Here's How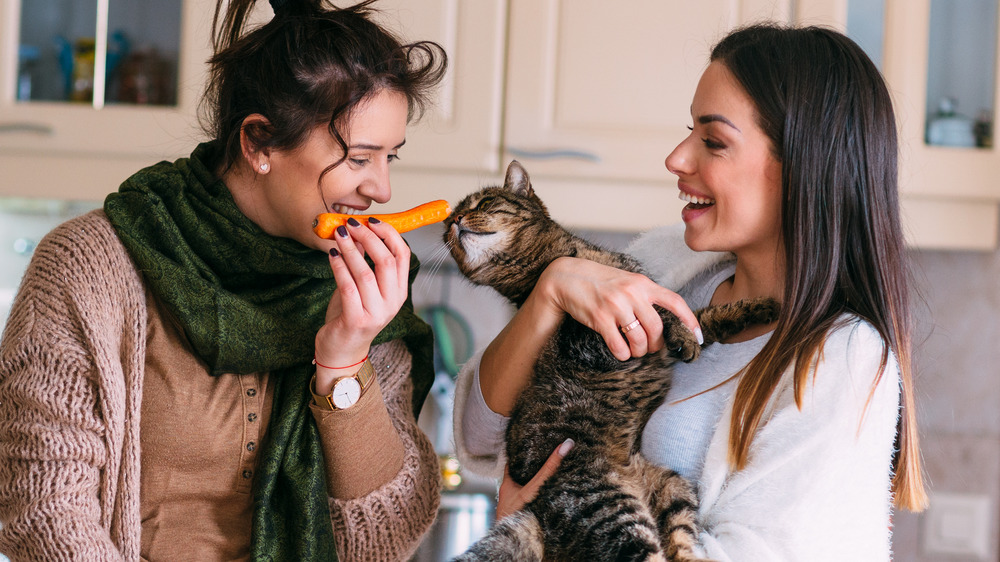 Shutterstock
It was bound to happen, wasn't it? All the signs were there. After years of adorable videos on social media, subscription boxes where pet lovers can spoil their animals, and bakeries that create yummies for our furry four-legged friends, the time has come.
That's right. There's now a Fancy Feast cookbook. Petite Feast: A Cookbook is a collection of recipes that allow you to eat as well as your cat, and it's available online in a digital cookbook form (via Purina).
Recipes include single-serve portions of meals like Ancho Butternut Squash Street Tacos, Chicken Ramen With Tomato Honey Butter Sauce, and Salmon Cannellini Cakes With Lime Cilantro Remolaude. Before you get too nervous, all the recipes are real, honest-to-goodness dishes designed for humans. 
The cookbook launches in conjunction with Fancy Feast's new product line, Fancy Feast Petites (via The Takeout). The company touts the single-serving entrees for kitty cats with the same gusto as the recipes in the cookbook — with the idea that you and your four-legged family member can enjoy similar meals together.
Dinnertime with you and your best friend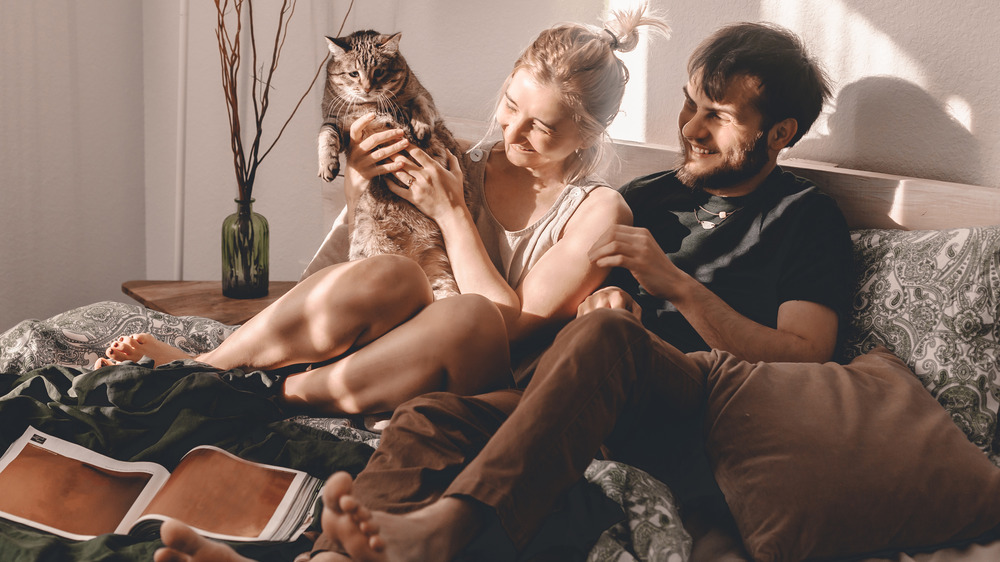 Shutterstock
Petite Feast: A Cookbook was developed and tested by Fancy Feast's chef, Amanda Hassner, with recipe input from James Beard Award nominee, Jerrelle Guy. The creation of the cookbook is the natural extension for people who scour the web looking for tasty recipes to make for their pets (via Love to Know).
While the recipes are not meant to be a four-course supper to go halfsies on with your cat, the dishes in the cookbook are designed to be paired with the Petite line. That way, you and your cat can enjoy the same ingredients. It sort of gives a bit of tapas-like flair for you and your BCF (that's Best Cat Forever).
"From Chicken and Ramen with Tomato Honey Butter Sauce to Whitefish and Asparagus with Beurre Blanc, the cookbook features recipes that are elevated but easy enough to whip up on a weeknight," Hessner says. "Each dish was inspired by the small-plate restaurant trend. The recipes are for humans but were created in honor of the dishes you will be serving your cat," (via Wide Open Eats).