Easy No-Bake Peanut Butter Cookie Recipe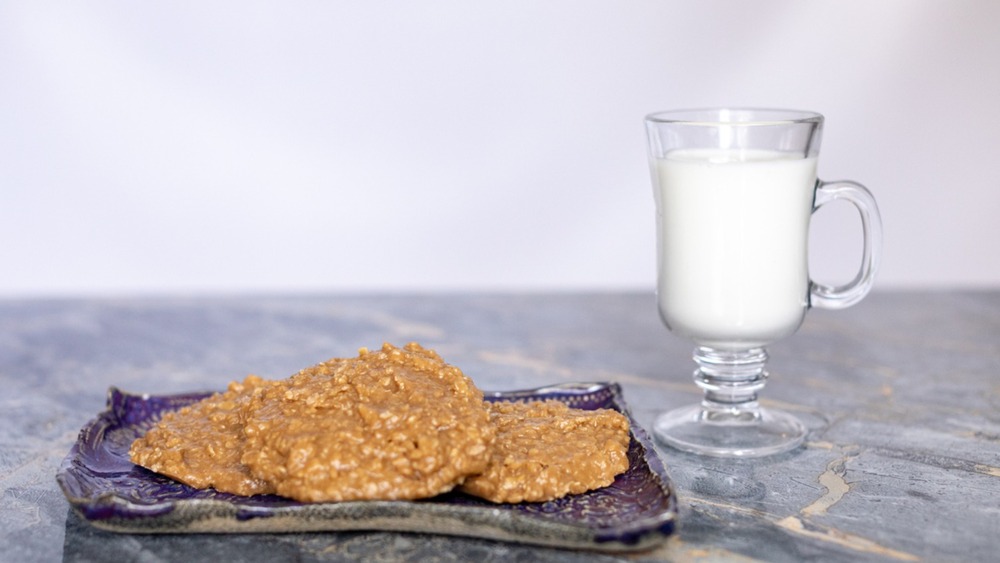 Nathaniel Lee/Mashed
If you have ever been in the mood for a little something sweet, but don't feel like taking a trip to the store, Nathaniel Lee, who shares food tips at Beginner Food, has the recipe for you — easy no-bake peanut butter cookies. "This is one of those pantry buster recipes," he told Mashed, adding about his family, "We always have instant oatmeal and peanut butter in our pantry. This is a great way to use up the last bits of either."
"It is so easy to make as little or as much as you need, so you can finish off those pantry staples," Lee also noted. 
Meanwhile, we are loving how this recipe comes together without ever having to turn on your oven, with Lee saying about his no-bake variety of peanut butter goodness, "While oven baked cookies are not rocket science, small changes here and there still massively effect texture and flavor." These treats, which will taste sweeter than traditional cookies because no flour is used as filler, are "very consistent" according to him. So, what are you waiting for?
Walk over to your pantry and then hit the fridge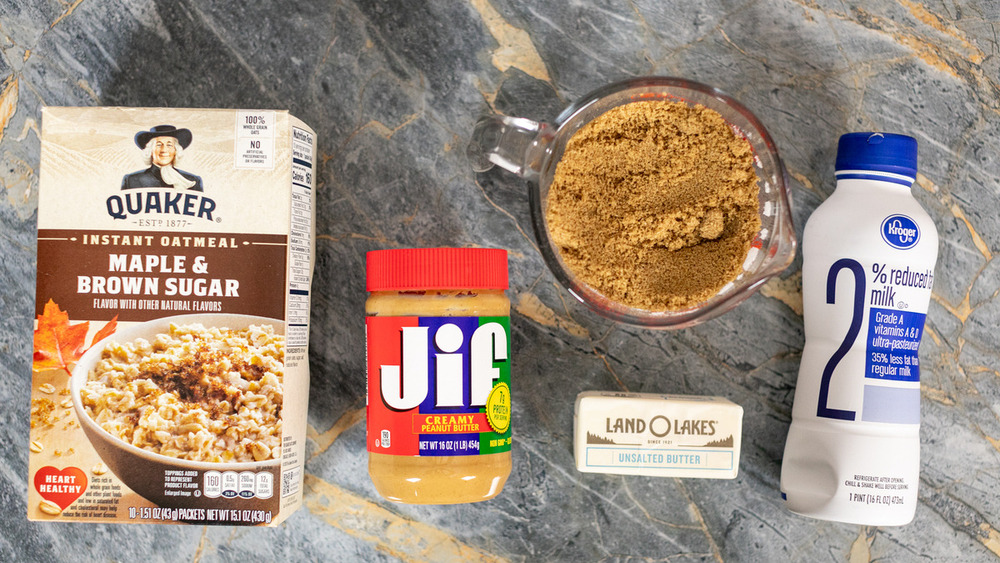 Nathaniel Lee/Mashed
Like Lee, you likely have peanut butter and instant oatmeal on hand. You likely also have the other needed ingredients hanging out in your kitchen as well: unsalted butter, milk, sugar — both white and brown sugar — as well as vanilla extract. 
As far the kind of peanut butter that works best for this recipe, Lee told Mashed, "Smooth or chunky works just fine depending on your texture preference." He added, "You can go unsalted, but I think it needs the salt to cut the sweetness." There is one kind of peanut butter that may not be a good fit for these cookies, with Lee explaining, "Natural peanut butter I would be skeptical of because it uses oils that are liquid at room temperature. My fear would be these oils would inevitably leak out of a no-bake cookie."
Meanwhile, when it comes to your instant oatmeal choice, Lee suggests "going with a neutral or complimentary flavor to peanut butter like maple, cinnamon, or plain." 
Caramelize your sugar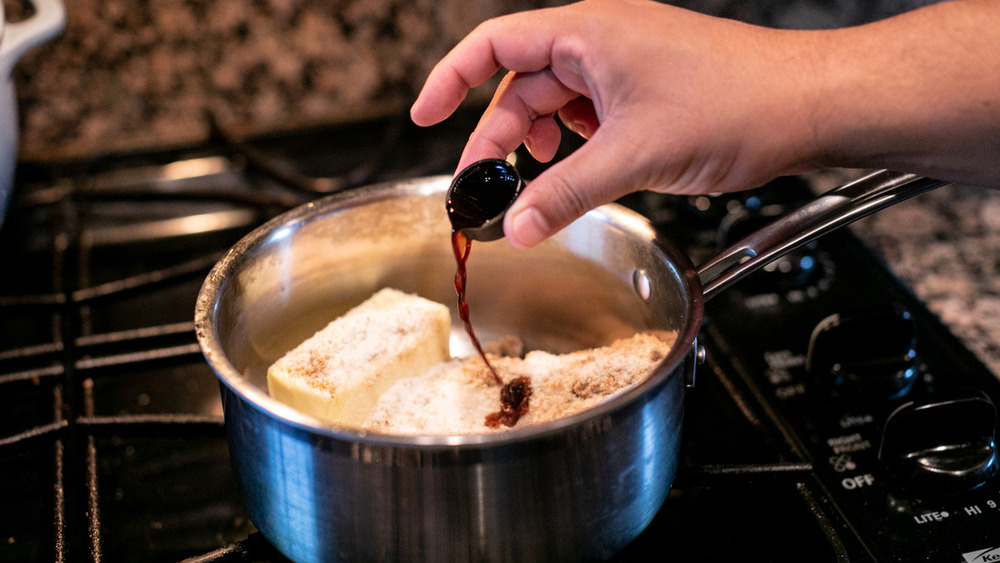 Nathaniel Lee/Mashed
Step one to not baking your way to a sweet treat is to add your butter, milk, sugar (half brown, half white), and vanilla extract to a medium saucepan and bring the mixture to a boil. How much sugar you add to the pan will depend upon your instant oatmeal choice, with Lee explaining, "If you are using flavored oatmeal, use one and a half cups of sugar [total]. If you are using pure quick oats, go up to two cups of sugar. This is because there is a lot of sugar in [flavored] instant oatmeal."
You will boil the mixture for just about one minute, being careful not to burn it. The goal is it caramelize the sugar, with Lee explaining, "While it is a no-bake cookie, at the end of the day you still need to caramelize the sugar so it can be incorporated and set with the other ingredients."
Once it boils for one minute, go ahead and remove the pan from the heat.
Add the rest of the ingredients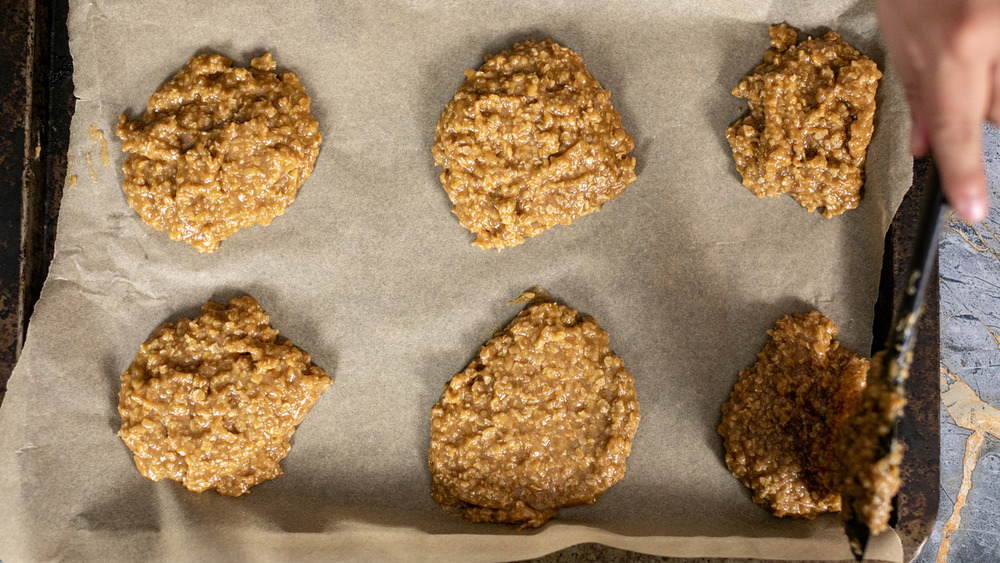 Nathaniel Lee/Mashed
Next, mix in the peanut butter. You will also add the oats and stir the mixture until it's cool. Now, wait until the batter comes to room temperature and is beginning to set. At this point, spoon the mixture onto a lined cookie sheet, with Lee telling us, "You can make the cookies any size you want."
Before enjoying your no-bake dessert or snack, Lee notes home bakers should allow the cookies to chill in the fridge for at least an hour. Meanwhile, you can enjoy your no-bake peanut butter cookies for days, or longer, with Lee instructing, "These store very well both frozen and in the fridge. You can easily wrap them up airtight for a week in the fridge or I'd imagine months in the freezer, as there is very little water content in them to burn out." But he adds a word of caution: "You absolutely should not store these cookies at room temperature, or warmer, as doing so can cause them to deform or the oils to liquify."
You may even find that these cookies hit your sweet spot a little better in the following days, with Lee noting, "After a day in the fridge, the sweetness is toned down, and the chewy factor gets upped."
Easy No-Bake Peanut Butter Cookie Recipe
All you need are some pantry staples to serve up a quick and easy batch of these yummy, no-bake peanut butter cookies.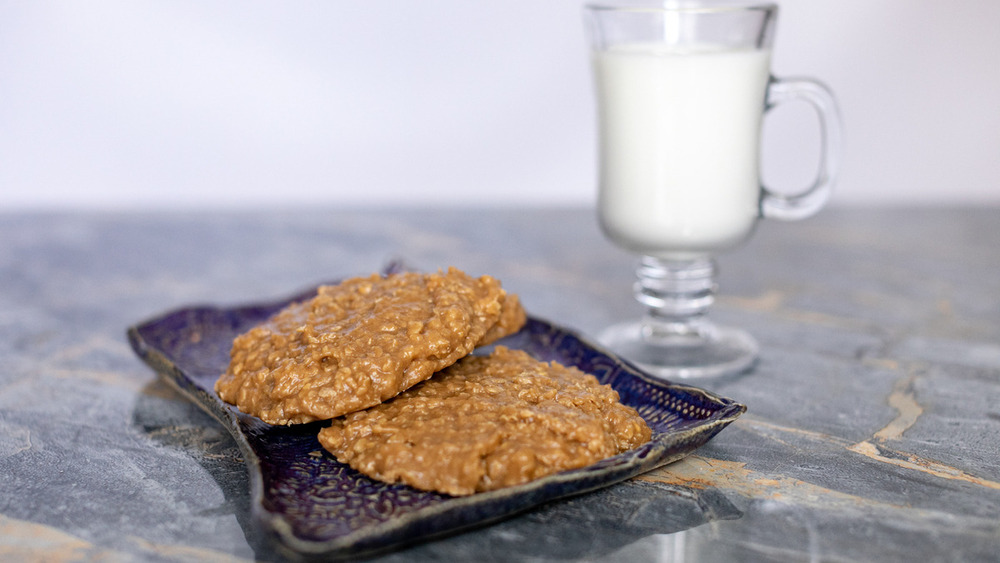 Ingredients
½ cup unsalted butter
½ cup milk
¾ cup white sugar
¾ cup brown sugar
1 teaspoon vanilla extract
1 cup peanut butter
2 cups instant oatmeal
Directions
Add butter, milk, sugar, and vanilla extract to a medium saucepot and bring to a boil.
Boil for 1 minute -- do not let it burn -- and remove from heat.
Mix in the peanut butter. Add the oats and stir until cool.
Once the mixture is room temperature and beginning to set, spoon it onto lined cookie sheet in the shape of cookies, any size you want.
Cool in the refrigerator for 1 hour and serve.
Nutrition
| | |
| --- | --- |
| Calories per Serving | 855 |
| Total Fat | 43.5 g |
| Saturated Fat | 15.6 g |
| Trans Fat | 0.7 g |
| Cholesterol | 42.7 mg |
| | |
| --- | --- |
| Total Carbohydrates | 107.7 g |
| Dietary Fiber | 10.0 g |
| Total Sugars | 49.3 g |
| Sodium | 195.1 mg |
| Protein | 19.7 g |