Traditional Jajangmyeon Recipe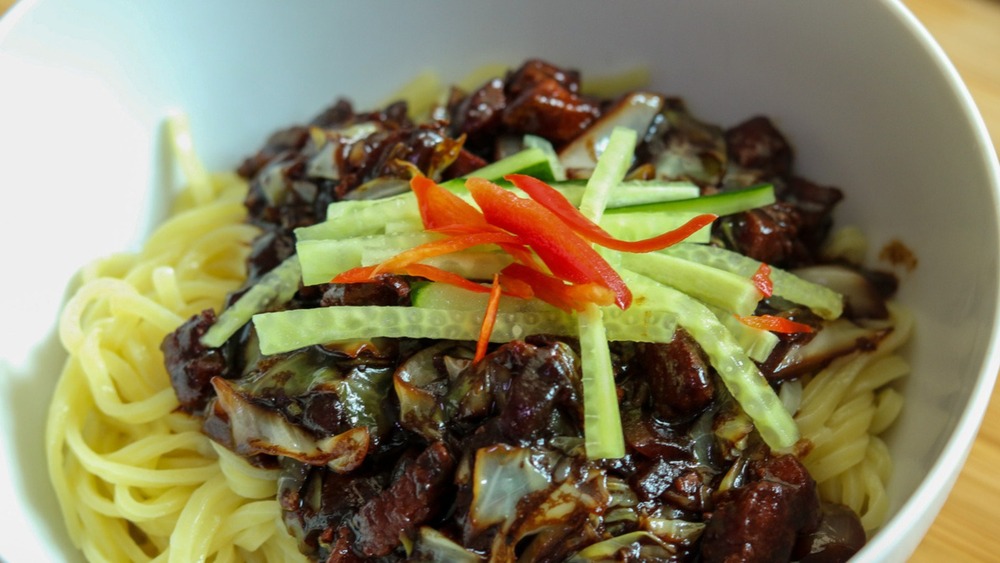 Tommy Leung//Mashed
Valentine's Day, whether you love it or hate it, is at least limited to one day a year — except in Korea, where according to Asia Society, the fourteenth of each month is a designated "love day." While nine of these are lesser days such as January's start-the-year-right Diary Day, October's relatable Wine Day, and August's not-sure-what-that's-about Green Day (surely '90s alt-rock can't be that big of a deal there?), the three major ones take place in February, March, and April. February 14, known as Valentine's Day in Korea as elsewhere, is a time when women are expected to give chocolate to men. The following month, on White Day, men are expected to return the favor.
In April, however, comes Black Day, a holiday for those who have no significant other. Despite the day's depressing-sounding name, it's actually not a sad occasion at all. Unlike the preceding two holidays, the weather generally tends to be pretty nice by mid-April, so single people enjoy the excuse to go out and have a good time while married folks stay home and do the dishes or whatever it is they do. The best part of Black Day's celebration is the dish traditionally eaten on this occasion, a tasty concoction of noodles in black bean sauce called jajangmyeon. While recipe developer Tommy Leung says this food is traditionally enjoyed by singles on their special day, even the happily coupled may be tempted to try this tasty and not-too-difficult recipe.
Visit an Asian grocer to get the ingredients for your traditional jajangmyeon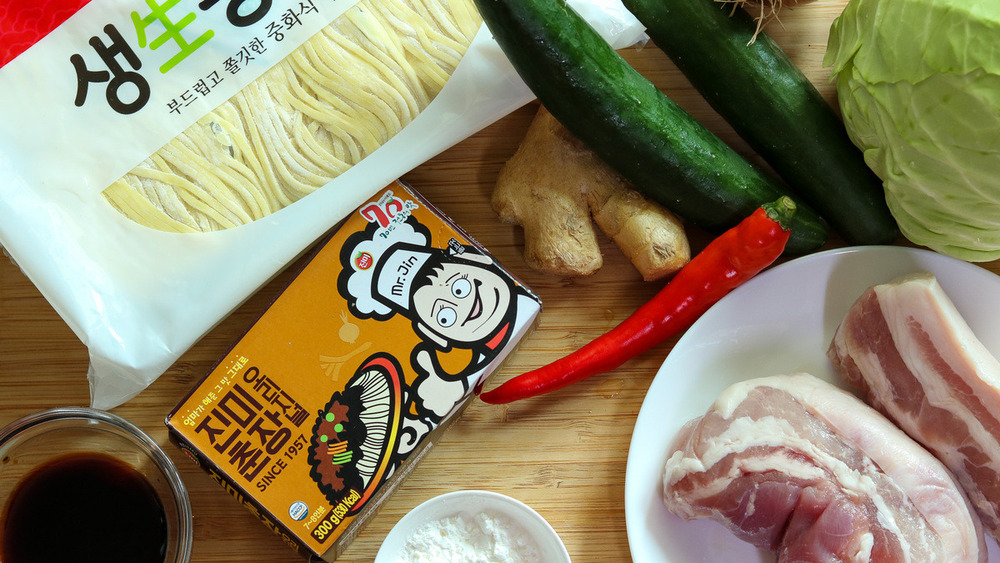 Tommy Leung/Mashed
Some of the ingredients you'll need to make this traditional jajangmyeon recipe are things you likely already have on hand, such as vegetable oil, soy sauce, and salt. Other items are things you can easily pick up in just about any grocery store: fresh ginger, an onion, a small cabbage (you'll only need half), a cucumber, and, if you like things spicy, a small red chile pepper. 
While the pork belly called for is still not the most mainstream of meats, it has become pretty trendy over the past few years as an even more hipster-ish alternative to bacon. If your supermarket doesn't carry it, you can always try a butcher shop, but first, check at your local Asian market. You'll most likely need to pay a visit to such an establishment in order to find the Korean wheat noodles and the junchang. If you have any trouble finding the latter, and/or you're looking for the exact same brand Leung uses, you can get Jinmi Black Bean Paste online.
Chop the veggies for this traditional jajangmyeon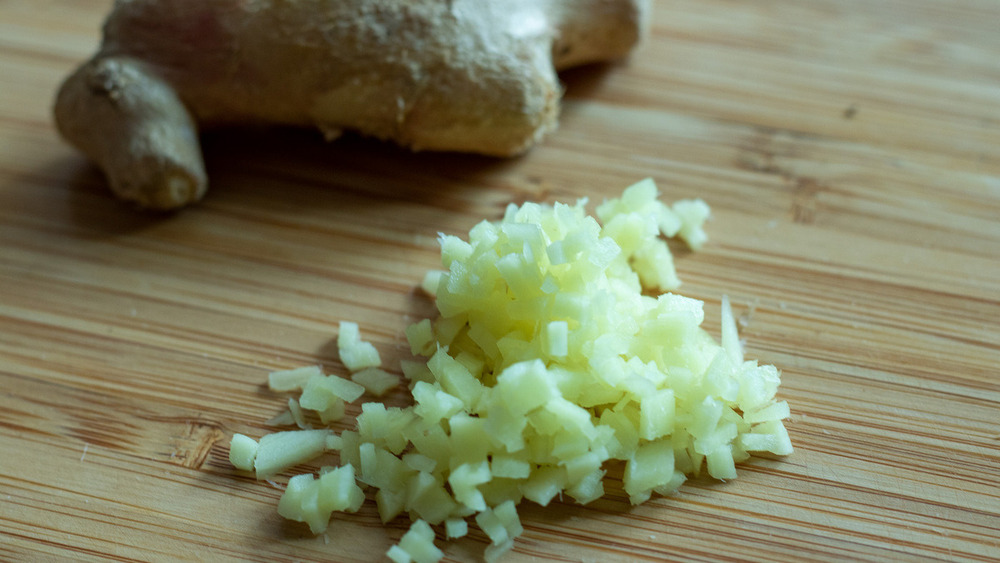 Tommy Leung/Mashed
Take the cabbage and cut it in half, then save one of these halves for some later purpose — perhaps you may even want to try your hand at making kimchi. Slice up the half cabbage you'll be using for this traditional jajangmyeon recipe, then set it aside while you chop the onion. Now wipe your eyes, blow your nose, and wash your hands, then relax and enjoy the easy-tear-free tasks of chopping the ginger as finely as you can and slicing the cucumber into strips.
While there isn't any real need to peel the cucumber for taste's sake, you might want to do so anyway if the one you're using wasn't organically grown. Cukes have an unfortunate tendency to be high in pesticide residue, but most of this stays in the peel. You can also, if you wish, slice up half a hot red chile pepper (or the whole thing, if you're hardcore).
Prepare the pork belly for this traditional jajangmyeon recipe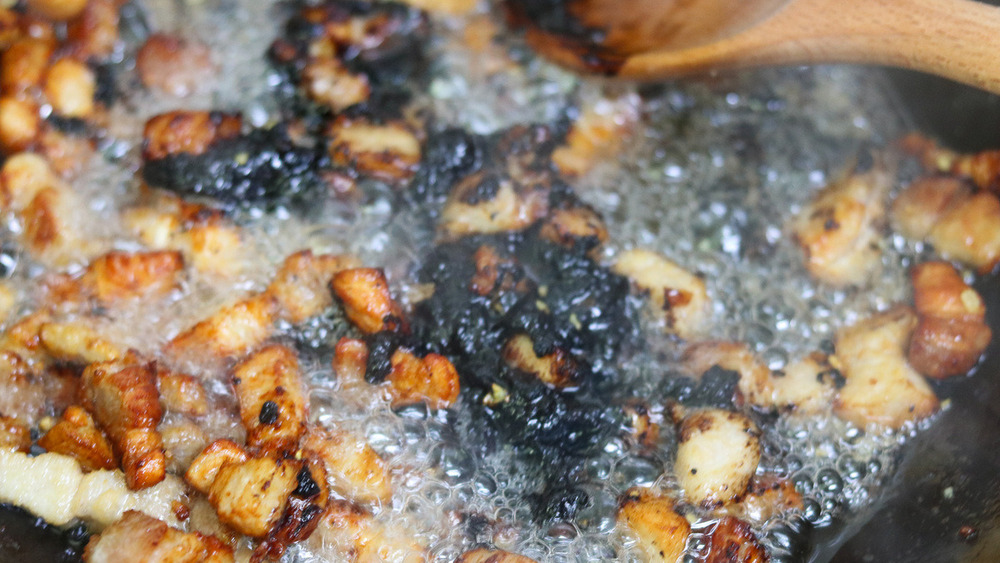 Tommy Leung/Mashed
After you're done with the veggies for your traditional jajangmyeon, it's time to turn your attention to the pork. Remove any skin attached to the pork belly and trim off any excess fat. You don't have to toss it if you don't want to, as you can always render down the fat and use it later. Once the pork belly is skinned and de-fatted, slice it into strips.
Pour the vegetable oil into a skillet and make sure it coats the bottom of the pan. Add the pork strips to the pan and cook the strips over medium-high heat until any remaining fat has melted away and the pork belly has turned a nice golden brown.
Add in the rest of the sauce ingredients for this traditional jajangmyeon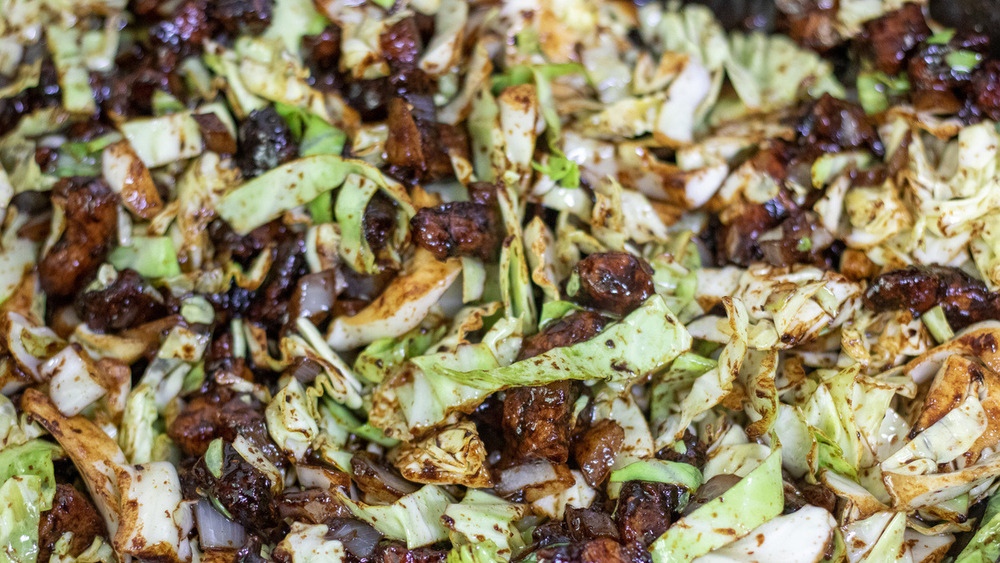 Tommy Leung/Mashed
Turn the heat down to medium, and add the chopped ginger and the junchang paste to your traditional jajangmyeon. Stir these into the pan of meat and cook for a minute, stirring all the while so the sauce doesn't burn. Add the onions and cook for another minute, then add the cabbage and cook for a minute after that. At this point, add the water to the pan and let it simmer for ten minutes.
While everything's cooking, measure the cornstarch into a small bowl, then add a little bit of the water to make a slurry. After the ten minutes of cooking is up, stir the slurry into the sauce to thicken it.
Cook and serve the noodles for your traditional jajangmyeon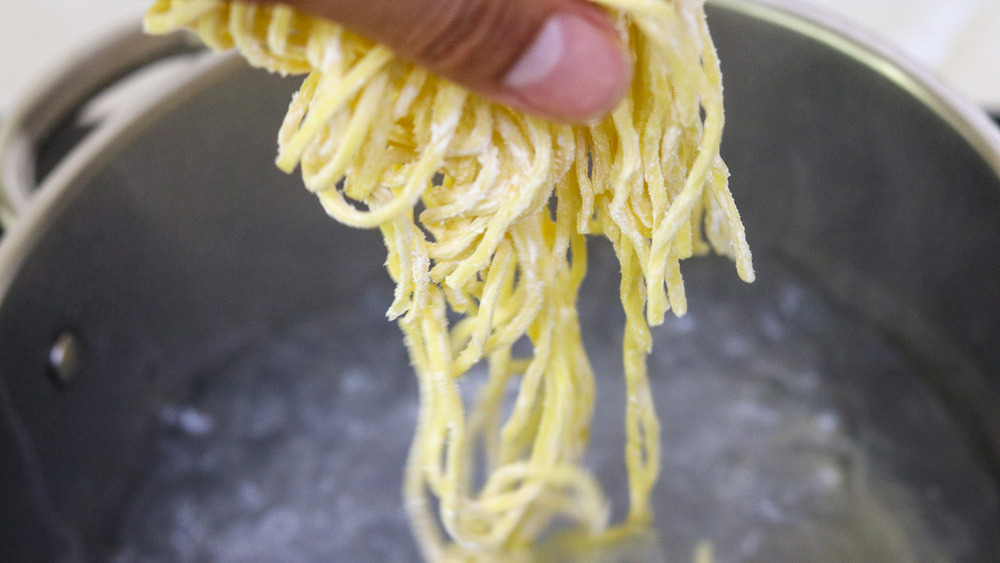 Tommy Leung/Mashed
Let the sauce simmer while you boil a large potful of water. Once the water is boiling, add the noodles. Korean wheat noodles are what you'll want to use if you can find them. These come packaged in bunches or "nests," and you'll be using three of these. If you can't find this type of noodle, Leung says you can substitute any other wheat noodles or udon-type noodles you can find, or in a pinch, even spaghetti or fettucine. "I would look for a noodle that is bouncy and not too thin," he suggests.
Cook the noodles for three to four minutes until the noodles are al dente — you want them to be slightly chewy. Drain the noodles into the sink, then rinse them off with cold water. This is to get rid of all the starch from the pasta water, since any remaining starch could cause the noodles to stick together. Divide the cooked noodles among three to four bowls, and top each bowl with sauce. Garnish the traditional jajangmyeon with the sliced cucumbers (and chile, if desired) before serving.
What to serve with traditional jajangmyeon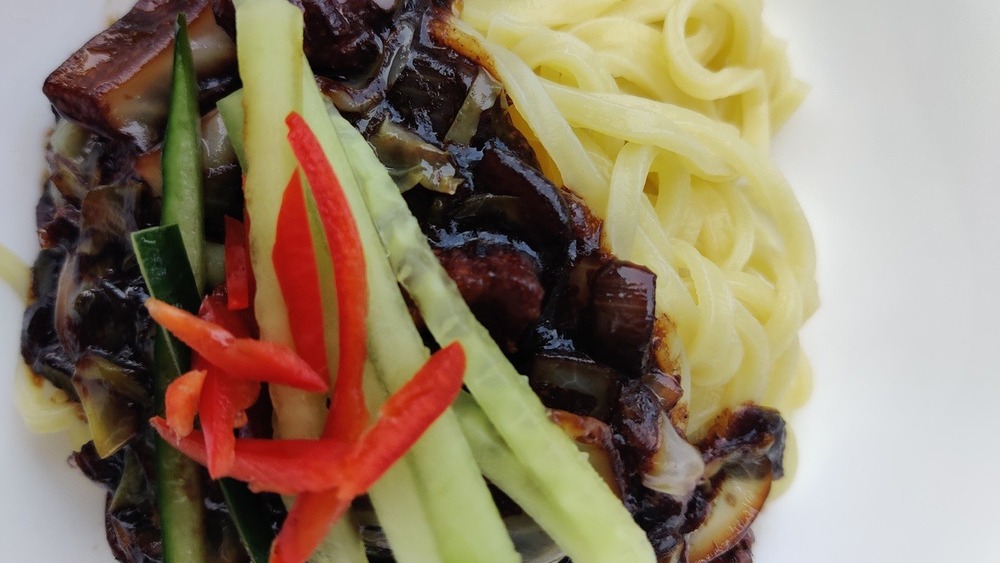 Tommy Leung/Mashed
If you try this recipe and you know these noodles are going to be your next favorite thing, you're in good company. Leung says, "This is one of the most popular takeout meals in Korea," and adds that, "it's a delicious and comforting dish to enjoy at home." As jajangmyeon is Korean, he suggests kimchi as a side. Since the pork belly can be kind of fatty, he also says, "something a little sour will be a nice match," adding that any kind of acidic pickle such as pickled radishes could help to balance what he describes as jajangmyeon's "deep, intense flavor."
Once you master the art of traditional jajangmyeon, you might want to make this on the fourteenth of every month for your own culinary "love day" fest. After all, there are few higher forms of love worth celebrating than the deep affection one feels for a truly great noodle dish.
Traditional Jajangmyeon Recipe
While jajangmyeon is traditionally enjoyed by singles on their special day, even the happily coupled may be tempted to try this tasty recipe.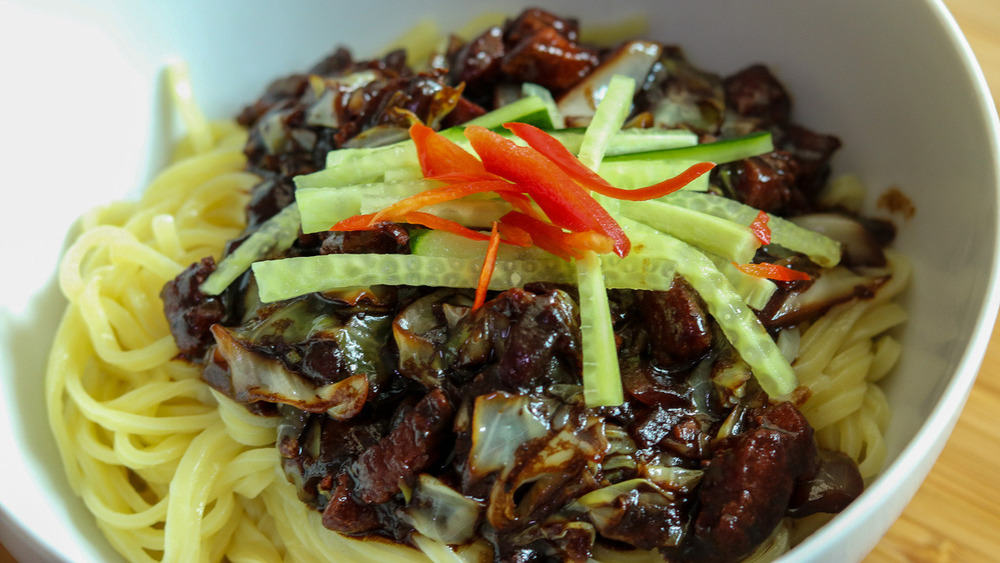 Ingredients
1 pound pork belly
2 teaspoons vegetable oil
1 tablespoon finely chopped ginger
½ cup junchang (Korean fermented black bean paste)
1 onion
½ small cabbage
1 cup water
2 tablespoons corn starch
1 tablespoon soy sauce
1 teaspoon salt
3 nests Korean wheat noodles
1 small cucumber
Optional Ingredients
Directions
Chop the onion, finely mince the ginger, and slice the cabbage, cucumber, and chile pepper (if desired). Set aside.
Remove skin and trim the fat off the pork belly. Cut into strips.
Coat the bottom of a skillet with vegetable oil, and cook the pork belly until the fat has rendered and turned golden.
Lower the heat and add ginger and junchang black bean paste. Let it bubble and cook together for a minute while stirring to avoid burning.
Add onions and cook for another minute, then add the cabbage and cook for another minute.
Taste and add soy sauce and salt if needed.
Pour in water and let simmer for 10 minutes, then stir in the cornstarch/water slurry to thicken the sauce.
Boil water in a large pot and cook noodles for 3 to 4 minutes until al dente.
Drain noodles and rinse in cold water to remove starch.
Divide noodles between bowls, top with sauce, and garnish with sliced cucumbers and sliced chile, if desired.
Nutrition
| | |
| --- | --- |
| Calories per Serving | 1,694 |
| Total Fat | 76.0 g |
| Saturated Fat | 25.5 g |
| Trans Fat | 0.2 g |
| Cholesterol | 295.8 mg |
| | |
| --- | --- |
| Total Carbohydrates | 199.6 g |
| Dietary Fiber | 11.2 g |
| Total Sugars | 9.1 g |
| Sodium | 1,596.4 mg |
| Protein | 51.7 g |