The Reason Aldi Shoppers Are Praising This Ribeye Steak
Aldi has established themself as a serious competitor when it comes to grocery shopping on a budget. While deals abound at this grocery chain, not every item warrants a purchase. According to Eating Well, buying meat at Aldi might not score you the deals you want. Ground beef comes with a high price tag, while other ground meats have come with shards of bone tucked into the product. However, the occasional horror story can't dissuade everyone looking for a great deal, and luckily, buyers might have just found the holy grail of meat at Aldi.
Redditors have been drooling over Aldi's recent ribeye cuts, making it a real steal for anyone looking to grab some meat to grill up this spring or summer. Eager users love the product, flooding a recent post featuring a picture of one of Aldi's ribeyes with comments like, "What a beautiful ribeye! I'm really into their beef tenderloins right now," and "And they are so generous too – my boyfriend and I split one – I cook in the air fryer and it's perfect every single time. 400 degrees, 8 minutes, flip and 8 minutes more for perfect medium rare."
The perfect steak for meat lovers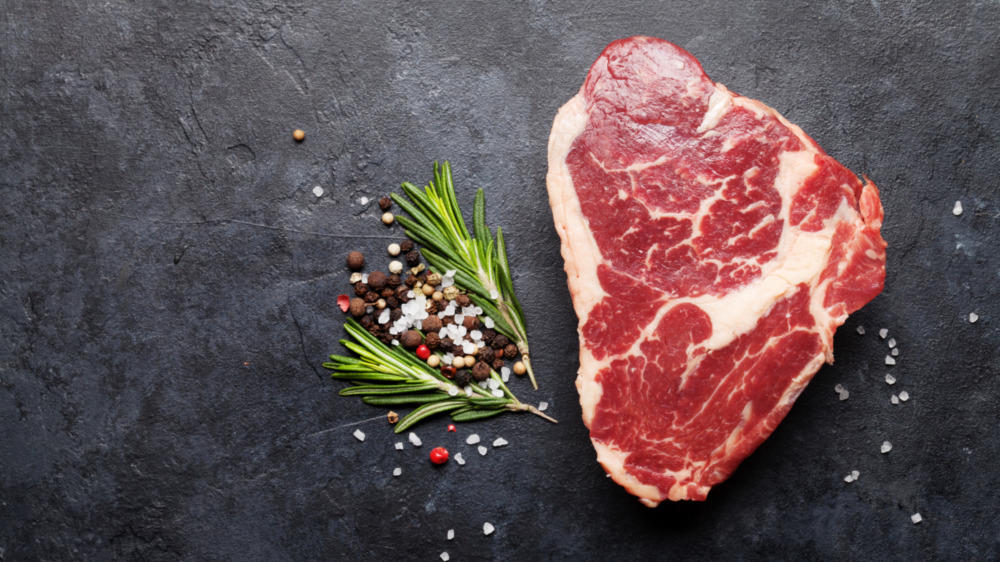 Shutterstock
If you crave some red meat, you can't go wrong with this cut. According to Aldi, the fresh, hand cut steaks come vacuum-sealed, ensuring a super fresh product that begs you to fire up the grill. The price varies by store, so be sure to make a note of the price tag on Aldi's ribeye the next time you make a grocery run. For a perfectly cooked steak, Aldi also has some cooking tips to ensure you cook your ribeye to the perfect temperature and store it just right for optimal flavor.
If you can't wait to take advantage of the warm weather, make sure to get your grill out of storage and start enjoying this fantastic cut that people can't get over. If you have felt skeptical about Aldi's meat quality, put your fears aside and try this ribeye next time you crave a steak. After one bite, you might just rethink the whole way you approach the store's meat section.