Not Even 1% Of People Would Choose To Eat From This One Pizza Chain For The Rest Of Their Lives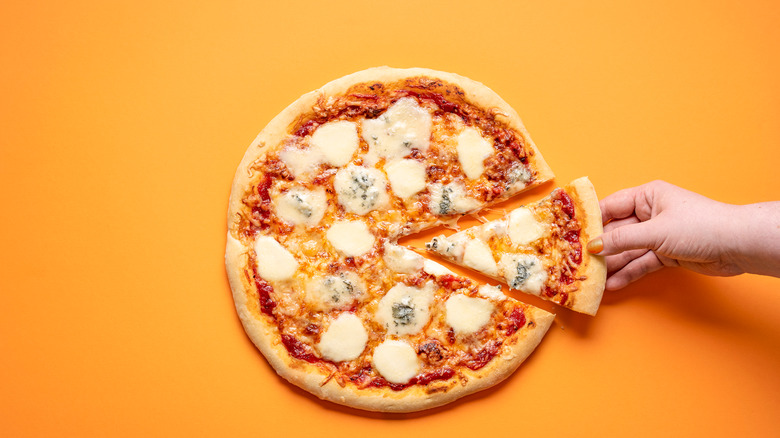 Shutterstock
Pizza is pizza. It's really hard to dispute that statement, right? Sometimes, nothing else will do when a craving strikes. After all, it is incredibly satisfying to dig into a massive slice of cheesy pizza. We practically live and breathe the stuff. According to Washington Post, Americans buy 350 pizza slices per second — which adds up to a whopping 100 acres per day. Thankfully, there is no dearth of options when it comes to choosing pizzerias. There are plenty of fabulous pizza chains out there, ensuring that even the pickiest eaters can get their money's worth. On the flip side, as with all things in the world, some pizza chains have managed to gain a reputation that outdoes their peers. 
If you're a pizza fan, you do know that it's not an easy task to choose between the big names like Pizza Hut, Domino's, and Little Caesars. To get to the bottom of things, Mashed surveyed 658 people to find out their top pick if they could only eat at one pizza chain for the rest of their lives. There were some surprising results. 
Chanello's was the biggest loser
The survey asked respondents to choose between some of the most popular chains in the country such as Pizza Hut, Domino's, MOD, Little Caesars, and Chanello's. The least popular option turned out to be Chanello's at 0.91 percent. Yikes.
Wondering what led to Channello's poor performance? Customers and pizza lovers have offered insights into the over three-decade-old Virginia-based chain in the past (via Chanello's). One Redditor wrote that the pizza they once ordered from the outlet was so bad that their then-boyfriend proclaimed it the worst pizza of his life. They wrote that their ex was visiting them and was very hungry in the middle of the night. They explained, "Since it was 2:30 AM, Chanello's was the only option. He told me it was the worst pizza he had ever had. We broke up shortly thereafter and I still blame Chanello's."
Doesn't sound too promising, eh? Another former customer wrote on Tripadvisor that the food they ordered was pretty awful and cold. They wrote, "I don't understand this place. The dough literally tastes like nothing. Like I'm eating nothing. The pizza also has a slight froot loop taste. I don't get it."
If you want a better pizza chain experience, just under 36 percent of respondents said that they'd happily stick to Pizza Hut for the rest of their lives.