The Popular Coffee Maker You Can Now Find At Costco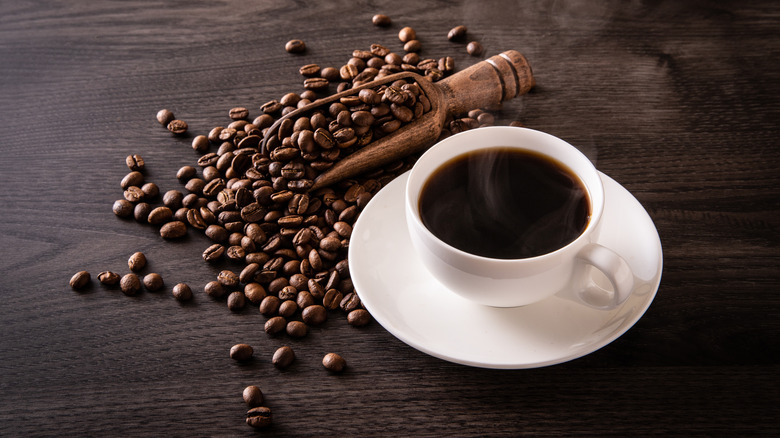 Shutterstock
Great news for coffee lovers! Thanks to the fan-led Costco Deals Instagram account, we now know that the retail giant is officially selling a very popular java maker that you can scoop up the next time you're shopping. The state-of-the-art Nespresso Vertuo Next machine along with an Aeroccino3 milk frother retails for just $169.99, according to the Instagram post, and comes packed with more than 40 different espresso and coffee capsules, two capsule recycling bags, and a descaling kit for proper cleaning of the machine. Costco is also offering customers $35 off their next online Nespresso order when they purchase the Vertuo Next and milk frother from their store. 
It should be noted the Costco Deals Instagram account is based out of the Northwest, so it's unsure as to whether all Costco warehouse locations currently have it out on the floor. Either way, it's available online if you are a member (via Costco's website).
What does this magic coffee machine do?
According to the product description provided by Nespresso, the Vertuo Next machine can brew coffee in increments of 5, 8, 14, or 18 ounces as well as single or double shots of espresso. Because of its high-tech brewing precision, each cup of Joe will be tailored automatically for temperature, brewing time, and your mug size for a smooth drink — and it's all done with the touch of a button.
Each Costco purchase also includes 42 coffee pods (also known as capsules), which range in Nespresso's signature flavors as well as the Aeroccino3 milk frother. Typically sold as a side piece (for an additional $99), this handy tool can make hot milk, hot milk foam, or cold froth, as detailed on Nespresso's website. Cold froth can be added to cold brew drinks whereas hot milk foam and hot milk is usually added to hot drinks such as lattes or cappuccinos.
Be sure to hit your local Costco warehouse or the online store ASAP as these are sure to sell out fast.