Andrew Zimmern Recommends This Fresh Salad Dressing For Everything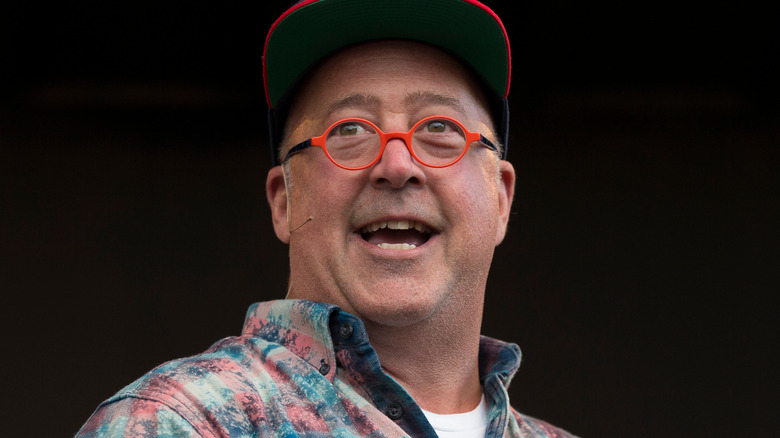 Shutterstock
Andrew Zimmern became a household name through Travel Channel's Bizarre Foods, eating things that are typical in one region yet completely novel to people in other regions. More recently, though, the chef has been speaking out on important issues like abuse and exploitation in the food and farming industries and the reality of restaurants permanently shuttering without government aid during the pandemic. He's also been in his home kitchen, channeling his global culinary knowledge to teach fans and followers how to liven up their weekly cooking routines.
There was chamoy, the Mexican condiment made from pickled sour fruit and chiles that Zimmern promised would reinvent everything from melon to shrimp. There's his "foolproof" aioli, perfected by tarragon and parsley. He even introduced many to a very different kind of caviar, made from snails. Now, just in time for spring, Zimmern has treated us to an irresistibly simple and delicious dressing that will re-energize any dish.
"It's springtime, so think healthy carrot-ginger vinaigrette," the TV host tweeted in early April. "This bright and fresh dressing is easy to make and very versatile. From a dipping sauce for fried shrimp to grilled veg or poultry, and perfect for a green salad."
How to make Zimmern's spring-perfect dressing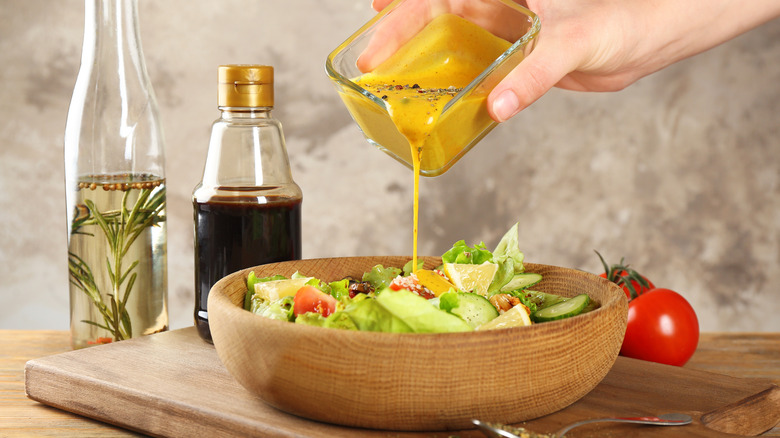 Shutterstock
Zimmern shared the recipe for his healthy carrot-ginger vinaigrette so even us amateur home cooks can jazz up our meals in time for spring. On his website, the celebrity chef recommends this dressing with a shrimp tempura salad. The sweetness of the carrot, the spice of the ginger, and the salty, umami flavor of soy sauce creates a wide range of options for pairings, complementing everything from briny seafood to peppery, leafy greens. 
To make the dressing, you'll need carrots, soybean oil, fresh ginger, rice vinegar, shallots, soy sauce, sugar, toasted sesame oil, fresh lemon juice, shiso leaves (which are optional), salt, and freshly ground white pepper. According to The Spruce Eats, shiso leaves are an herb in the same botanical family as mint, and they're citrusy with hints of cinnamon, clove, and mint. You can buy them at most Asian grocery stores. 
Once you blanche, rinse, and drain the carrots, you just toss everything into a blender and voila! You've got a fresh, healthy, dressing that will make even your most tried-and-true meals intriguing and tasty again.