Everything You Need To Know About Smashburger's New Spicy Chicken Sandwich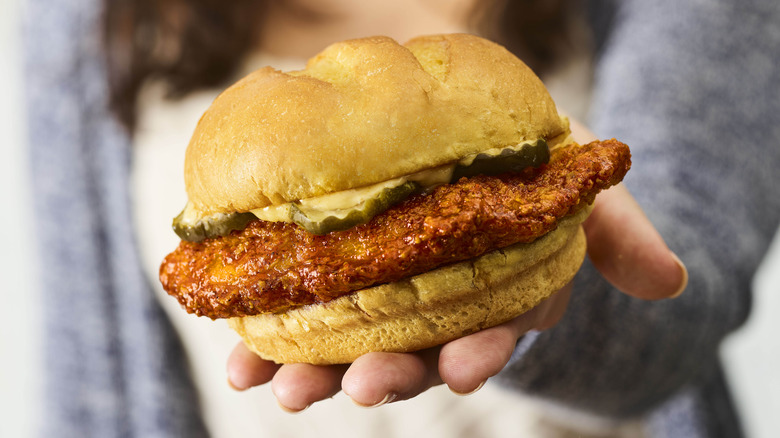 Smashburger
If you count yourself as a fried chicken lover, you can keep counting on getting great, new products thanks to the ongoing chicken sandwich wars that show no sign of stopping. Smashburger has stepped into the fray, offering up the brand new Scorchin' Hot Crispy Chicken Sandwich in hopes that they can put an end to all the chicken sandwich hostility. According to Chewboom, we can pick up this new Smashburger sandwich starting today and enjoy its classic combo of hot fried chicken, spicy red pepper mayo, and pickles on a classic toasted bun, all inspired by the iconic Nashville hot chicken. We need to get a move on though — the restaurant only plans to keep the sandwich on menus until June 15.
We can expect some special deals in tandem with the launch of the new menu item. According to PR Newswire, Smashburger plans to offer a buy-one, get-one deal on the sandwich on April 20, making it the perfect day to try out this winning chicken sandwich. You can take advantage of this deal in-person, or by ordering the sandwich virtually through your favorite delivery apps. If you have a special place in your heart for spicy chicken, you don't want to miss this special deal happening tomorrow.
Smashburger chicken sandwiches for everyone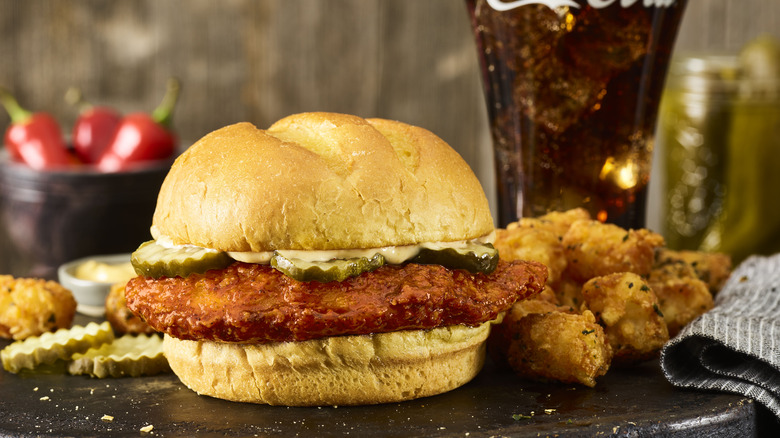 Shutterstock
If a BOGO deal couldn't spread peace through chicken, Smashburger has another promotion in mind centered on their new spicy chicken sandwich. According to QSR Magazine, workers from competing fast food chains can enter Smashburger dressed in their work uniform and receive a new spicy chicken sandwich for free. This event in the name of fried chicken unity runs from today until April 22 and takes place from 2 to 5 p.m. each day. With any luck, we can all get our fill of these new sandwiches this week and spread some chicken love to everyone in need. 
If you count yourself as a lover of Nashville hot chicken, you don't want to miss this deal that guarantees to win over a ton of fans. Make your way over to a Smashburger this week and take advantage of these great deals that might truly end the chicken sandwich wars. Do your part and help end the conflict by grabbing one of these sandwiches while you can. Once they disappear in June, we might have to break the fried chicken ceasefire and demand some more menu items that can compete with this sandwich.