You've Been Grilling Mushrooms All Wrong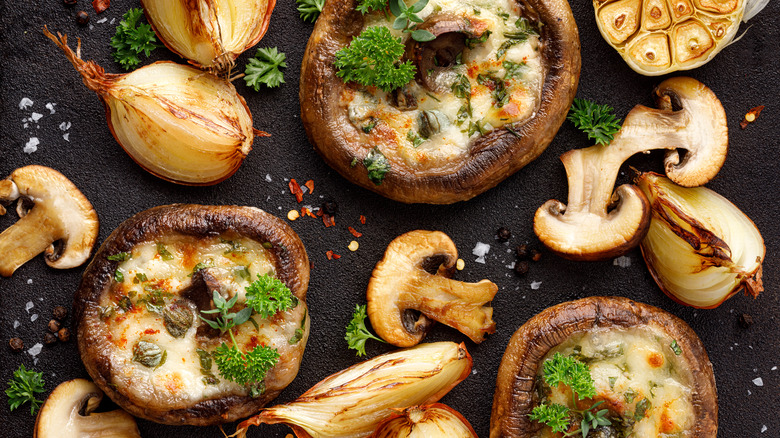 Shutterstock
With grilling season now upon us, the time has come to light up the charcoal and get creative. When we want to take advantage of the great weather, we don't have to just settle for hot dogs, hamburgers, and grilled steaks. According to Bon Appétit, octopus, prawns, corn on the cob, and marinated vegetables all grill up nicely and deserve some quality time cooking over charcoal or propane. 
According to Delish, mushrooms take any grilling session to the next level and offer up a fun challenge for any home cook. After wiping off any residual dirt on your mushrooms, you can marinate these fungi in a wide variety of sauces and liquids. Thanks to the spongy nature of mushrooms, they easily soak up whatever you throw at them, meaning you can easily pack them with flavor. After pre-soaking some skewers, you can spear your mushrooms and throw them on the grill. While this easy process gets us outdoors and grilling, one mushroom mistake stands between you and the perfectly cooked portobello.
Always measure your mushrooms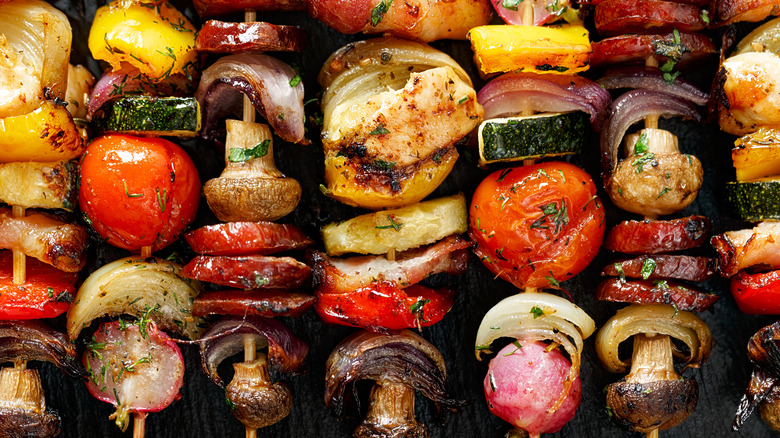 Shutterstock
While you can cook any kind of mushroom over the grill, you need to approach each kind with a different cooking technique. According to The Spruce Eats, you can throw large mushrooms like portobellos directly onto the grates. Once they hit the grill, you can treat these fungi like hamburger patties, flipping when necessary. Due to mushrooms losing up to 50 percent of their volume over the grill, medium-sized mushrooms need skewers in order to maintain their integrity. Don't forget to brush these kebabs with oil to prevent them from sticking to the grating. 
When it comes to small mushrooms, you need to grill these delicate morsels in a grill basket or in an aluminum foil pouch with some olive oil and seasonings. You wouldn't want these bite-sized treats falling through the cracks straight into the fire, so taking the right precautions will not only ensure perfectly cooked fungi but also guarantee that you won't drop any mushrooms straight into the grill. With a bit of practice, you can use the right grilling technique for the right size of mushroom, ending up with the perfect meal every time.