This Vegan Ice Cream Line At Wegmans Has A Mediterranean Twist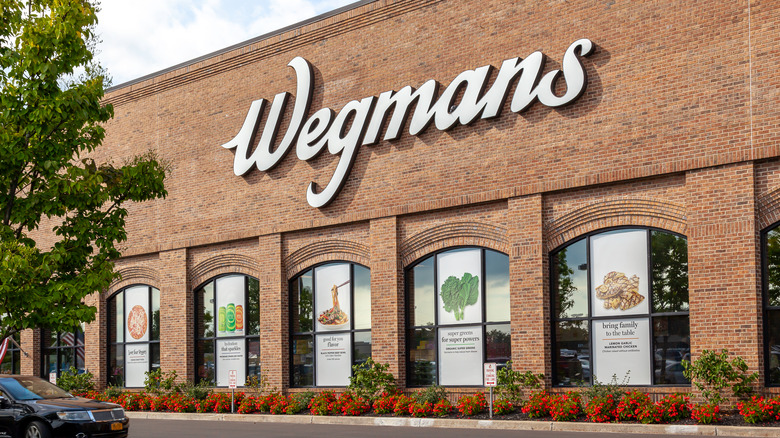 Shutterstock
As a supermarket chain, Wegmans does rather well for itself. Its outlets are located in different parts of the country including New York, Pennsylvania, New Jersey, Maryland, Virginia, North Carolina, and Massachusetts. According to the brand's website, Wegmans is one of the United States' biggest private enterprises.
As per Eat This, Not That!, it's tough for customers to be disappointed while shopping at the store. The brand has a massive collection of products: anywhere between 50,000 to 70,000. Plus, as highlighted by BuzzFeed, there is a range of cult-favorite items worth exploring at the store. For example, you can sample affordable frozen pizzas, delectable cream cheeses, amazing lemon bars, blueberry muffins, mini chocolate chip cookies, and more. Additionally, Wegmans ensures that it includes lots of vegan options for its customers. This was demonstrated in a video by The Vegan Zombie, a vegan blogger on YouTube who vouched for the store's impressive vegan collection of products. They mentioned that they've been relying on Wegmans for two decades for all their shopping needs.
And guess what? Wegmans has now come up with a special sweet surprise for its vegan customers in collaboration with a vegan company, Wildgood. They're introducing a new ice cream line that pays tribute to a popular Mediterranean ingredient and is a must-try for anyone who's a fan of unusual flavors. 
Its secret ingredient is olive oil
As reported by Well+Good, Wegmans will be stocking up on delicious vegan ice cream from a new ice cream venture called Wildgood. The brand is focusing on the inclusion of olive oil in its products. Olive oil is, of course, considered to be a healthy fat that has plenty of antioxidants. This vegan ice cream really does have olive oil and is a treat for anyone who can't get enough of Mediterranean food. 
The man behind Wildgood, Sotiris Tsichlopoulos, spoke about what inspired him to create this special line of ice cream. He said, "When I first set out to make a dairy-free ice cream, my two goals were that it had to be as creamy as premium dairy-based ice cream and deliver the same satisfaction without compromising on the taste." For him, olive oil has been a clear winner in terms of helping his products achieve the right texture. 
This took a lot of hard work too. Tsichlopoulos and his team spent eight years perfecting the ice cream and have created eight flavors such as mint chocolate chip, coffee, chocolate hazelnut, and mango. Wegmans will offer the products online in May.