Guy Fieri's Unusual Relationship With Billionaire Steve Cohen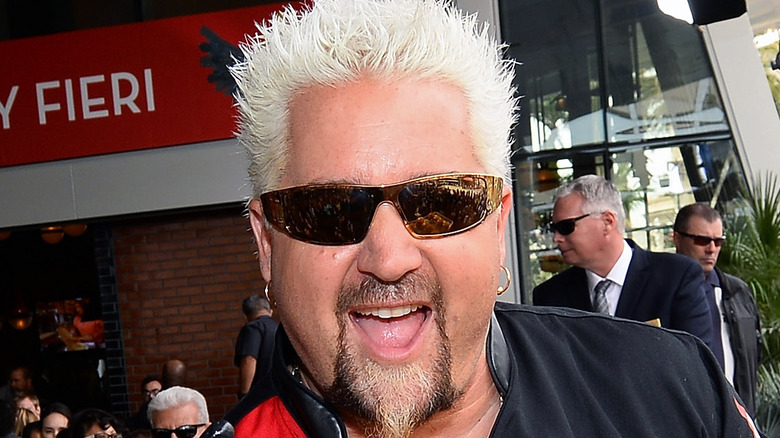 Ethan Miller/Getty Images
Guy Fieri, host of the popular Food Network show Diners, Drive-ins and Dives, has a star on the Hollywood Walk of Fame (via Food Network). The "likeable, laid-back California guy," as his Food Network bio describes him, is undeniably a "culinary rock star." However, his outsize personality has also made him extremely polarizing, according to The Daily Meal. But perhaps that is what drew billionaire Steven A. Cohen to Fieri in the first place?
On October 21, 2013, Page Six reported that Cohen, the founder of the hedge fund SAC Capital Advisors (via Investopedia), paid Fieri $100,000 for a day of simulated Diners, Drive-Ins and Dives, and that the two became fast friends. A representative for Cohen told Page Six the story was false. 
The request had interesting timing. Two weeks later, on November 4, Cohen's uber-profitable hedge fund took a plea deal on insider trading charges and agreed to pay $1.8 billion in fines, according to a U.S. Department of Justice press release. While Cohen wasn't charged with a crime, an order from the Securities and Exchange Commission said he had to take responsibility as the hedge fund's owner. Cohen was barred from investing other people's money for two years.
Guy Fieri and Steve Cohen have been friends since their first road trip
Apparently, Food Network rock star Guy Fieri was able to look beyond Steve Cohen's missteps to forge, at the very least, a warm professional relationship that resulted in Cohen making a cameo on one of Fieri's TV shows. In 2015, the Food Network aired an episode of Diners, Drive-ins and Dives in which Cohen can be seen noshing on chorizo in a Los Angeles restaurant and exchanging thoughts with Fieri (via Yahoo Finance). "Just intense flavor," Cohen said of the Yucátan-style sausage. 
How has Cohen and Fieri's bromance developed since the billionaire investor's 2015 appearance on Guy Fieri's Diners, Drive-Ins and Dives? A recent tweet from Fieri shows that their bond persists. On December 3, 2020, Fieri posted a "TBT" photo on Twitter of himself with one arm slung around Cohen's shoulders and one hand pointing to Cohen as if to say, "This guy!"
"Welcome to Twitter!" Fieri tweeted. Cohen's tweeted response came that same day: "Hey Guy, It looks like you have a few more followers [than me,] but the game is still young. You better warm your right arm because you are throwing a first pitch at a Mets game." Don't think it won't happen. Cohen purchased the New York Mets Major League Baseball team in 2020 (via The New York Times).