What You Should Know Before Grilling In The Rain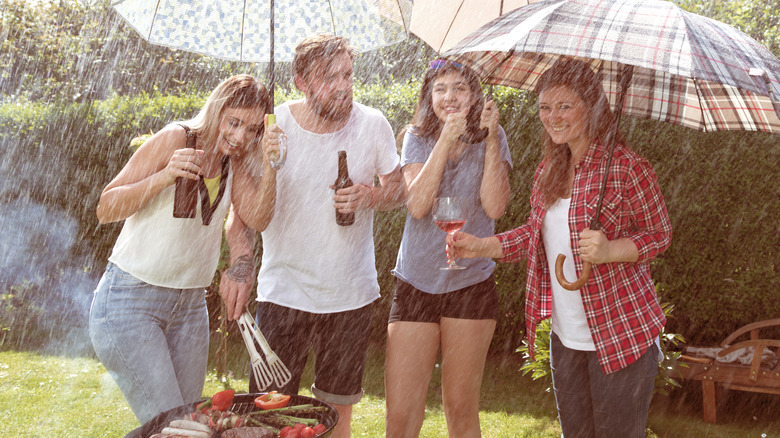 Shutterstock
With warm weather upon us, we now have to account for rain instead of snow showers. According to AccuWeather, we typically think of April as the rainiest month, but the wettest weather ever in the U.S. occurred in May 2015, while June is the month with the most rainfall on average. With rain chances like this, it might seem impossible to plan a good time to break out the grill. But if the urge to grill strikes hard and you just can't wait, don't let the rain scare you. 
With a bit of determination and planning, no weather can come between you and the perfectly grilled sausage or burger. When planning to grill in the rain, make sure you work in a ventilated area where the rain can't directly hit your food. According to American Financial, rain has the chance to put your fire out and knock ash directly onto your food. You also don't want to grill in your garage, as carbon monoxide buildup can prove deadly. Instead, use a patio umbrella, BBQ canopy, retractable awning, or even a gazebo to keep you and your grill dry. Cooking in this environment has some unique benefits. Due to the higher atmospheric humidity, you end up with juicier cuts of meat, and thanks to the need to close our grill lids, we end up with a smokier final product packed with flavor. In order to get the most out of this situation, stay aware of a few variables to prep for.
Environmental conditions that can make or break your cookout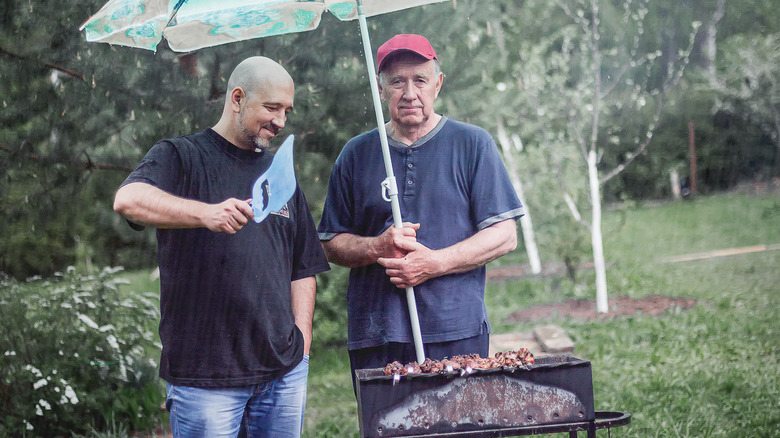 Shutterstock
A bit of wind can keep the smoke out of your eyes, but too much wind has the potential to snuff out your grill. When you face wind and rain, you should plan to buy or make a wind shield for your grill to ensure even cooking conditions (via BBQ Barbecue Grill). If the weather proves particularly bad, you can grill your meat for a short five minutes and then bring the product inside to finish up in the oven. This way, you end up with all the flavors of cooking the meat outdoors with the ease of using your kitchen. If you hear any thunder and lightning, you want to pack it up. Rain shouldn't stop you, but you don't want to risk getting hit by lightning. 
When in doubt, set up a makeshift grilling shelter outside to take on almost any weather condition. With a bit of planning, you can get your canopy set up before the first drop of rain hits the ground and can guarantee a fun grilling experience for your whole family. Next time the weatherperson predicts showers on the weekend, don't fret — take on the elements and don't let a little rain come between you and the ultimate BBQ experience.