The Real Reason Marcus Samuelsson Developed A Passion For Cooking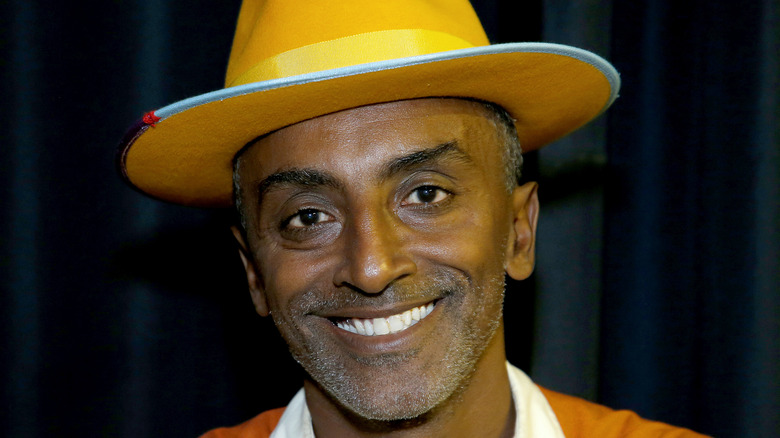 John Lamparski/Getty Images
Marcus Samuelsson is a world-renowned chef who prepared President Barack Obama's first state dinner and makes regular appearances on TV shows, as stated in his bio on the Food Network website. Currently, he runs the restaurant Red Rooster Harlem, and he's appearing as a judge on "Chopped: Martha Rules," according to a press release from Discovery. The path Samuelsson took from his birthplace in Ethiopia to his current celebrity was unusual. He made it from Ethiopia to New York by way of Sweden, and his passion for cooking originated with his adoptive Swedish grandmother. 
Samuelsson's birth mother died when he was 2, during a tuberculosis outbreak in Ethiopia. Before she died, she carried the young Samuelsson more than 75 miles to a hospital. The chef tells this story in his memoir, "Yes, Chef," excerpted by CNN. Samuelsson was separated from the rest of his family and ended up being adopted by a Swedish couple named Samuelsson, per CNBC. 
Chef Samuelsson was first drawn to food in the kitchen of his "Mormor," which is Swedish for grandmother (via Word Hippo). He revealed the source of his culinary inspiration in a recent tweet: "My love of cooking was sparked by my grandmother, Helga. It's her recipe for meatballs that's always on the menu at @RoosterHarlem." Helga's cooking was traditionally Swedish — plenty of fish, potatoes, berries, and apples. "There was always herring to pickle or fish to smoke or something [like] lingonberries to forage," Samuelsson told CNBC.
Marcus Samuelsson learned about food in his grandmother's kitchen
Marcus Samuelsson's Swedish grandmother ran her home like a farm-to-table restaurant. "Mormor treated her house like it was her own little food factory," Samuelsson wrote in "Yes, Chef" (via Pop.Bop.Shop.). Foraging was a big part of grandmother Helga's culinary approach. "Mormor made jams from the berries she grew in her front yard as well as from what she found in the woods near our house. ... She preserved cloudberries, black currants, raspberries, and gooseberries; and made jam from apples, pears, and plums, all of which came from her own trees."
Mormor came up with menus using the ingredients at hand, ensuring nothing went to waste and setting an example for her grandson. "Her menus followed simple logic: You have bread today because it's fresh. You have toast tomorrow because the bread has gone stale. You have croutons the next day, and whatever bread is left after that gets ground into crumbs that you'll use to batter fish," Samuelsson wrote.
His grandmother's influence played out in Samuelsson's early career. He first made a name for himself at the world-renowned Swedish New York restaurant, Aquavit, according to CNBC. Eventually, he would find his own identity as a chef and open Red Rooster Harlem. The influences on that restaurant's menu range from Swedish to Southern Black cooking, and all of it traces back to his grandmother Helga's Swedish kitchen.