Smartfood's Newest Flavor Is Inspired By Krispy Kreme Donuts
You'd probably be hard-pressed to find a donut fan that doesn't start drooling over the thought of Krispy Kreme's classic, original glazed donut. The famous flavor is the perfect blend of sugary glaze and light, cakey sweetness. In fact, it's so delicious that it seems almost criminal to limit the flavor to donuts alone. In a great new development, fans of this good stuff can now get a fix in the form of crunchy popcorn, with the release of Smartfood's new Krispy Kreme Original Glazed Donut flavor, according to Delish.
The snack features Smartfood's classic kernels, dusted with a coating of Krispy Kreme's beloved flavor, notes Sam's Club. The sweetened glaze combined with the delicious salty crunch is sure to deliver a perfect blend of salty and sweet for discerning taste buds. And if you're already a fan of this cult favorite brand, you might recognize that this newest variety is also air-popped, ready to eat, and made with high-quality ingredients, per Smartfood. 
Smartfood first released the Krispy Kreme flavor abroad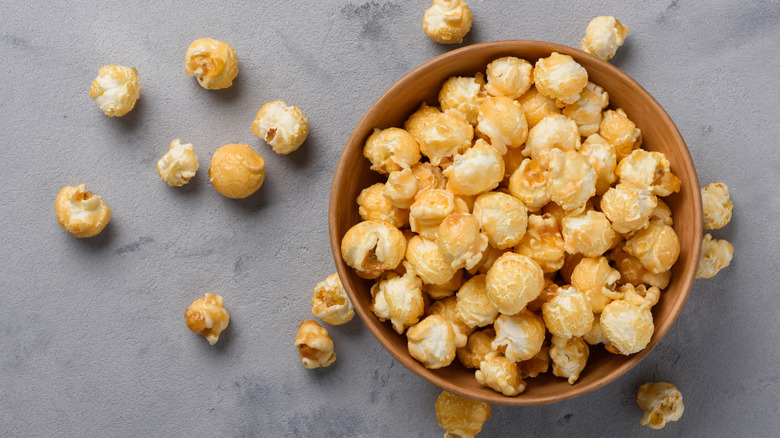 Shutterstock
According to Delish, Smartfood first launched the Krispy Kreme flavor in England in 2018, and they have recently decided now is the time to bring the delicious snack across the pond for Americans to enjoy as well. Those in the United States can pick up an 18-ounce bag for just under $5, available at your local Sam's Club or online at samsclub.com.
But fans should be warned that this is a limited-time offer, so you won't want to wait to get your hands on the popcorn-donut treat that so perfectly combines two favorite food groups. In fact, it tastes so good that you might want to stock up on a couple extra bags to save for later since popcorn has a pretty good shelf-life. Because once this Krispy Kreme-inspired popcorn is off the shelves, it is likely gone for good.