These 90 Day Fiance Stars Will Be Featured In A Food-Themed Spinoff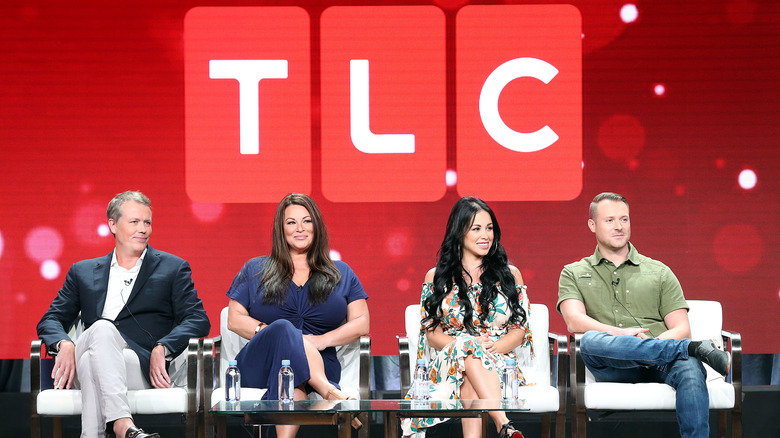 Frederick M. Brown/Getty Images
Reality shows like "90-Day Fiancé" can be a great escape for most of us when we're down and out. This is especially true when we consider programs that explore some of the things that delight us the most: food, love, relationships, and more. 
Shows such as "90-Day Fiancé" are wildly popular for a reason: fans love getting a glimpse into the struggles international couples have to go through in the U.S. As per CNN, "90-Day Fiancé" viewers have a lot to look forward on the program such as drama, funny moments, heartwarming scenes, immigration problems, and more.
Well, interestingly, a "90-Day Fiancé" spin-off has been announced, promising viewers that they'll get to witness some of their favorite couples from the show — this time as they reveal lots of interesting anecdotes about each other while preparing traditional meals. Interestingly, as per Deadline, this spin-off has been in the works for years and only got the green light sometime back.
Several familiar faces will make an appearance
According to Deadline, the food-themed spinoff will be called "90 Day: Foody Call," and will feature couples in their homes as they cook delicious meals together, particularly specialty dishes from different countries. Not just that, these couples will also talk about themselves and the things that have helped their relationship grow stronger. It's set to launch on May 29 and will showcase well-known partnerships from "90 Day Fiancé" such as Tania and Syngin, David and Annie, Loren and Alexei, Tania Russ and Pao, Robert and Anny, and Sasha and Emily. Additionally, you can expect these lovebirds to come up with answers to difficult questions like, "What is the most shocking thing you learned about your spouse's culture?" Whoops. 
Sharp Entertainment is producing "90 Day: Foody Call." The company's CEO, Matt Sharp, said that this program was definitely one that he felt strongly about. "It was one of those ideas that sits in your bag and I refused to take it out of the bag," he explained. "People were ready for something super authentic and we can see that in the viewing pattern, particularly over quarantine."