Goldfish's New Cracker Flavor Is Inspired By Frank's RedHot. Here's What You Need To Know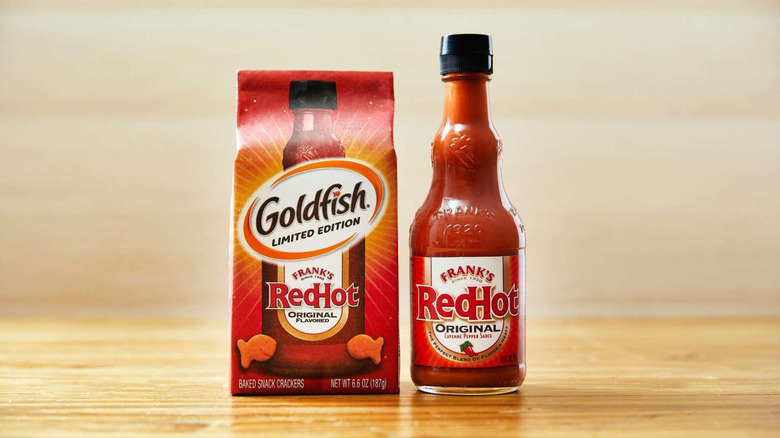 Goldfish
Pepperidge Farm has great news for fans of spicy food. If you are one of those people who is always reaching for the hot sauce, no matter what meal you are eating, or ordering the spiciest wings on the menu, then you are definitely going to want to try their new Goldfish cracker flavor. According to Best Products, Pepperidge Farm has just announced the release of their new Frank's RedHot-inspired Goldfish cracker. The new cracker will feature the same flavor notes as the popular hot sauce, including vinegar and aged cayenne peppers, bringing a kick of heat to the classic snack. 
The collaboration came into being thanks to the many requests for heat made by Goldfish cracker fans on social media. Over 35,000 fans requested a spicy version of the cracker, so the brand delivered with this spicy hot sauce-inspired snack. "We learned that adults are big fans of Goldfish and it's an appetite we've never fully satisfied. 'Hot' is the #1 most requested Goldfish flavor across social, so we wanted to bring the heat with an unexpected partnership between Goldfish and Frank's that fans will love," Chief Marketing Officer Janda Lukin explained, via PR Newswire.
Fans can post an Instagram story for the chance to win a bag of Goldfish Frank's RedHot crackers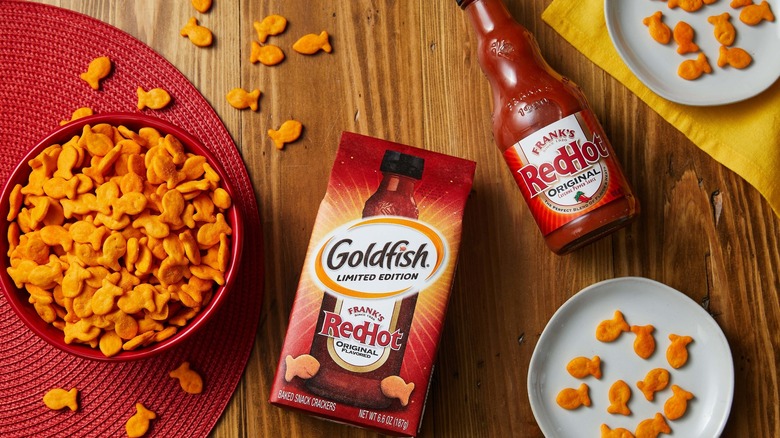 Goldfish
Beginning in May 2021, Goldfish Frank's RedHot crackers will be available for a limited time in stores. A standard bag of 6.6-oz will sell for a recommended retail price of $2.49 at select retailers nationwide, according to Chew Boom. However, the brand is giving die-hard fans the opportunity to get their hands on a bag before they reach retail stores, and all they have to do is post an Instagram story to their social media account. To be eligible to win, simply go to the @GoldfishSmiles Instagram story to unlock and use their custom augmented reality filter. Then, all you have to do is tag @GoldfishSmiles in your story and add a #Sweepstakes hashtag, and post to your own account. The Goldfish Instagram account will notify winners via DM.
So if you already put Frank's RedHot on everything, or you feel challenged and not scared off by the warnings some restaurants place near spicy menu items, then Goldfish's new Frank's RedHot crackers were probably made for you. So don't forget to keep an eye on your Instagram DMs or look out for this spicy new cracker at your grocery store in the coming month.