McDonald's Is Giving Away Caramel Brownie McFlurries. Here's How To Get One
Good news for McFlurry lovers — McDonald's finally has a new flavor, and you can get one for free for a limited time! While the fast food restaurant has served up this tasty ice cream treat for a while, only two flavors are currently available nationwide – M&Ms and Oreo (per the brand's website). But that all changes on May 3 when, according to USA Today, McFlurry lovers everywhere can grab the new Caramel Brownie option. 
The dessert, which mixes together soft-serve vanilla ice cream with brownie bits and caramel sauce, initially debuted in Canada back in 2017 and now makes its US debut for a limited time. To celebrate the launch, McDonald's even plans to give out the treat for free. On May 4, visitors to participating McDonald's locations can scan the offer code in the McDonald's app and get a regular size treat for free, with no purchase necessary. And May 3 through May 9 — which also happens to be Mother's Day (hint, hint) — anyone ordering McDelivery through Uber Eats will also get a free regular size Caramel Brownie McFlurry with a minimum $15 purchase, according to a press release from McDonald's. Now that's a sweet deal!
How long will the new McFlurry flavor stick around?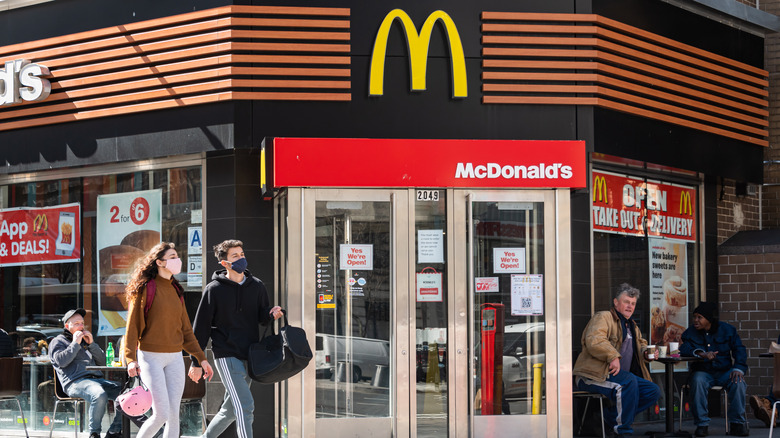 Noam Galai/Getty Images
The new flavor hits menus at just the right time. According to CNN, that feeling that comes from the first few days of warm weather inspired McDonald's to create the new McFlurry. But it might not last long. McDonald's has a habit of creating flavors that disappear just as soon as they launch. In fact, the Caramel Brownie option follows a slew of other limited-time offerings, like the Oreo Shamrock McFlurry that just left the menu and the fall 2020 Chips Ahoy! McFlurry that is now an afterthought. With any luck, McDonald's fans might even convince the restaurant chain to keep this flavor around so there's more to choose from besides just Oreo and M&M flavors.
The good news is, Canada has been offering this flavor since 2017 and it's now available in more than 100 countries, notes CNN, so those statistics might be implying McDonald's may be looking to add it to the menu permanently if it does well enough in initial sales. Or, there's always the option for a road trip to our neighbors up north.