Costco Shoppers Are Loving These Campfire-Free S'mores Squares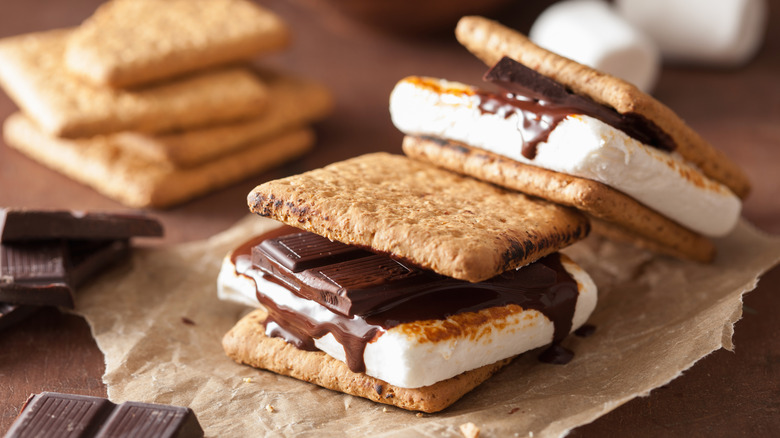 Shutterstock
If you even think of setting up a campfire these days, tradition dictates you need to have ready access to graham crackers, chocolate, and marshmallows. S'mores are an integral part of any outdoors-y open fire experience, and their nostalgia-tinged deliciousness is such that you might be able to taste it whenever you catch a whiff of burning logs.  
The relatively inexpensive ingredients of s'mores, as well as the fact that any campfire group worth its salt is able to consume a truly outrageous amount of them, make Costco a natural destination when you're feeling the need to scratch that itch. The big-box retail chain has clearly recognized this natural association, and it has been known to dabble in the s'mores world in order to bring the snack treat to a completely different level. As of late, Costco shoppers have already been obsessing over a particularly decadent s'mores bark, and now, it appears that the company has further upped its game. 
Eli's S'mores squares are making waves in the Costco customer circles
Of course, the thing about s'mores is that they're kind of a hassle. Oh, they're easy enough to make — but the whole "going into the woods and setting up a campfire" part can be a little bit untenable when all you ultimately want is a mouth full of toasted marshmallow, chocolate, and graham cracker. When the Instagram account @costcobuys posted an image of Costco's Eli's S'mores Squares, it became apparent that they're more than enough to satisfy your s'more needs — and then some. One box of these delicious treats contains 24 s'mores squares that are slightly more sophisticated than the thing your 11-year-old self slapped together that one summer camp. They're essentially tiny dessert cakes, with toasted mini marshmallows and chocolate ganache on a graham cracker crumb crust base. As the box says, that's "the ultimate campfire treat without the campfire." 
Costco-loving Instagram users immediately made their feelings felt in the comments of the post, and from the looks of it, the consensus seems to be that these s'more squares are, in scientific terms, "the best." According to user rabeea_mandili, "Omgggg these look amazing." Per user Karterbell, who has already tasted the treat, the experience matches the visuals. "They're really good, worth the price imo," they wrote. It certainly looks like Costco has added another s'more-themed winner in its repertoire.