Trader Joe's Fans Are Obsessed With Its Old Fashioned Sour Cream Donuts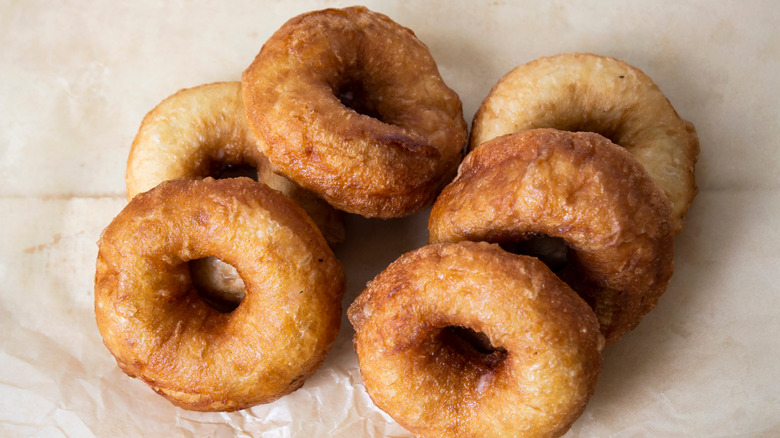 Shutterstock
Donut fans have a returning product to look forward to at Trader Joe's, and it is already getting a ton of attention. The beloved grocery store has brought its old fashioned sour cream donuts back, but those who haven't had them, or any other sour cream donut for that matter, might wonder what sets them apart. According to My Recipes, cake donuts have a healthy helping of sour cream added into the mix. The sharp tanginess of the sour cream makes the donuts even better to those that don't like their treats too sweet because it cuts through the sugary flavor of the glazed donuts. 
But just because they don't taste quite as sweet as other donuts, it definitely doesn't mean they are any healthier. In fact, the ones at Trader Joe's are pretty laden with unhealthy nutritional facts. According to the photo of the nutritional label that @traderjoeslist recently snapped and posted to Instagram, one donut is a whopping 370 calories. Not to mention it also packs 52 grams of carbs, 32 grams of sugar, and 17 grams of fat.
Despite the calories, fans love these donuts and can't wait to get more
When Instagrammer @traderjoeslist posted the series of photos, it received more than 12,600 likes in just one day. The caption read, "Pro tip: toast at 350°F for 5 min! Donut you want a bite?" We have to admit, baking these off for a few minutes to warm them up is a brilliant idea. Each box of the Trader Joe's sour cream donuts contains half a dozen for just $3.99 making them a total steal too.
Plenty of followers had already tried these donuts before writing, "Love these!!! Sooooo good!" Someone else called them "the best donuts on earth." However, one commenter said, "Bought them once & didn't like them." That didn't deter people, though. Another newbie to the product wrote, "Going to TJs ASAP." Someone else wrote, "Yummmmmm I want to try those!!!" Another commenter suggested using the donuts as burger buns, though that would be one caloric hamburger. In order to see what all the hype is about, add them to your shopping list the next time you go to Trader Joe's and give them a try for yourself.