KFC's Popcorn Chicken Cupcake Is Turning Heads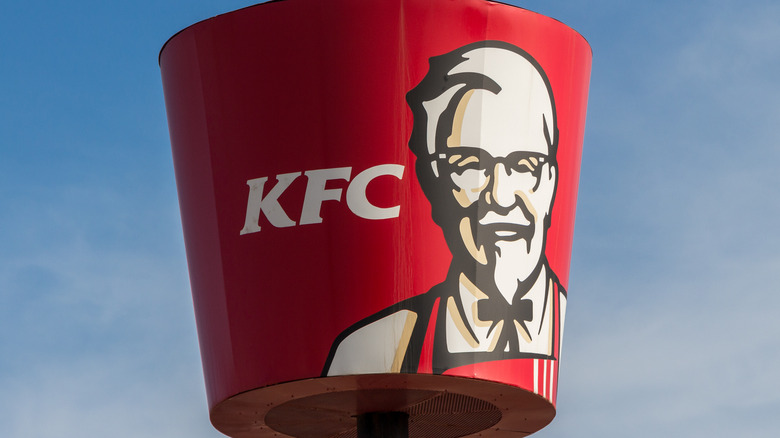 Shutterstock
For those eager to turn their typical KFC order into something out of the ordinary, KFC Australia has you covered. On April 27, they uploaded a video to YouTube in collaboration with Melbourne-based teen entrepreneur and baker Morgan Hipworth in which Hipworth shows viewers how to make his Popcorn Chicken Cupcakes.
The recipe, which you can find in the video's description, effectively encourages viewers to make cornbread cupcakes with KFC toppings. With the oven preheated to 180-degrees Celsius or 356-degrees Fahrenheit, mix cornmeal, flour, baking powder, caster sugar, and salt. Whisk those together and add butter, eggs, and creamed corn (which Hipworth admits looks like baby food, but assures is as necessary as the dairy milk that follows). Then, while that bakes, separate the potatoes and gravy in one large KFC Potato & Gravy​ so that, once the cupcakes come out, you can pipe the potato-like icing, place three popcorn chicken pieces on each, and drizzle the gravy as a further garnish.
This, as 7 News reports, is the beginning of a series of menu-making partnerships with chefs and foodies KFC Australia will engage in throughout 2021. So, there's more to come.
KFC Australia has long had gourmet aspirations
Morgan Hipworth is not the first person with whom KFC Australia has collaborated in its effort to tried to present its food in a more "foodie" light. In 2011, culinary drama appeared in The Daily Telegraph when Darren Simpson, a celebrity chef who was the youngest winner of Britain's Young Chef of the Year Award in the 90s, prepared a limited edition burger line for KFC Australia. The Australian food community scorned such a "sell-out" move.
However, one franchise owner in Alice Springs has taken his KFC locations to a completely different level in his quest for a Michelin star. "We use fresh chickens that are delivered into the store everyday and hand breaded in our kitchen by our cooks," Sam Edelman, the owner, told Metro in 2019. "There is some skill involved." Another line of reasoning, which he gave to News.com.au, was that one criterion for a Michelin star was that the restaurant was worth a special detour or journey. Edelman's KFC is 1200 kilometers away from the next nearest location, meaning that if someone in more rural Australia wants KFC, they have to make a special journey to eat at his.
Whether Michelin will ever be swayed or the foodie community of Australia be impressed by KFC's antic is yet to be seen.