Chicken Bruschetta Pasta Recipe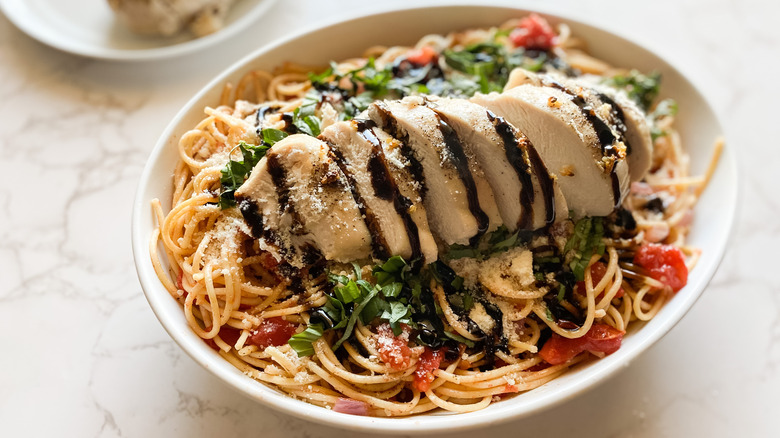 Kristen Carli/Mashed
A 2019 YouGov study found that Italian food is the most popular cuisine in the world. That's not hard to believe, as it comes in many different varieties and encompasses many dishes, from pasta and pizza to steamed fish and cannolis. Its versatility allows it to be enjoyed by many who have different tastes and various ideas of what actually constitutes Italian food. In fact, Italy itself — and the Italian diaspora — is so varied that many different takes on the same dish can be found, depending on where you are.
Take bruschetta, for example. As reported by The International Kitchen, if you order bruschetta, what you receive can change depending on what part of Italy you are in. The thing all bruschetta have in common, though, is that they cannot contain tomato sauce. If they do, then that's not real bruschetta. The real deal should contain fresh tomatoes dressed with garlic, basil, olive oil, and salt, and as long as teose ingredients are there, you are in fact eating real bruschetta.
Using traditional bruschetta ingredients is exactly what Kristen Carli of Camelback Nutrition & Wellness did in her creation of a delectable chicken bruschetta pasta. This healthy dish is a quick and simple meal that can be enjoyed by any Italian food lover. So, let's get started.
Gather the ingredients to prepare chicken bruschetta pasta
Kristen Carli/Mashed
Kristen Carli's take on chicken bruschetta pasta is quick and easy, so the ingredients shouldn't be hard to find. You'll need two boneless and skinless chicken breasts, garlic, olive oil, red onion, Roma tomatoes, grated parmesan cheese, basil, salt, pepper, balsamic vinegar glaze, and of course, pasta! While this recipe calls for spaghetti, any pasta can be used, like capellini, farfalle, or even ziti. Carli also suggests that red onions can be avoided if they aren't your favorite, and a more milder onion variety, like a yellow onion, will also do. Or you could leave onions out entirely.
The prep time for this recipe can be simplified even further by dealing with some of the ingredients ahead of time, like slicing the basil or dicing the onion and tomatoes before you plan on cooking.
The chicken also doesn't have to be boneless and skinless. Although using that cut of meat will keep the dish on the healthier side, any cut of chicken (like thighs or even thawed-out tenders) could do for this recipe. The chicken can also be replaced with another type of protein altogether, like pork or fish. Carli even suggested using chickpeas if a vegetarian option is desired. 
Prepare the meat for your chicken bruschetta pasta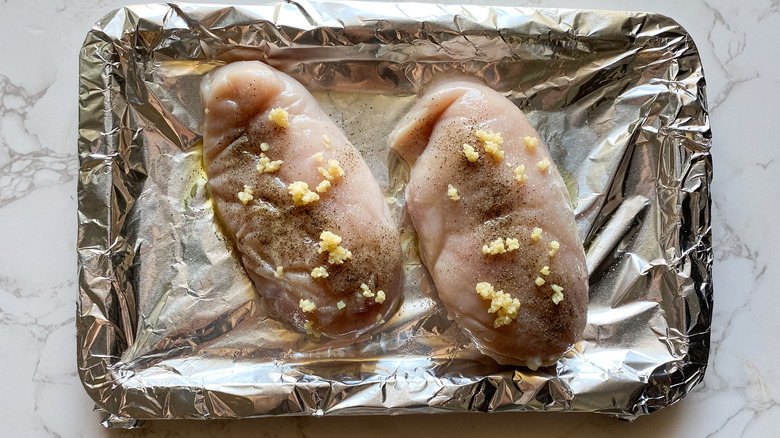 Kristen Carli/Mashed
For these instructions, we're going to go with Kristen Carli's original recipe involving the skinless, boneless chicken breasts. First, you'll want to preheat the oven to 350 degrees Fahrenheit. Prepare a baking sheet by wrapping it in foil, and then add the chicken breasts to it. Season the chicken with half a teaspoon of salt, a quarter teaspoon of pepper and one teaspoon of minced garlic. This will be baked in the oven for 20 to 30 minutes, or until entirely cooked through (the juices of the chicken breast should run clear when stabbed with a fork). If you've decided to swap out the type of protein to a red meat, make sure you cook it to your desired doneness. If you're using a different white protein, like pork, or a vegetarian option, just ensure it's cooked thoroughly before continuing to the next step.
Cook the pasta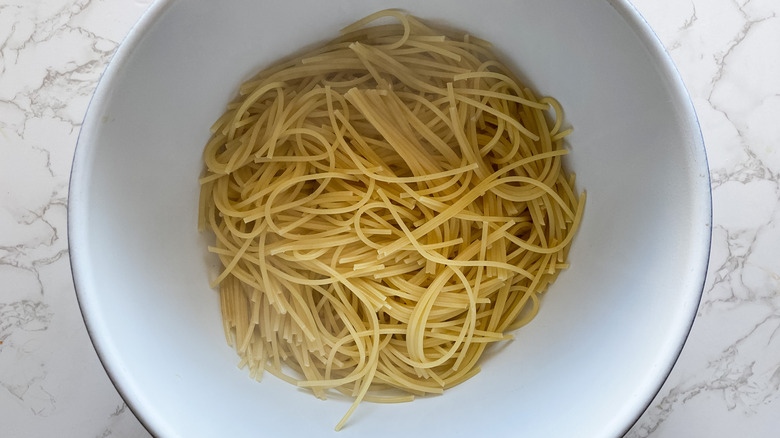 Kristen Carli/Mashed
One of the reasons why this recipe is so easy and quick to prepare is because you can multitask while prepping it. As your meat is cooking, you can save time by beginning to cook your pasta. 
Bring a large pot of water to a boil, adding a dash of salt to help it boil faster. You should then cook the pasta based on the instructions given on the packaging. Once the pasta has finished cooking to your desired level of firmness, go ahead and drain the noodles and set them aside for use later.
Prepare the bruschetta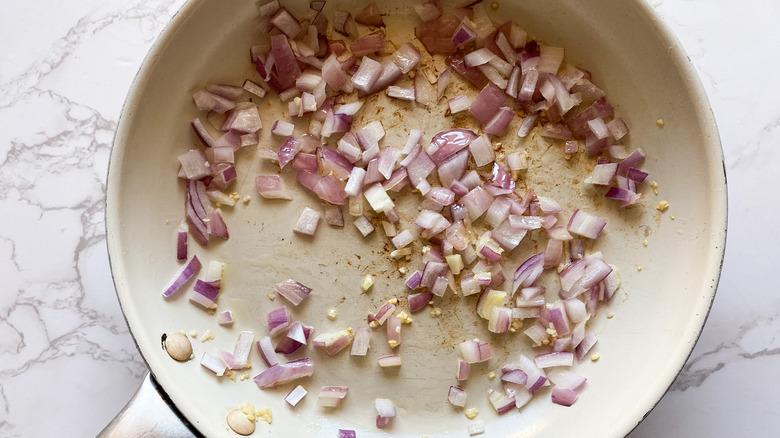 Kristen Carli/Mashed
Now comes the fun part that makes this dish so unique: the bruschetta. In order to make the tomato mixture, you'll first need to sweat the garlic and onions together. In a medium skillet, add one tablespoon of olive oil and wait a moment for the oil to heat up. Then, go ahead and add one teaspoon of minced garlic and the red onion to the pain, cooking for about five minutes, or until the garlic has browned and the onions are almost translucent. After that, add in the diced tomatoes to the skillet and continue to cook for about 5 more minutes, allowing the flavors to marry together in the pan.
Create the chicken bruschetta pasta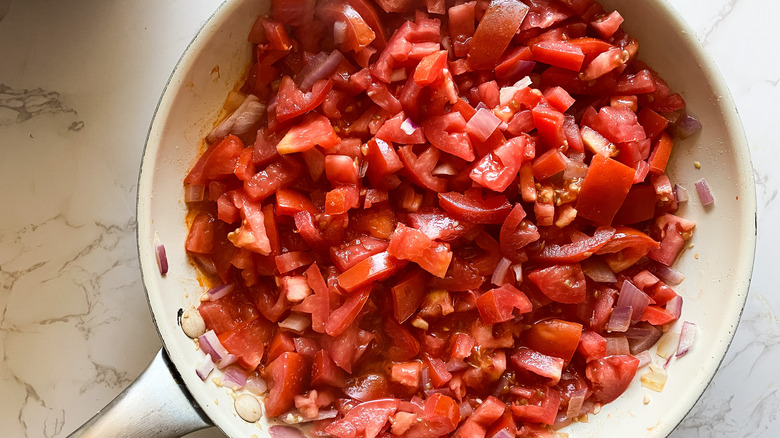 Kristen Carli/Mashed
After the tomatoes, onions, and garlic have all had time to get to know one another in the pan and cook together a bit, it's time to start putting the meal itself together. 
In a large mixing bowl, add the previously cooked pasta and the tomato-and-onion mixture together. Stir them to combine, adding in the rest of the olive oil. Mix until the tomato and onion mixture is spread throughout the pasta in order to fully incorporate the bruschetta taste throughout the dish.
How to serve your chicken bruschetta pasta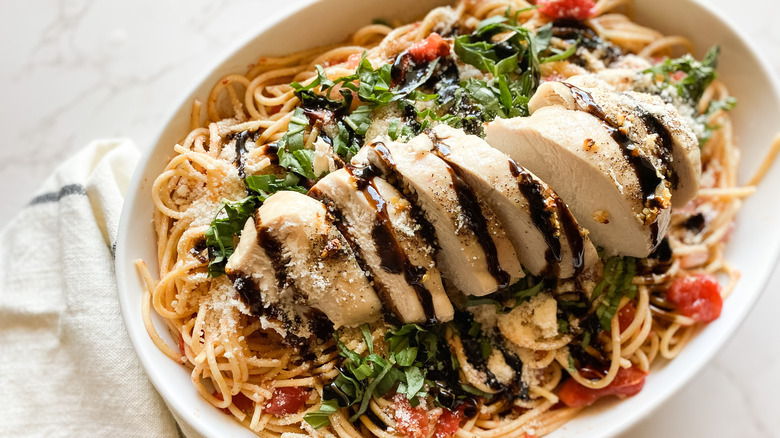 Kristen Carli/Mashed
Once the pasta and tomato and onion mixture have been combined completely, it's time to put the ingredients all together to serve. This dish is best served in a bowl as opposed to a plate, as it lends itself to better presentation and allows the flavors time to mix together.
In a large serving bowl, pour in the pasta and tomato and onion mixture, then top with your thinly sliced basil and sprinkle with the parmesan cheese. Then rest the protein of your choice (chicken in this case) on top of the pasta, and finally, finish it off with a drizzle of balsamic vinegar  on top of the entire dish.
Now it's time to grab a glass of wine and enjoy your quick and healthy chicken bruschetta pasta for a nice and easy Italian-inspired meal.
Chicken Bruschetta Pasta Recipe
Chicken bruschetta pasta is a refreshing and light dish that all Italian food lovers can enjoy. Substitute beef, pork, or chickpeas for a vegetarian version.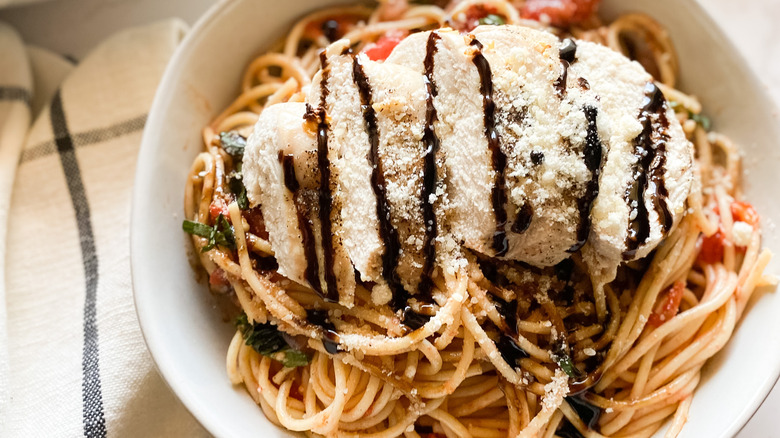 Ingredients
1 lb spaghetti pasta
2 boneless skinless chicken breasts
2 tsp minced garlic, divided
½ cup olive oil, divided
¼ red onion, diced
8 roma tomatoes, diced
¼ cup grated parmesan
½ cup basil, thinly sliced
2 tsp salt, divided
1 tsp pepper, divided
1 tbsp balsamic vinegar
Directions
Preheat oven to 350F.
On a foil-wrapped baking sheet, add chicken breasts. Season with ½ tsp salt, ¼ tsp pepper and 1 tsp minced garlic.
Bake chicken for 20 to 30 minutes, until cooked through.
Bring a large pot of water to a boil. Add pasta. Cook according to package directions. Drain and set aside.
In a medium skillet, add 1 tbsp of olive oil. Then add 1 tsp minced garlic and red onion. Cook for about 5 minutes.
Add in diced tomatoes to pan and continue to cook for about 5 more minutes.
In a large mixing bowl, add pasta and tomato onion mixture. Add remaining olive oil. Stir to combine.
Pour prepared pasta into a large serving bowl. Top with basil and parmesan. Top with cooked chicken. Drizzle balsamic vinegar over top.
Nutrition
| | |
| --- | --- |
| Calories per Serving | 893 |
| Total Fat | 35.0 g |
| Saturated Fat | 6.4 g |
| Trans Fat | 0.0 g |
| Cholesterol | 105.6 mg |
| | |
| --- | --- |
| Total Carbohydrates | 92.2 g |
| Dietary Fiber | 5.5 g |
| Total Sugars | 7.3 g |
| Sodium | 992.1 mg |
| Protein | 50.2 g |