Cooking Shows To Watch If You Love Gordon Ramsay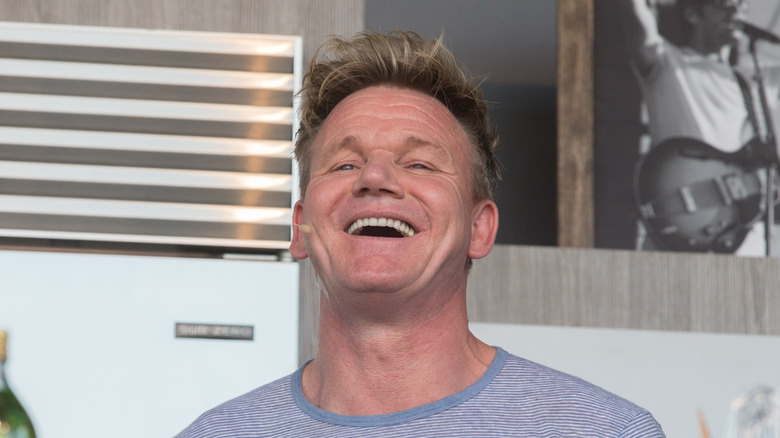 Shutterstock
If you like to dial down your day by tuning in to one of Gordon Ramsay's many different shows, we know a bit about you already. First, you're probably not conflict-averse. Second, if you enjoy a Ramsay-centric episode or two, you probably also enjoy the finer things in life — or at least, you like looking at them. 
Third, you're not alone. People love Gordon Ramsay. In fact, the celebrity chef's ever-expanding fanbase has allowed him to amass an absolute empire. Diners flock to his 35 restaurants around the world, many of which are Michelin-starred, and audiences flock to his TV slate, which is just as acclaimed. In 2020, Forbes ranked Ramsay as number nineteen on their Celebrity 100 earnings list, and that was before he announced plans to launch 100 new Ramsay-branded restaurants within the next five years.
But we get it, you don't love good old Gordon for his money or his business prowess. You love him for the same reasons we all do: the strict British accent that screams "I'm educated in this subject matter." The way he shamelessly makes a mess of any given kitchen or set, leaning into the pure theater of critique. The way his worship for good food is matched only by his disdain for poorly prepared cuisine.
We're with you, and we have recommendations. While you could spend years devouring all of Ramsay's programming, if you ever need a break, consider one of these new-to-you shows with very similar themes.
Bar Rescue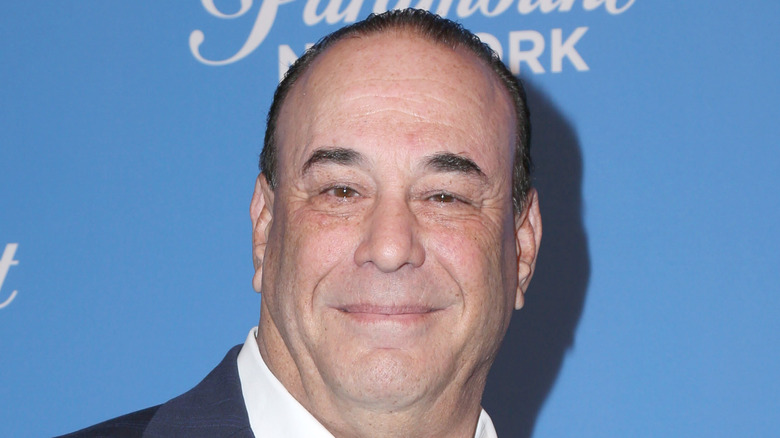 Shutterstock
Loud, dominating, confident, precise, and prone to outbursts in the face of inadequacy. Sound like you could be describing Gordon Ramsay here, but you could also be describing the man who makes "Bar Rescue" on Paramount Network the masterpiece that it is. We're speaking, of course, of none other than Jon Taffer. In Taffer, we find everything we love about Ramsay pieced together in a slightly different but still compellingly familiar way. As he attempts to save various struggling bars, Taffer ranges from disgusted to determined to delighted over the course of an episode, bringing equal dramatic flair to each emotion. 
Instead of rectifying the world's worst kitchens a la Ramsay, Taffer's focus is on bars, as the name of his show strongly implies. And focus he does. The looming hospitality expert tackles everything from mixology to bar food and is known to dial in on the often-dysfunctional relationships of the people running the bar. This makes for an interpersonal element that may just be the show's best asset. It's either that or the insults Taffer doles out. On all the best episodes, they rival Ramsay's storied use of the word "bozo."
Guy's Grocery Games
It's a long-standing food television debate: are Guy Fieri and Gordon Ramsay more alike or different? While Ramsay exudes prestige and is ultimately just a quintessential Brit, Fieri embodies the approachable, all-American man stereotype. While Ramsay appears to be a naturally sandy-haired food expert, Fieri comes across as more of a food enthusiast and is definitely bleaching those frosted tips. But apart from all their more superficial differences, Fieri and Ramsay do seem to have the important things in common. They love a cold-blooded (and televised!) food challenge, and they aren't afraid to hold back their personality or their criticism when it's warranted.
Enter "Guy's Grocery Games", which you may also know as "Triple G" if you're a fan of brevity. This simple show, focused on three food challenges set in a mock grocery store named "Flavortown Market", has been running for over 25 seasons, which means that, first of all, the showrunners have really mastered something. Second of all, it will be funding Fieri's lifestyle for years to come.
You can hardly call Triple G a sleeper hit when over 250 hours of it has been aired. Yet, we still feel like "Guy's Grocery Games" never really got the pop-culture moment it deserved, at least not like Ramsay's work. Give this one a try between episodes of "Kitchen Nightmares".
Chopped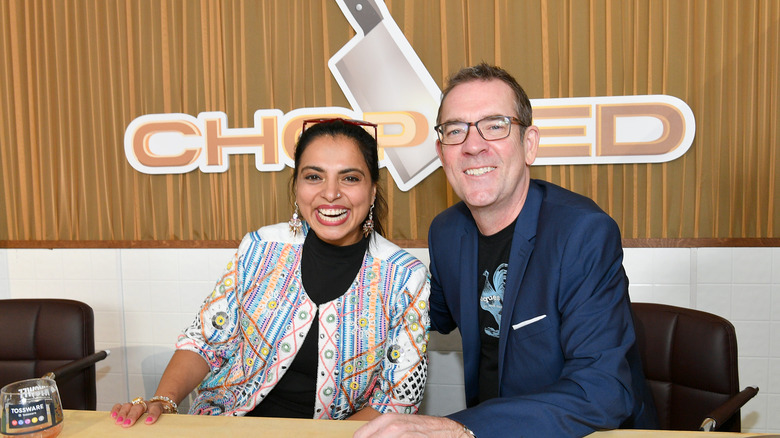 Dia Dipasupil/Getty Images
"Chopped" might not have cast Gordon Ramsay himself, but by cranking up the sense of urgency to a maximum, the show channels every bit of his intense energy into the proceedings. This cooking competition series is renowned for a reason. If you haven't tuned in yet, finish this article and then immediately turn on an episode. Their format is, for many viewers, pure magic. It consists of four competing chefs, all eager to win the typically $10,000 prize. They are tasked with creating a dish that combines a set of mystery ingredients, which aren't revealed to them until moments before the timer starts counting down. 
By pairing a strict time limit with surprising foods, as well as judging that is ruthless by design, "Chopped" feels both unforgiving and fantastically entertaining. It's the kind of show that fits seamlessly with the Ramsay brand, though he's nowhere to be seen on the series yet. By the end of each episode, three contestants have been "chopped" and there is only one left standing, making for a brutal and quick competition. We're willing to bet Ramsay watches.
The Final Table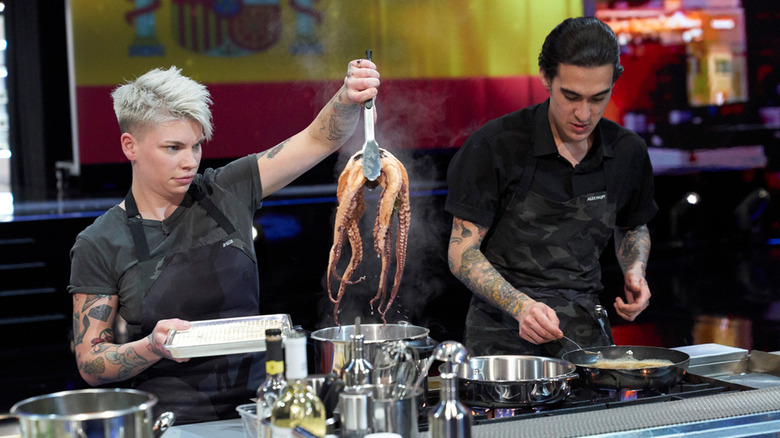 Netflix
"The Final Table" recently served up its first season on Netflix, to mixed reviews. Full disclaimer here, as it has two stars on Rotten Tomatoes. As one viewer put it, "So, for the life of me, I don't know what 'The Final Table' is for." Not exactly glowing. But despite a few less than flattering pieces of feedback, we think this new show on the block has some promise, especially for those of us who relish the competition in Ramsay's "MasterChef".
"The Final Table's" strength is just that: a fierce fight to make it to the titular final table. It's also got some international flair. Complete with variously accredited judges and a food critic host, the show pits twelve teams from around the world against each other in a multi-episode competition. There's a built-in opportunity for on-screen drama because the final pair of chefs remaining are then made to face off against each other in a head-to-head showdown. Talk about conflict.
The show's set design looks like it was assembled on a Netflix budget in the best way, and its worldliness (or, at least, its attempt to be literally worldly) works in a way it only could on the streaming service. Nothing can compare to an icon like "MasterChef", but "The Final Table" is a complimentary flavor.
Top Chef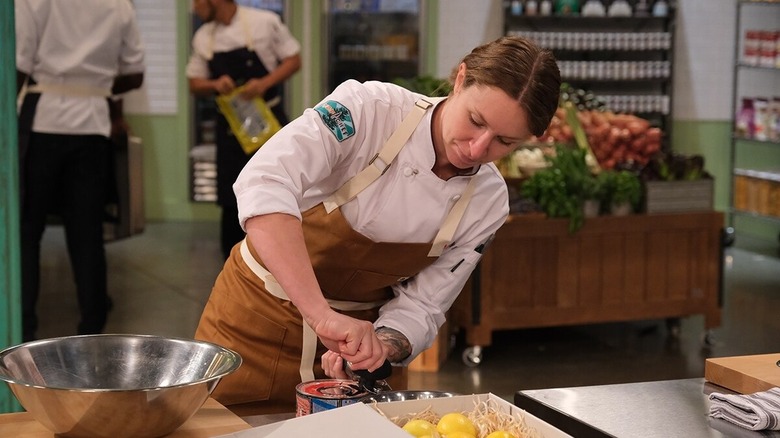 Bravo
"Top Chef" is more than just a show. At this point, it's an empire. With 17 seasons and spin-offs of just about every variety, the reality competition series is undoubtedly one of the most iconic in the food television world. For that reason alone, you should tune in. But if you love Gordon Ramsay, the show will be all the more enticing.
For starters, this series has the same season-long competition hook as "MasterChef". Contestants vie to become the top chef, hurdling a variety of obstacles and squeezing through elimination rounds during each episode. They must impress judges with their cooking prowess and also their versatility. Often the evaluations can be tough. Even in the absence of Ramsay, you'll feel that fervent flavor and the utter tension of the chefs as they await judgment.
The other driving interest here is the "Top Chef" versus "MasterChef" question of who copied who. The former, an American series, launched on Bravo in 2006. That's four whole years' worth of television before Ramsay's rendition of "MasterChef" got up and running in the United States in 2010. However, before Ramsay and the American "MasterChef", versions of the original "MasterChef" series were airing in England as early as 1990, with the current revival rearing its head in 2005 (via BBC). If you're a "MasterChef" expert, give "Top Chef" a watch and decide for yourself. Which program is ultimately influencing the other?
Restaurant: Impossible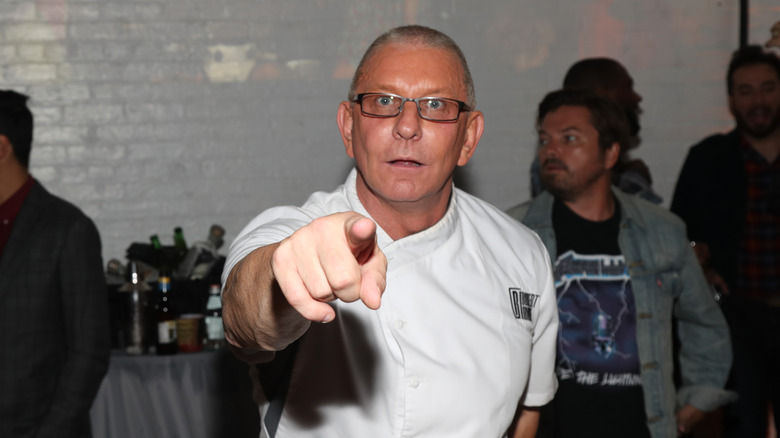 Bennett Raglin/Getty Images
There are really two main arenas Ramsay has mastered in the television space: format and character. He is the culinary king of enticing cooking reality shows, with formats that are just as easy to watch as they are to replicate. But perhaps more individually unique to Ramsay himself is the character he portrays on his variety of shows. He is passionate, intelligent, and unwilling to hold back when something isn't up to his high standards. It seems that there is absolutely nothing more disappointing to Ramsay than ill-prepared food.
When considering comparisons for any of Ramsay's shows, you have to take at least one of his signature aspects into account, whether it be format or character. When it comes to "Restaurant: Impossible", the comparison lies in both. The show, which has a whopping 18 seasons, follows celebrity chef Robert Irvine as he turns around failing restaurants in just two days and with only $10,000. If it sounds a lot like "Kitchen Nightmares", that's because, well, it is. Watch them back to back to really spice things up.
Dinner: Impossible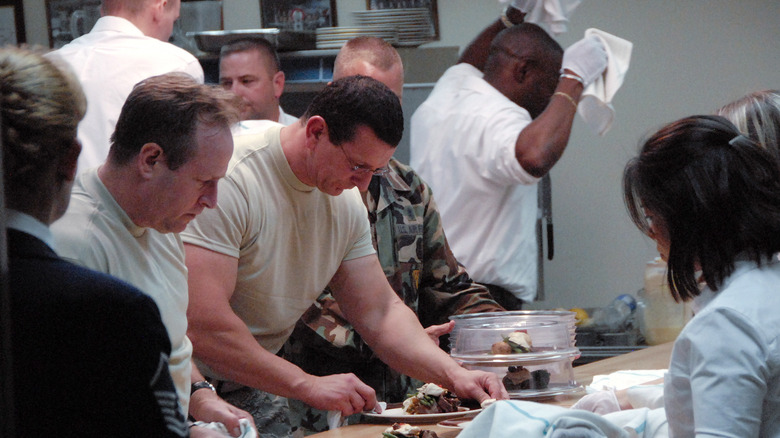 Food Network
A second famous installment in the Robert Irvine television world, "Dinner: Impossible", sounds like it should be somewhat related to "Restaurant: Impossible". Despite what the names might lead you to believe, though, their relationship is vague and hinges almost entirely on Irvine himself — he hosted both shows when they began airing. "Dinner: Impossible" is not a rescue-centric show, but rather each episode unfolds around various challenges presented to participating chefs.
When it comes to "Dinner: Impossible", Ramsay fans will feel less familiar with the structure. In this series, what will really shine for you is Irvine's personality. He brings a lot of the same gravitas and severeness that Ramsay does, and also has that signature British accent (although there has been some debate about the authenticity of Irvine's speech patterns). Regardless, Irvine falls into the same realm as Ramsay, Fieri, and Taffer in terms of his earnest fieriness as he tries to push chefs to their best culinary selves.
Iron Chef America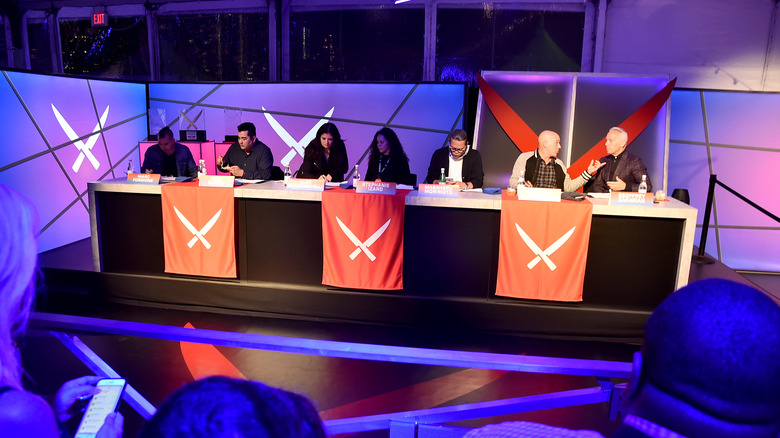 Theo Wargo/Getty Images
"Iron Chef America" is Food Network's star-making (and keeping!) machine. If you're as invested in other celeb chefs as you are Ramsay, this show is worth a watch. With an iconic 13-year run, "Iron Chef America" is actually based on a cult Japanese favorite by the same name. When Food Network got a hold of it, they blew it up into the epic household name it is today. 
Watch one episode, and you'll instantly be in the know about the biggest names in the food celebrity space. From Cat Cora to Bobby Flay, from Wolfgang Puck to Stephanie Izard, this show employs the best of the best while also giving newbies a chance to make a name for themselves. In the name of good food and good fun, "Iron Chef" invites "challenger chefs" on to compete against the iconic Iron Chef crew of high-profile professional chefs in a variety of challenges which, more often than not, revolve around secret ingredients.
Cutthroat Kitchen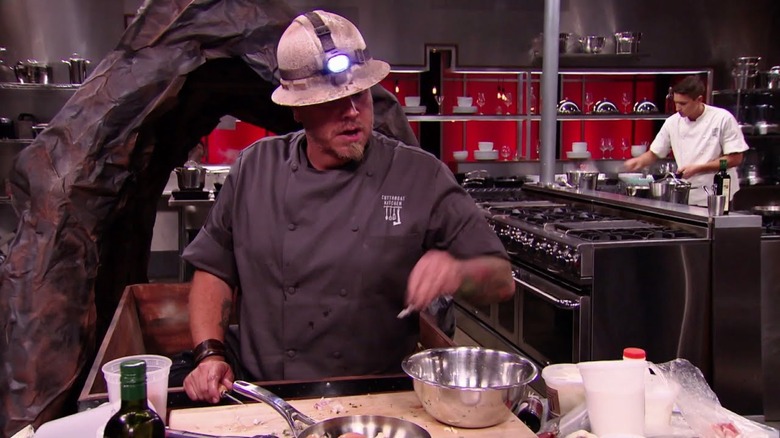 Food Network
The name should tell you enough about this special television show, hosted by longtime food television personality Alton Brown. Food Network did not hold back when they bluntly named this series, which ended up running for over 180 episodes and 15 seasons. "Cutthroat Kitchen" is, indeed, cutthroat in the extreme. The show, which follows the basic multiple-round competition model, has seen a plethora of contestants that have run the food television show gamut. But nowhere do they go up against each other in quite the same way as they do on "Cutthroat Kitchen".
Instead of just ending with a cash prize, in "Cutthroat Kitchen" each installment starts with cash. In the first round, chefs are given $25,000 apiece to either spend helping themselves or sabotaging their competitors. The sabotages, which include some truly odd challenges like navigating the kitchen via a mining cart or wearing ridiculous costumes, are perhaps the most striking part of the show. 
If a competitor emerges victorious, they keep whatever's left of their money. Culinary skill is necessary here, but so is a certain type of slightly evil, definitely ruthless, and very shark-like personality. Complete with onscreen drama and occasionally harsh feedback, this Food Network staple is absolutely made for the Ramsay fan community.
Next Great Baker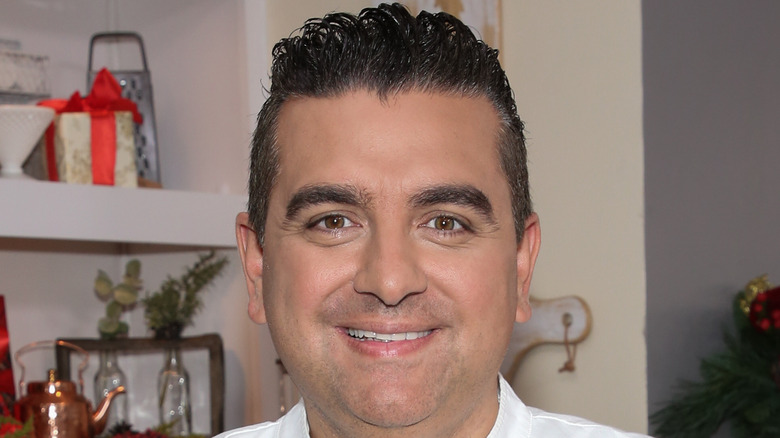 Paul Archuleta/Getty Images
It is equal parts shocking and impressive how many times the food television world has re-imagined the same format using different powerhouse hosts and slight variations on themes. When it comes to "Next Great Baker", TLC's short-lived masterpiece, the genesis seems no different. After the success of its mega-hit show "Cake Boss", the network had a verifiable celebrity on its hands with Buddy Valastro. Naturally, they took him out of Carlo's Bake Shop and planted him at the helm of a four-season spin-off: "Next Great Baker".
We're not sure why this show didn't last long. It follows the unfailing format of episodic elimination until finally, Valastro crowns his successor — the "Next Great Baker" — at the end of each season. Perhaps it was just that Valastro could only have so many successors in good faith? Or maybe it had to do with the fact that TLC also created three additional "Cake Boss" spinoffs, to varying degrees of success and maybe initiating a bit of Valastro fatigue.
Regardless, if you enjoy watching Ramsay hone the next generation of great chefs (or, let's be real, the next generation of great television chefs), you'll get a kick out of indulging in Valastro doing the same.
Kitchen Boss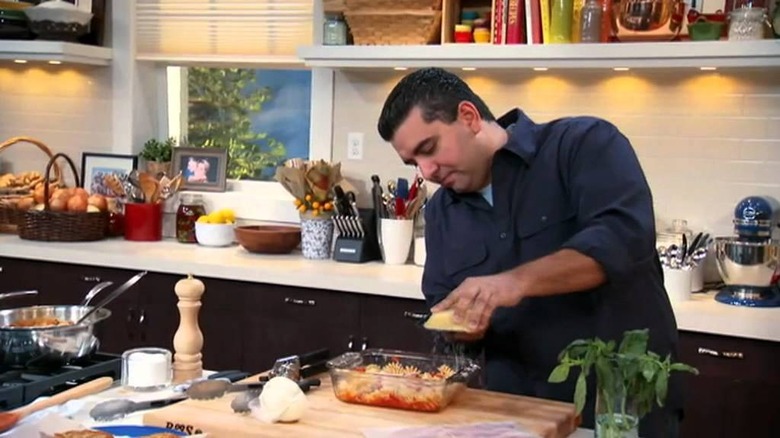 TLC
This gem only graced TV airwaves for two seasons, but it is a truly heartwarming spin on the classic food television trope. If you need a bit of a break from the breakneck pace and high drama of a typical Gordon Ramsay show, this might be perfect for you. One of the four "Cake Boss" spin-offs that TLC hit us with by the early 2000s, "Kitchen Boss" takes a different approach than most other food programming with a male chef as the star. Instead of casting Valastro as a driving, coaching, stressed-out lead, in "Kitchen Boss", he gets to play a softer version of himself. 
The show is more Rachael Ray than anything else, with Valastro in a New York City studio whipping up his family's Italian-American dishes while chatting with various members of the fam and other special guests. It's honestly a joy to watch. Ultimately, the reason it works for Ramsay fans is the opportunity it presents to take a healthy break from the shouting and cooking combo that Ramsay (and most of the other recommendations on this list) are known for.