French Ginger And Lemon Scone Recipe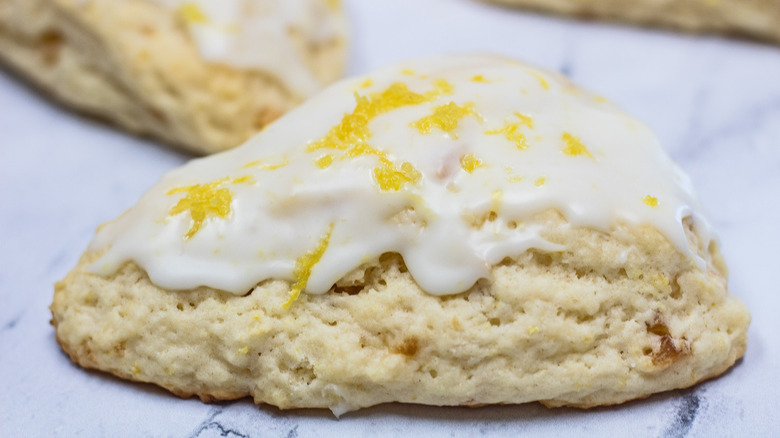 Angela Latimer/Mashed
Freshly baked treats made at home are undoubtedly one of the better things in life. Scones definitely rank high on the list, as they always seem to have the perfect balance of flavor and density needed for a quick snack, dessert, or side dish. Not only can they be made in both sweet and salty styles, but they can be modified for any level of taste.
Whether you choose to have one with jam for breakfast or a sweet scone with your afternoon tea, they incorporate all the qualities of an ideal baked good: an exterior that is golden with a slight crisp and an interior that's delightfully light and flaky.
On that note, Angela Latimer from Bake it With Love has developed a scone worthy of tea time with the queen. Tangy lemon juice and zest are paired with candied or crystallized ginger and topped with lemon icing for a "match made in heaven" according to the recipe creator. 
Scones require a bit more precision than other baked goods to obtain the perfect crumbly texture that won't fall apart in your hands. But aside from a few careful tricks to ensure your scones aren't overly dense or dry, the recipe and ingredients required for these scones are straightforward. Nevertheless, there's no doubt that these treats are worth the extra care, so roll your sleeves up and get ready to get floury. 
Gather the ingredients for ginger and lemon scones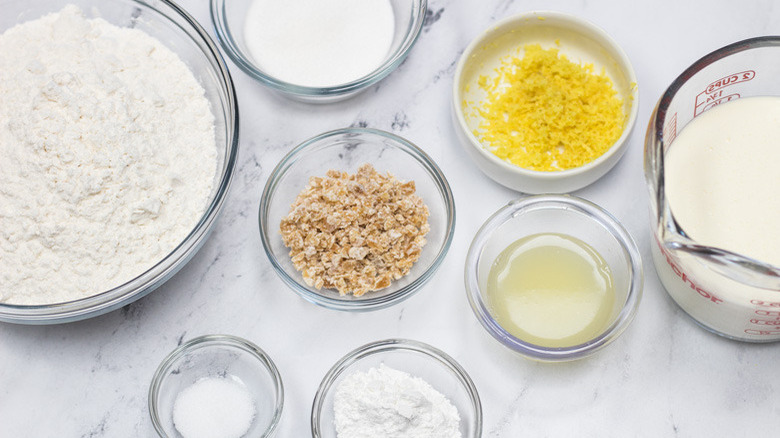 Angela Latimer/Mashed
You'll need all-purpose flour for scones that rise nicely and hold their shape. Next, a bit of white sugar provides a hint of sweetness for the dough — if it looks like a small amount, remember you'll be adding icing. Baking powder will help your scones rise, keeping them light and airy. Lemon juice is used to properly incorporate the flavor into the dough and icing, while the zest adds an extra kick and spike of flavor in each bite, so don't be shy! A small amount of salt is called for to balance out the sweetness and enhance the overall taste. 
Heavy cream makes the scones extra fluffy and is far easier to incorporate than cold butter, keeping your scones from drying out. Candied and crystallized ginger are sometimes used interchangeably, but the former is often found in simple syrup and the latter dry and covered in sugar (via Mother Would Know). Use what you can find, though dry versions will be easier to finely chop and spread throughout the dough for ginger spice in each bite. Finally, confectioner's sugar (also called icing or powdered sugar) is used to make the icing drizzle for the top. If you're looking to keep the sugar content lower, you can omit the icing, and your scones will still be packed with flavor. 
Preheat the oven and whisk the dry ingredients together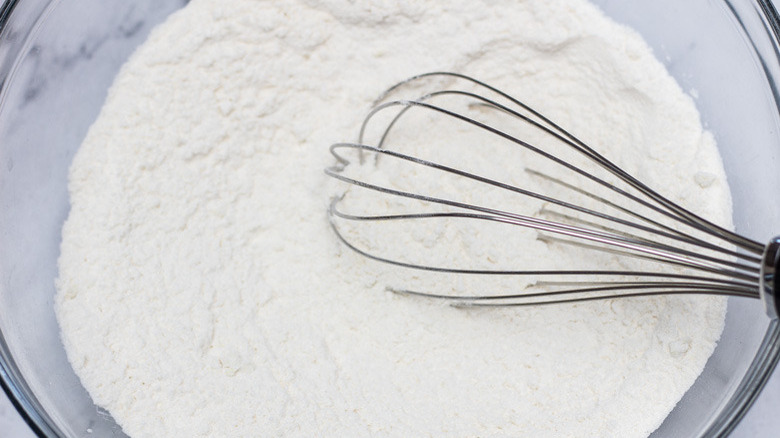 Angela Latimer/Mashed
Preheat the oven to 375 F. Then, line a tray with baking paper to avoid any sticking and make it easy to remove the scones. 
Choose a large mixing bowl and whisk together the all-purpose flour, white sugar, baking powder, the zest from 1 lemon, and salt. Pre-mixing the dry ingredients helps to incorporate the small quantities of baking powder and salt throughout the flour so they're evenly distributed. This is essential for the dough to rise properly. Also, if your flour has any lumps, this will help smooth it out. 
By making sure everything is thoroughly combined before introducing the wet ingredients, you will have less mixing to do once they are added, ensuring you don't over mix your dough. In turn, this will keep everything light and fluffy, which is what we are aiming for. And lastly, the oils in the lemon zest add an intense citrus flavor, enhancing the aromas so that the taste pops.
Stir in the wet ingredients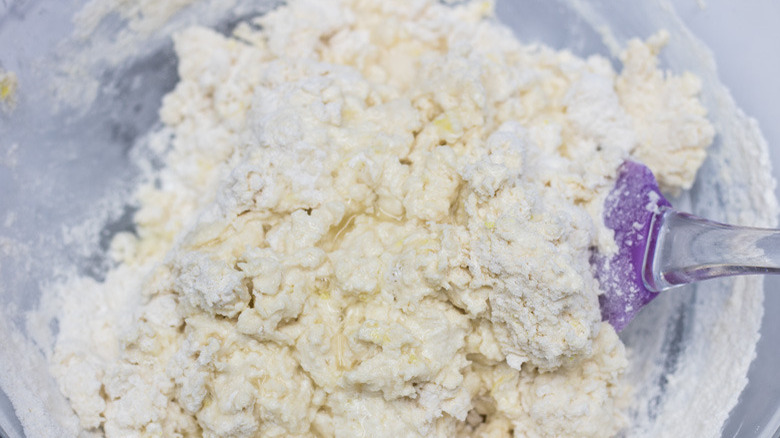 Angela Latimer/Mashed
Next, mix in the heavy cream and 2 tablespoons of lemon juice. Latimer explains that heavy cream is necessary to provide the right amount of fat, which will make your scones the perfect texture of light and fluffy. Although butter is used in some recipes, heavy cream is much easier to combine into the dry ingredients without the risk of overmixing. 
Using lemon juice in the dough incorporates the flavor of the citrus fruit with a subtle touch that balances well with the zest. Be sure to mix the wet ingredients until just combined as any more mixing will cause the scones to be overly dense. 
Fold in the candied ginger for your lemon scones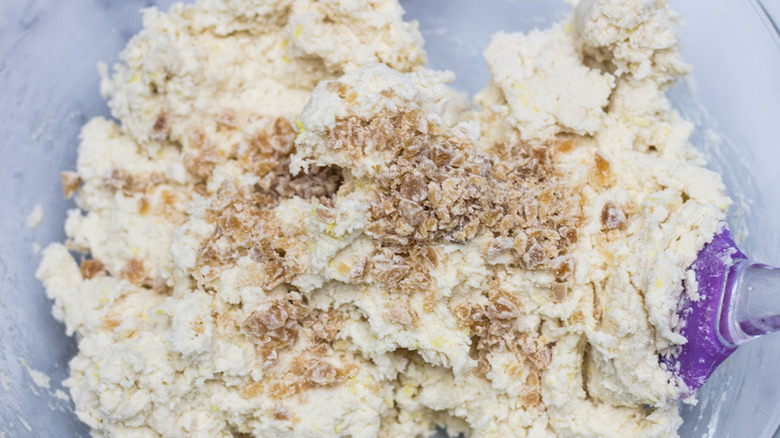 Angela Latimer/Mashed
Now comes the flavor bomb: the candied ginger! Simply chop the ginger finely and fold it into the dough. There's no need to mix it in at length, since the dry and wet ingredients have already been properly combined. 
The purpose in this step is to distribute the ginger uniformly so that each bite is filled with the heavenly combination of ginger and lemon. 
Shape the dough into a round and cut it into wedges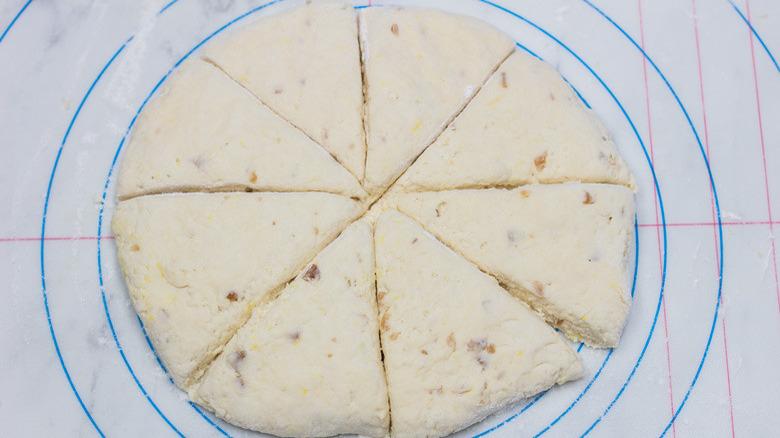 Angela Latimer/Mashed
Now that all the ingredients are in the dough, transfer it to a lightly floured surface — use a pastry mat if you have one. Without over-working the dough, lightly knead it until it comes together. Next, push the dough into a rounded shape, approximately 9 inches in diameter. Pat the surface down evenly, such that the entire round is about 1 inch in height.
Coat a sharp knife with some flour to avoid sticking, then cut the round into 8 wedges. 
Place the scone wedges on a tray and bake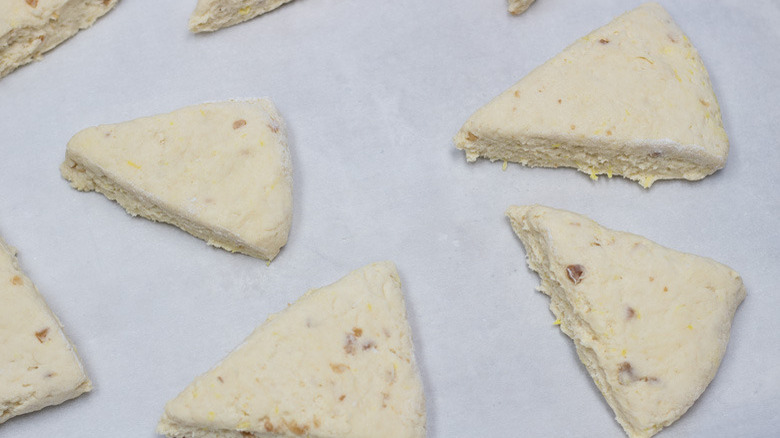 Angela Latimer/Mashed
Carefully transfer each wedge to your baking sheet, and be sure to check that there's at least 1 inch space between each scone, as recipe creator Angela Latimer advises. If you keep the scones close together on the tray,  the heat will cause them to rise upwards instead of spreading out to the sides. 
Place the baking tray into your preheated oven and bake for 20-25 minutes. After baking, the scones should be lightly golden brown on the bottom edges. The pale ingredient list means the scones will also appear fairly lightly colored even after baking, but you can also test the readiness by pressing them with your finger, after which no indent should remain.
Once French ginger lemon scones are golden, remove them and let them cool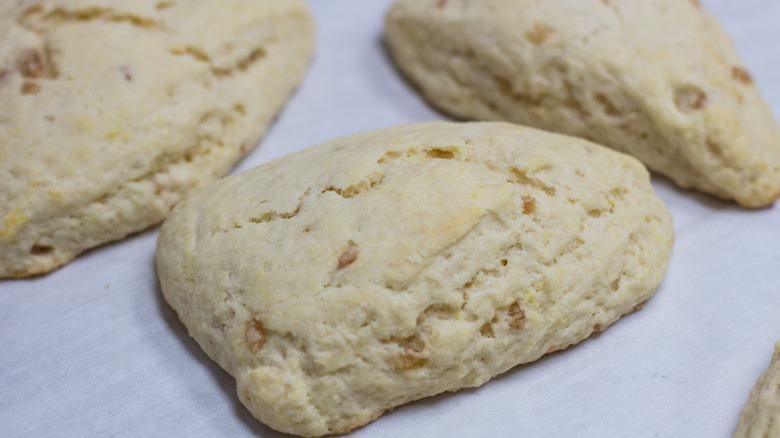 Angela Latimer/Mashed
When you have determined the scones are ready, remove them from the oven. Leave them to cool for 5 minutes on the same tray so they have time to set. Then, transfer the scones to a wire cooling rack so the air can circulate from all sides. This also prevents the scones from cooking any further on the warm tray and allows them to cool faster, which will make it easier to drizzle the icing sugar on top without having it melt off the sides. 
Gather your icing ingredients and mix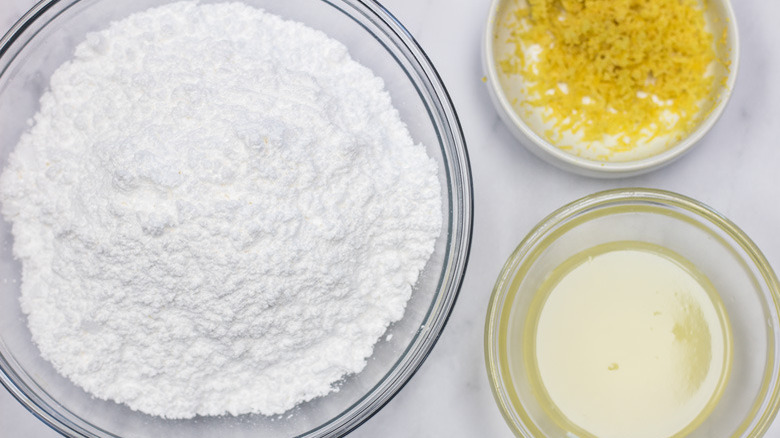 Angela Latimer/Mashed
While your scones finish cooling, assemble the ingredients required for the icing. As mentioned, confectioners' sugar might also be labeled as powdered or icing sugar. The latter two names describe its powdery appearance and main purpose. 
Next, 2 tablespoons of lemon juice are mixed with the sugar to create the icing glaze. In other cases, water or milk might be used, but lemon juice keeps the tangy flavor present in these scone's dough and icing. Finally, add half of the remaining lemon zest and mix it into the sugar and juice. Adjust the consistency of the icing by adding more lemon juice to thin it for easy drizzling, or more sugar for something more paste-like. 
Drizzle the icing over your scones and let it set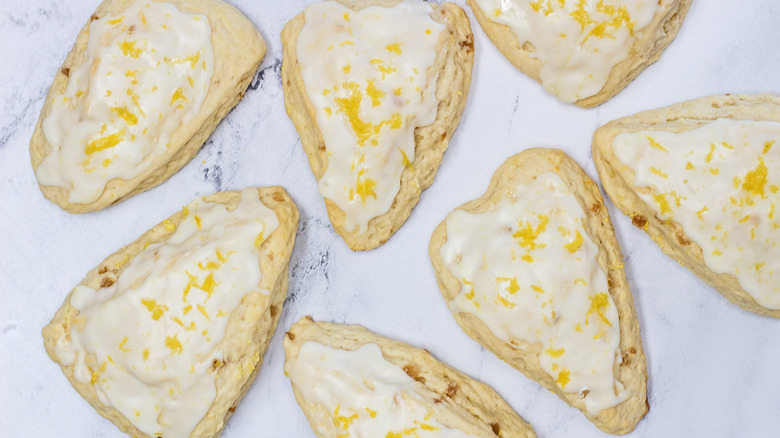 Angela Latimer/Mashed
Depending on the consistency of the icing you mixed, you can either drizzle it over the scones or spread it on the tops. Alternately, you could dig right in and slice your scone in half, spreading the icing on both halves for an extra sweet touch. Finally, for a bright splash of flavor and color, sprinkle the remaining lemon zest on the tops of the scones while the icing is still wet. Each bite will have the perfect combination of scone, icing, and intense zest. 
Serve your French ginger and lemon scones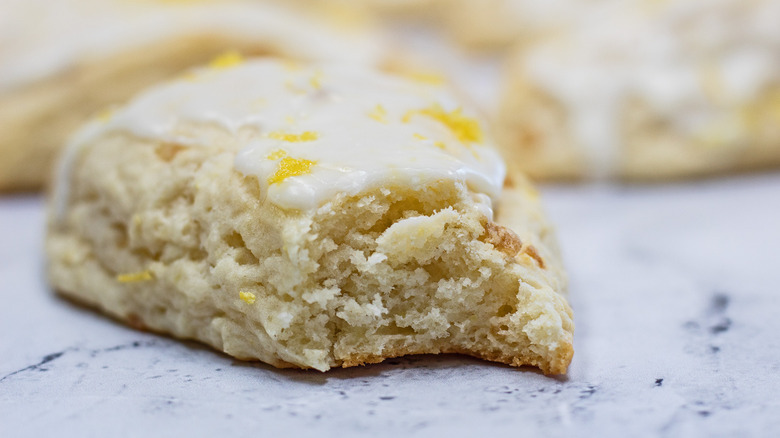 Angela Latimer/Mashed
Once the scones are all iced, let them sit for about 15 minutes or until the icing sets. The icing should have time to harden on the surface and create a sort of shell covering. You can skip this step if you're incredibly eager and don't mind having very sticky hands! 
Whether you eat these delicious French ginger and lemon scones with a cup of afternoon tea or with a mug of coffee in the morning, you will not be disappointed. The heavenly combination is packed with flavor without overwhelming your taste buds, so you can have one every day until you run out — and we guarantee you'll want to bake another batch right after the last scone disappears. 
French Ginger And Lemon Scone Recipe
These flaky, sweet and zesty French lemon and ginger scones will become a breakfast, snack or brunch favorite. Enjoy with tea or coffee or as a to-go snack.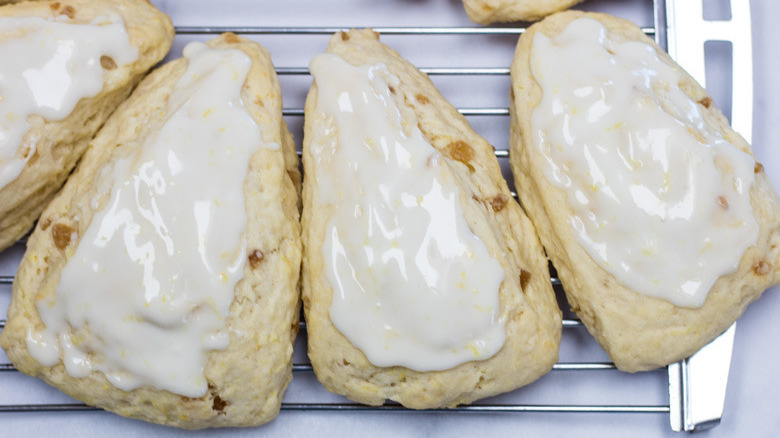 Ingredients
2 ¼ cups all-purpose flour
¼ cup sugar
1 tablespoon baking powder
4 tablespoons lemon juice
3 tablespoons lemon zest
½ teaspoon salt
1½ cups heavy cream
¼ cup candied ginger
1½ cups confectioners' sugar
Optional Ingredients
Extra lemon zest for garnish
Directions
Preheat your oven to 375 degrees Fahrenheit.
Line a baking sheet with parchment paper or a silicone mat.
In a large mixing bowl, whisk together the all-purpose flour, sugar, baking powder, zest from one lemon, and salt.
Use a spatula or wooden spoon to stir in the heavy cream and 2 tablespoons of lemon juice. Do not overmix.
Chop the candied or crystallized ginger.
Fold ginger into the batter.
Transfer the dough to a lightly floured pastry mat or working surface and knead it just enough to pull it together.
Shape into a circle, approximately 9 inches in diameter, and pat down to about 1 inch in thickness.
Use a sharp knife that has been coated in flour to cut the round into 8 wedges.
Transfer the wedges to your prepared baking sheet, leaving at least 1 inch of spacing between each scone.
Bake the scones for 20 to 25 minutes, or until lightly golden brown on the bottom edges.
The scones should be pale when done, and you should be able to touch them without leaving an indent.
Remove from the oven and allow to cool on the baking sheet for 5 minutes.
Transfer scones to a wire cooling rack to cool further.
Mix 1 cup confections sugar with half of the remaining zest and 2 tablespoons of remaining lemon juice.
Mix until you reach either a spreading consistency or drizzle consistency. Adjust the icing consistency by adding more confectioners sugar to thicken or a drizzle more lemon juice to thin.
Spread or drizzle your icing over the scones.
Sprinkle the remaining lemon zest.
Allow the icing to set on the scones for at least 15 minutes before serving.
Nutrition
| | |
| --- | --- |
| Calories per Serving | 420 |
| Total Fat | 16.9 g |
| Saturated Fat | 10.3 g |
| Trans Fat | 0.0 g |
| Cholesterol | 61.1 mg |
| | |
| --- | --- |
| Total Carbohydrates | 63.9 g |
| Dietary Fiber | 1.3 g |
| Total Sugars | 35.5 g |
| Sodium | 295.7 mg |
| Protein | 4.6 g |