Here's What Logan Paul Thinks Of The MrBeast Burger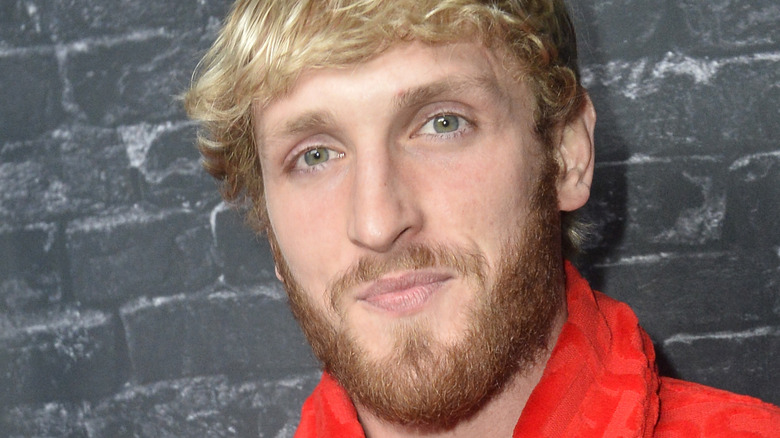 Jerod Harris/Getty Images
The restaurant industry is fighting to keep going during the pandemic, coming up with innovative tools such as virtual restaurants and ghost kitchens to get through the economic slowdown. One of the most influential figures in content creation, digital icon MrBeast (real name Jimmy Donaldson), has taken it upon himself to offer a new dining option through ghost kitchens (via The New York Times). He has collaborated with Virtual Dining Concepts to create MrBeast Burger, a delivery-and-takeout only chain that uses existing restaurant kitchens and helps keep restaurants afloat by giving them work. Call it a win-win for everyone involved.
What's on the menu, you ask? Mostly burgers and fries, and chocolate chip cookies for dessert, according to the online menu. MrBeast Burger may be a relatively new entrant in the industry but has already generated plenty of reviews from those who've tried it. Food critics are divided at this point. The review on the YouTube channel Peep THIS Out! was glowing. "There is something about a burger like this," the reviewer said. "It's not trying to be the prettiest burger out there but the flavor that it's delivering is off the chart." Not everyone is convinced, though. Redditors complained that MrBeast Burger was nothing special.
What do other high-profile content creators, in the same stratosphere as MrBeast himself, think about his burger venture? Take Logan Paul, for example. He has a lot to say about the brand.
Logan Paul was impressed with MrBeast Burger
In a YouTube video by Logan Paul and Mike Majlak, fans got a chance to learn what some famous internet sensations really think about MrBeast Burger. According to Dexerto, Paul was happy with the presentation. "Aesthetically, they look fantastic," Paul said. "Look at how greasy and sloppy it looks — just the way I like a burger." Majlak was pleased with the way things looked as well.
And yes, Paul was really happy with the taste, too. In fact, he offered MrBeast Burger a favorable rating of 8.5 out of 10. He also expressed surprise at the feat that MrBeast had managed to pull off. Paul remembered when MrBeast was a young vlogger who happened to idolize Paul himself. "This kid said my name a hundred thousand times," Paul said. "Now he's making world-quality class, top-tier burgers. How is this possible?" A little later, he answered his own question: "I guess we're all grown up."