The Untold Truth Of Giada De Laurentiis' Aunt Raffy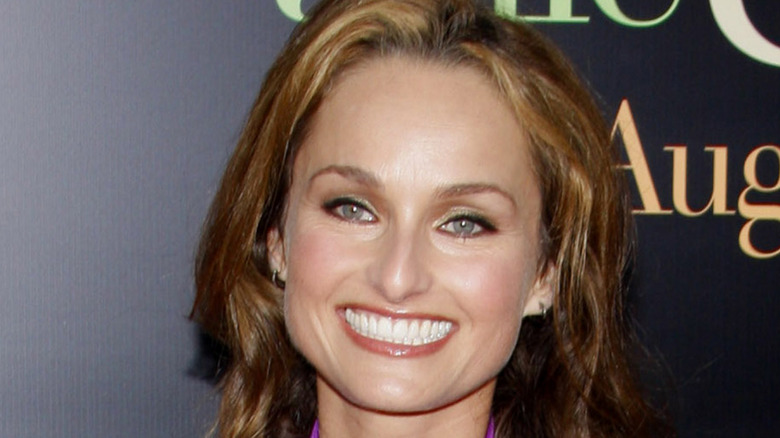 Shutterstock
Anyone familiar with Giada De Laurentiis' cooking shows is sure to know the familiar face of her Aunt Raffy. But who exactly is Aunt Raffy, and what impact has she had on one of contemporary food media's biggest stars? While she may simply seem like a welcome companion in the kitchen, giving Giada an extra bit of flavor, both on screen and in cuisine, Raffaella De Laurentiis is more than just an on-air aunty with some slick food tips.
Even now, Giada still shares her aunt's recipes and tips on her website, Giadzy. From her aunt's menu for the Oscars to tips on how to keep a party going on a budget, Aunt Raffy seems an indispensable asset to the family; just how much, you probably don't know. While Giada may be the first celebrity chef from the De Laurentiis clan, the family has a long history in showbiz. Aunt Raffy, included.
Aunt Raffy's famous father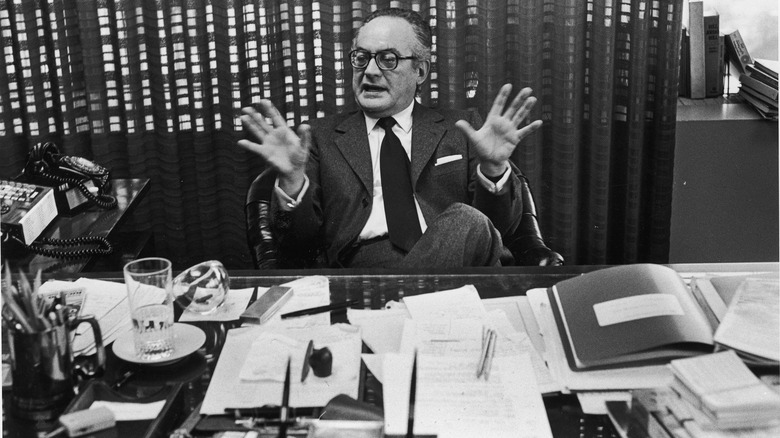 Hulton Archive/Getty Images
Dino De Laurentiis was born outside of Naples, Italy in 1919, according to The Guardian. Years before fathering Raffaella, and later becoming a grandfather to Giada, the young Neapolitan found his calling working for the family business, selling pasta, until on a work trip to Rome, he decided to sign himself up for film school. Though he never became the actor that he set out to be, Dino found himself especially talented when it came to film production, leading to working with legendary Italian actors like Eduardo De Filippo and Totò, and director Federico Fellini. By the 1970s, after quite a bit of success in Italian cinema, De Laurentiis was ready to take over Hollywood.
Though early in his career Dino may have been known for his work in neorealism and the critically acclaimed works he did with Fellini, he found a new calling card in Hollywood: the blockbuster film. Though they weren't all major box office hits, no one denies the name recognition of films he produced such as "King Kong" or "Hannibal," or other projects he participated in, like "Conan the Barbarian." Still, Dino was only one half of the power couple that brought Raffy into the world.
The famous father meets the famous mother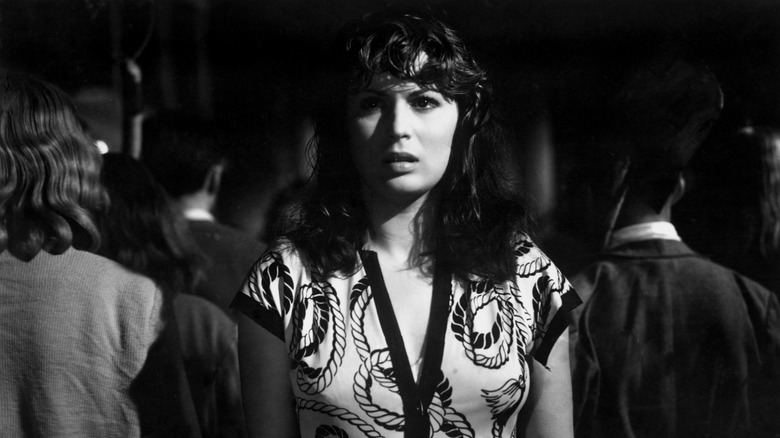 United Archives/Getty Images
A piece by The Washington Post briefly outlines the romance that played out on set between producer Dino De Laurentiis and a new, young starlet by the name of Silvana Mangano. In 1949's neorealist classic "Bitter Rice," Mangano met De Laurentiis, with whom she spent her life until their divorce in 1983. Mangano, a former Miss Rome, was young and in love. When "Bitter Rice" landed her numerous opportunities, regardless of her age and lack of experience, she turned them all down in order to stay with De Laurentiis.
From there, Magnano went on to become one of the country's biggest bombshells in cinema, starring in a plethora of major roles. Alongside her husband, she went on to act in major pictures like "Ulysses" and, later, "Dune," plus cult hits like "The Gold of Naples." And this is the cloth from which Aunt Raffy was cut.
Young Raffaella and her early years in the film industry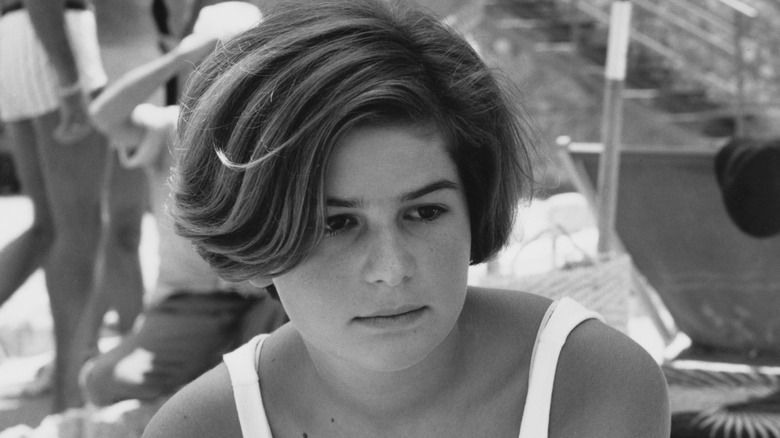 Keystone/Getty Images
Raffaella, one of three sisters to come from the De Laurentiis/Mangano household, seemed to be destined for a life in showbiz. According to The Los Angeles Times, young, Roman-born Raffaella got her start in the biz when she was 14, when she went to work for her father. Unlike so many children who follow their famous parents' footsteps, Raffaella paid her dues in the industry, putting in the time, even watching some of her passion projects absolutely tank. In a busy run she was given the reins to produce two drastically different, now cult-status, films.
One of those films which put her name on the map was "Conan the Barbarian," which gave launch to a young Arnold Schwarzenegger's career in film, and eventually politics. The other, radically different film was director David Lynch's "Dune." With what is described as a sort of signature De Laurentiis modesty, Raffaella assumed the responsibility for the film's lack of financial success — something that still seems to bother her, as she still apparently speaks to David Lynch about having done the film wrong. Adversity, however, does not seem to keep anyone in the De Laurentiis family from getting back up and going to work.
From Raffaella the filmmaker to Aunt Raffy
Though Raffaella De Laurentiis continued to make films over the course of her life, including hits like the sequel to "Conan" and "The Bruce Lee Story," somewhere along the line, the astute producer and businesswoman found herself in a surprisingly different role: that of the Italian aunty to one of the Food Network's biggest stars. According to an article in Cheatsheet, it was Aunt Raffy who helped Giada not only rediscover her roots, but helped to turn her into the chef she is today.
According to her aunt, Giada, who was born in Rome, was losing her roots as she became immersed in American culture. Giada could no longer speak Italian. She couldn't cook Italian. Despite her name and birth, Giada was essentially American, until her aunt egged her on, pushing the young Giada back into all things Italo-centric. Giada, in fact, has even referred to her aunt as her cooking soulmate.
Aunt Raffy the show stealer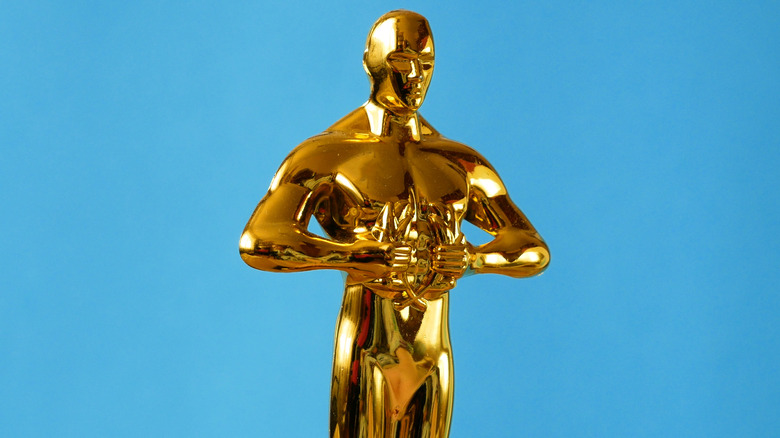 Shutterstock
These days, as Giada recounts on her Giadzy blog, her Aunt Raffy is passing tradition down the line. Being an illustrious producer and member of the Academy, Raffaella De Laurentiis celebrates the Oscars by putting on a large-scale dinner, the way her father would in his heyday. Giada recounts how her grandfather would invite gaggles of Hollywood elite for a dinner that included traditional Neapolitan pizza for starters. You can only imagine how the dinner would go on from there. The tradition, however, would go on, passed down to Aunt Raffy.
Aunt Raffy's parties have been known to include up to 100 people, with enormous amounts of food for guests to munch and enjoy during the awards ceremony. Giada, however, is already taking cues from her beloved aunt, the very way Aunt Raffy was passed the torch from her father. When Aunt Raffy isn't around to throw the party, none other than her celebrity chef niece takes over. Food, family, and tradition really do go together.