Healthy Wilted Spinach Salad Recipe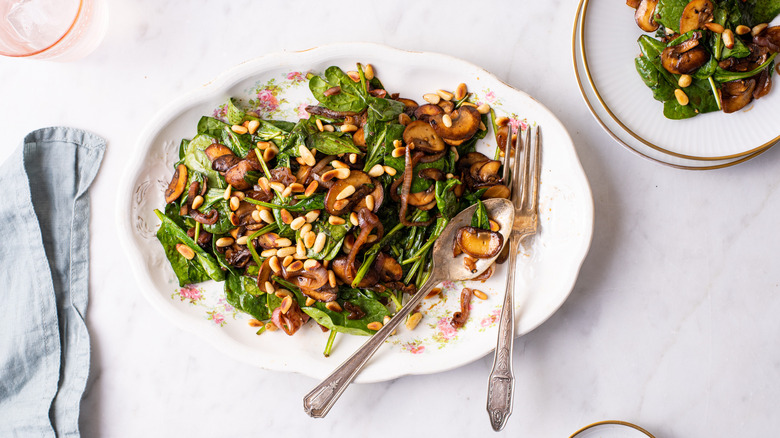 Alexandra Shytsman/Mashed
If you're looking for a delicious and healthy way to eat more greens — but you don't want to put something together that's cold and boring — look no further than this wilted spinach salad that's complete with mushrooms, shallots, and balsamic vinegar. This tasty recipe calls for just a handful of easy-to-find ingredients and comes together in a matter of minutes. In addition to being undeniably yummy, this dish looks fancy and sophisticated and is guaranteed to convert even the biggest spinach skeptics! Serve it with some side grain crackers or a whole wheat roll, and you have yourself an amazing meal.
This wilted spinach salad is brought to you by recipe developer Alexandra Shytsman of plant-based blog The New Baguette. This delicious salad would make the perfect, healthy addition to any holiday table, along with your other appetizers and meats, or Sunday brunch spread with ham, quiche, and a fresh fruit platter. It's also simple enough to put together on a weeknight to accompany pasta or risotto.
Gather your ingredients to prepare this wilted spinach salad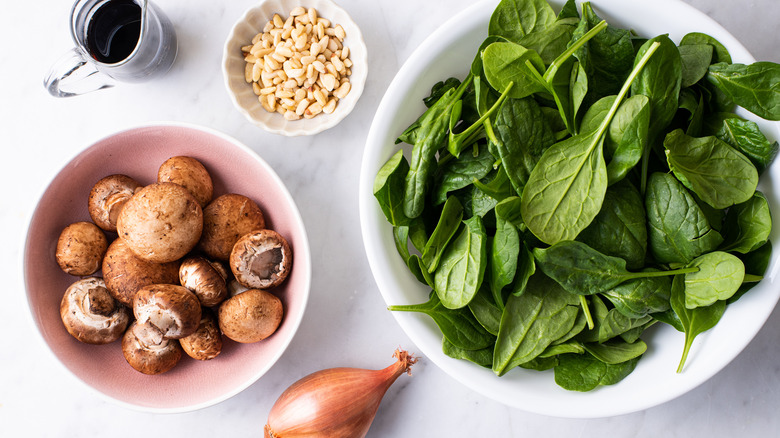 Alexandra Shytsman/Mashed
To get started, you'll need mushrooms, spinach, a large shallot, extra virgin olive oil, balsamic vinegar, and pine nuts. 
The great thing about this recipe is that you can almost use it as a base, and swap in whatever ingredients you already have. Shytsman recommends cremini mushrooms here, but shiitake, oyster, or even white button mushrooms would work. Don't love spinach? Swap in some curly kale. Don't have a shallot? Use a red onion instead. And in place of pine nuts (which can get pretty pricey), you can go for sliced almonds or sunflower seeds. 
Sauté the vegetables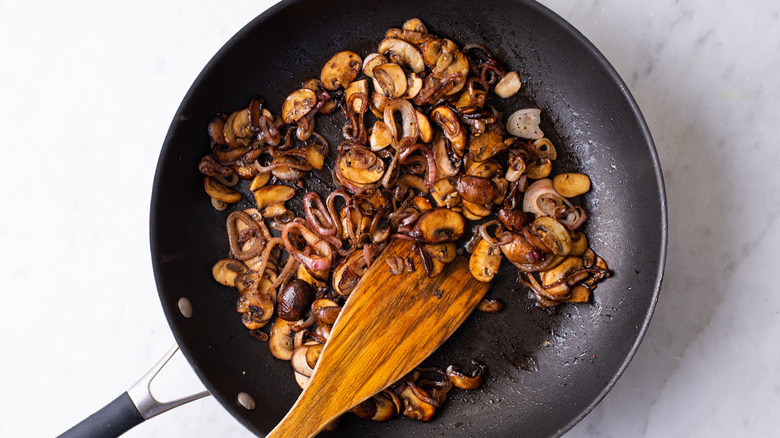 Alexandra Shytsman/Mashed
First, slice up your mushrooms and shallot. To clear up any confusion, when we call for one shallot, we're referring to one whole bulb. Even if there are two cloves inside, both of them constitute a whole shallot.
Next, warm up the olive oil over medium heat. Add the mushrooms, and cook them alone until they're just starting to soften. Then, add the shallots and cook them together until all the vegetables have a little browning around the edges. Lastly, stir in the vinegar, and turn the heat off. Keep your face away from the skillet when adding the vinegar, as the fumes can be a little intense.
Add the spinach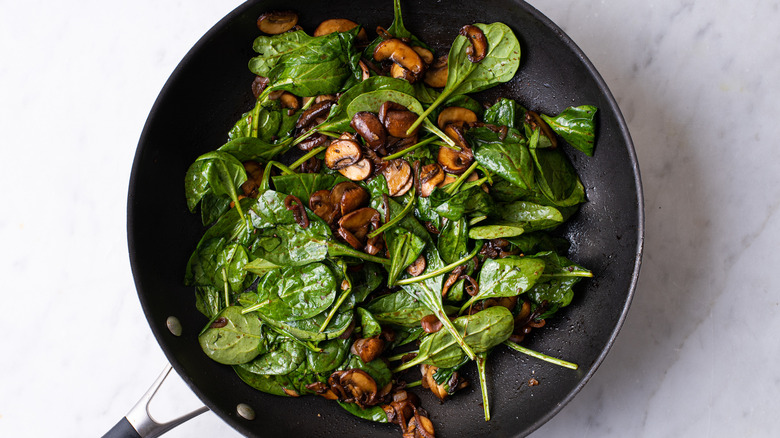 Alexandra Shytsman/Mashed
Immediately after turning off the heat, start adding the spinach to the pan gradually — a handful at a time — stirring between each addition. This will avoid overcrowding and make everything easier to combine. At the end, the spinach should be a little warm and wilted, but not entirely collapsed (like, say, creamed spinach). Season the salad with salt and pepper, then transfer it to a serving platter. Then, sprinkle with the pine nuts. (Whichever nuts/seeds you choose, make sure they're toasted.)
Healthy Wilted Spinach Salad Recipe
This delicious wilted spinach salad would make the perfect, healthy addition to any holiday table or Sunday brunch spread.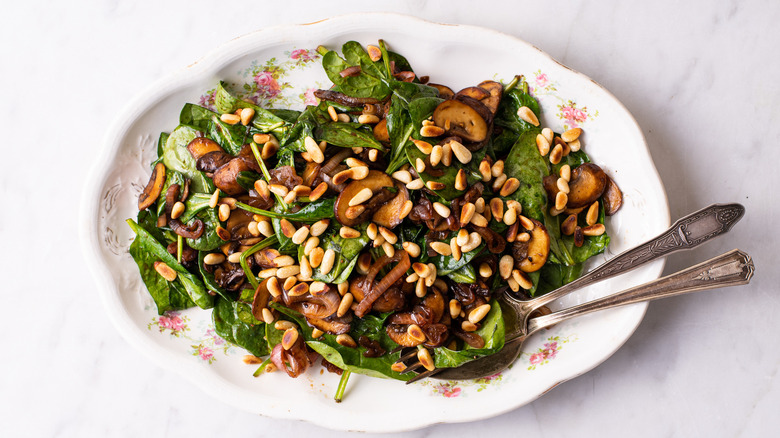 Ingredients
2 tablespoons extra-virgin olive oil
8 ounces cremini mushrooms, sliced
¼ teaspoon fine salt, plus more to taste
freshly ground black pepper, to taste
1 large shallot, thinly sliced
3 tablespoons balsamic vinegar
4 ounces baby spinach (about ¾ of a standard box)
2 tablespoons toasted pine nuts
Directions
Heat the extra-virgin olive oil in a large skillet over medium heat. Add the mushrooms, salt, and pepper, and cook just until they're starting to soften, about 3 minutes.
Add the thinly sliced shallot, and continue cooking until the vegetables are lightly browned, 6 to 8 minutes more.
Stir in the balsamic vinegar, and turn the heat off. Immediately start gradually stirring in the spinach a handful at a time, wilting the spinach a bit before adding more. Season to taste with salt and pepper, if needed.
Transfer to a serving platter, and sprinkle with the pine nuts.
Nutrition
| | |
| --- | --- |
| Calories per Serving | 133 |
| Total Fat | 9.8 g |
| Saturated Fat | 1.2 g |
| Trans Fat | 0.0 g |
| Cholesterol | 0.0 mg |
| | |
| --- | --- |
| Total Carbohydrates | 9.7 g |
| Dietary Fiber | 1.9 g |
| Total Sugars | 4.6 g |
| Sodium | 176.6 mg |
| Protein | 3.4 g |