Why You Should Think Twice About Getting Burger King's Rodeo Burger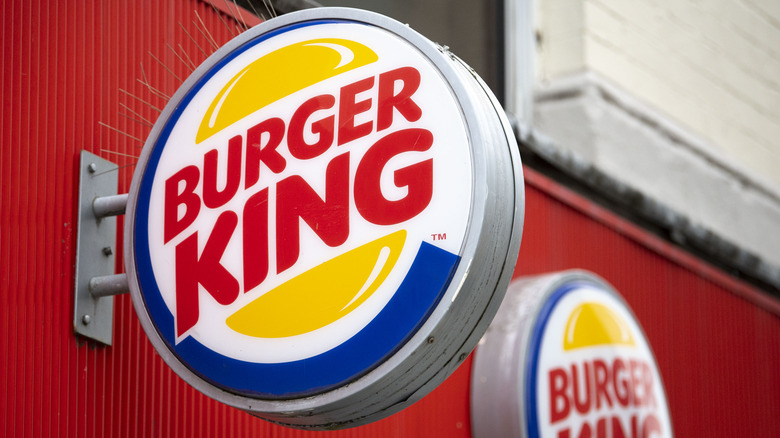 Matthew Horwood/Getty Images
Fast food restaurants are notorious for swapping items in and out. Your favorite burger from the late '90s: Yep, probably locked away in a vault somewhere. Giants like Burger King, Wendy's, and McDonald's are really good at waiting until just the right moment to re-market the nostalgic (and delicious) foods that their customers have been missing. Take, for example, the Burger King Rodeo Burger — for many fans of this flavorful staple, its reintroduction to the BK menu was a long time coming.
The then $.99 burger, topped with barbecue sauce and onion rings, was a hit back in 1998 (partially due to its clever marketing, which featured parody commercials like this one on YouTube mimicking "A Few Good Men.") Who wouldn't step up to see if they, too, could handle the Rodeo Burger?
After quietly disappearing from drive-thru menu boards, Burger King brought back the Rodeo Burger in 2013 for a limited time and again in 2019 (via The Fast Food Post) where it has remained. But despite being highly in demand for so many burger-lovers once again, this rodeo may be better left unattended.
The Rodeo Burger isn't part of a healthy diet
While the cost of the Rodeo Burger hasn't changed that much since its introduction in the '90s (now around $1.19 per BK's website), our knowledge about its nutritional value — or lack thereof — has come a long way. No one looks at a fast food menu nowadays and thinks it's the equivalent of a healthy, balanced, home-cooked meal, but there are always some quick options that don't break the calorie bank. The Rodeo Burger, however, is not one of them.
With bullseye barbeque sauce, battered onion rings, and a signature flame grilled beef patty, the Rodeo Burger clocks in at 328 calories — without cheese. Considering a melty slice of cheese is the best part of every burger, you're looking at 636 calories for the cheeseburger itself. Add on a medium side of fries, and this easy lunch just topped 1,000 calories — that's more than half of your daily recommended intake. There's always the option of subtracting the stacked onion rings, which cuts about 80 calories ... but without the bit of crunch in your burger to balance out the barbecue, is it really Rodeo status worthy?
This Rodeo King upgrade may be a better pick
If you are wanting to try the Rodeo Burger — you should treat yourself now and again, after all — this particular pick may not be worth the splurge when ordering from the Burger King menu.
A reviewer for Burger Voice wrote that although it was a "divine dollar burger experience," the onion rings were far from outstanding, but the sauce compensated for the lack of flavor. A post on the Foodscam Subreddit echoed the same feelings: When it comes to the Rodeo Burger, the barbecue sauce is key. When one Reddit user posted a sad picture of a nearly sauce-less Rodeo Burger, the disappointment was clear. One commenter even wrote, "The sauce isn't the only thing wrong with that burger..."
It might be worth springing for the Rodeo King instead. This upgraded version features all the same fixings, but with double the patties and double the sauces, plus bacon (via Delish). It may be hard to squeeze this 1,250 calorie salt bomb (per Chew Boom) into the average diet, but in terms of flavor, you may be better off going big with the Rodeo King for the occasional treat — or just go home.