Why Some People Think Starbucks' Lattes Are Tricking You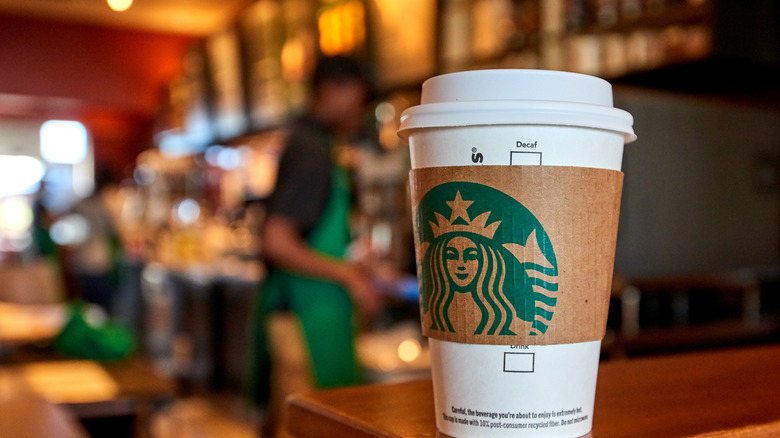 Shutterstock
There's nothing quite like starting your morning by taking that first satisfying sip of a hot, creamy latte. However, if you went to take a drink, and realized that there was nothing in that first sip but foam, you'd probably be pretty disappointed. At least, that's how some Starbucks customers felt back in 2016, when they sued the popular coffee chain for depriving them of several ounces of precious coffee.
Although Starbucks is famous for its specialty coffees, lattes, and other foamed drinks, some customers began to feel that they were getting the short end of the stick when it came to these milky, frothy beverages. Although Starbucks markets its drink sizes as containing exactly 12, 16, or 20 ounces for tall, grande, and venti lattes, some customers believed they were actually getting up to 25 percent less than the advertised amount of liquid, per The Guardian. Rather than filing the beverage to the top, they stated the coffee shop was overfilling the drinks with foam to save costs on milk.
Two very unsatisfied customers, Siera Strumlauf of San Francisco and Benjamin Robles of Carlsbad, brought a lawsuit against the company, claiming that "by underfilling its lattes, thereby shortchanging its customers, Starbucks has saved countless millions of dollars in the cost of goods sold and was unjustly enriched by taking payment for more product than it delivers," according to The Guardian.
A judge ruled that foam counted towards a latte's advertised size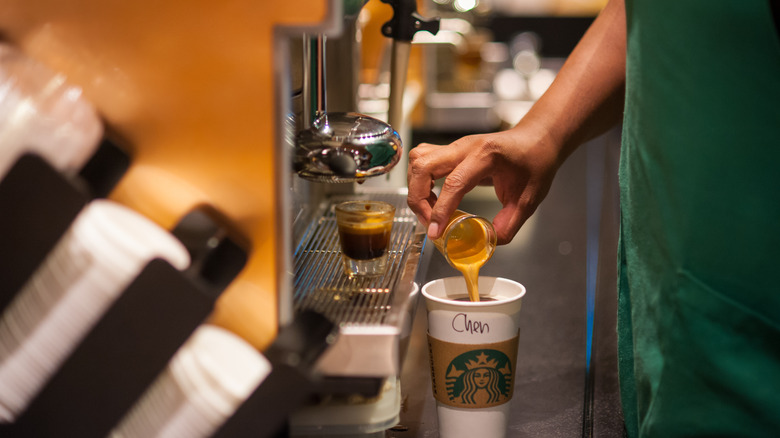 Shutterstock
A San Francisco judge ruled in 2016 that the plaintiffs could go forward with their class-action lawsuit, writing: "The court finds it probable that a significant portion of the latte-consuming public could believe that a 'Grande' contains 16 ounces of fluid," (via The Guardian). However, in 2018, the lawsuit was dismissed when a U.S. District Judge ruled that foam is an essential part of a latte, so including the foam as part of the drink size was not shortchanging the customers. 
Starbucks claimed its baristas, when preparing the drinks, are directed to pour the cold milk up to specified "fill-to" lines, which expands to the correct advertised amount once the milk is steamed. The judge ultimately agreed, declaring that the "plaintiffs fail to show that lattes contain less than the promised beverage volume represented on Starbucks' menu boards," Reuters reported.
So if you like your lattes frothy, you'll likely have no problem with your regular Starbucks order. However, it's good to keep in mind that the next time you order a foamed drink at Starbucks, you might not necessarily be getting the full amount of liquid you think you're paying for.