Costco Shoppers Are Divided On Its Pre-Mixed Strawberry Margaritas
Nothing makes spring feel right like sipping on an icy strawberry margarita, while enjoying the warm weather. While this drink makes any occasion feel perfect, mixing one of these adult beverages up takes time. According to The Spruce Eats, this cocktail ranks as one of the most popular mixed drinks around thanks to the bright and tangy taste of fresh strawberries. While frozen berries can work in a pinch, getting the ingredients together doesn't always prove possible. Thanks to Costco, you can now grab a pre-mixed strawberry margarita anytime a craving strikes, but not everyone has warmed up to this hit drink.
Instagram user @costcobuys spotted the unique Kirkland pre-mixed strawberry margarita and posted a picture of the find alongside the caption, "I found my new summer drink! Costco's strawberry margarita is amazing! It's made with agave wine, so it's technically a margarita wine cocktail...but I'm not complaining! It has 12.7% ABV and is a whopping 1.5L...the size of TWO wine bottles! Best of all, it's only $10.69!" While this tempting drink can easily attract attention, the product has split Costco fans.
A pre-mixed drink with mixed reviews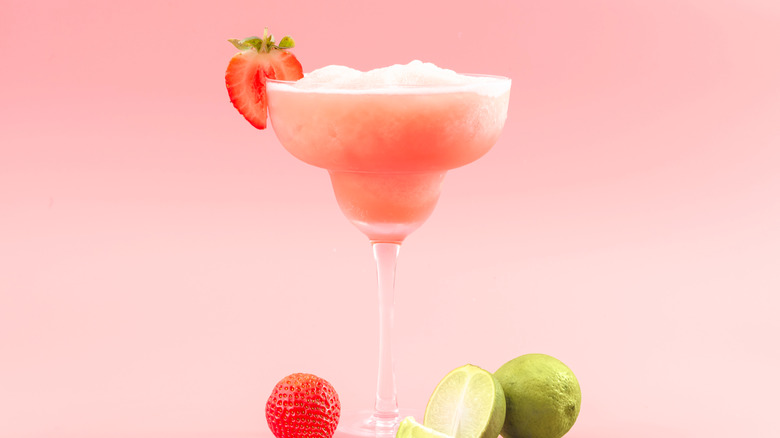 Shutterstock
While the post has since garnered over 6,000 likes, some shoppers can't make up their mind about the product. Multiple followers love the new beverage, writing, "Sounds like a good summer buy to me!" and "Throw it in the blender with frozen strawberries! Theeee best!" While some shoppers immediately associate the drink with good times, other fans don't feel as strongly about the strawberry margarita. A few shoppers wanted to love it, saying, "I wanted to like it so much. I will stick the lemon one." While others just didn't like it, stating, "It's not that good."
If you love a solid strawberry margarita and want to test out this new pre-mixed adult beverage perfect for making memories, grab a bottle on your next Costco run. With so many potential good times ahead, try out the flavor explosion locked away inside every bottle of this new beverage if you crave an easy way to enjoy this popular drink. With a bit of luck, you might just find your new favorite way to down strawberry margaritas.