The Name Only Carl Ruiz Could Get Away With Calling Alex Guarnaschelli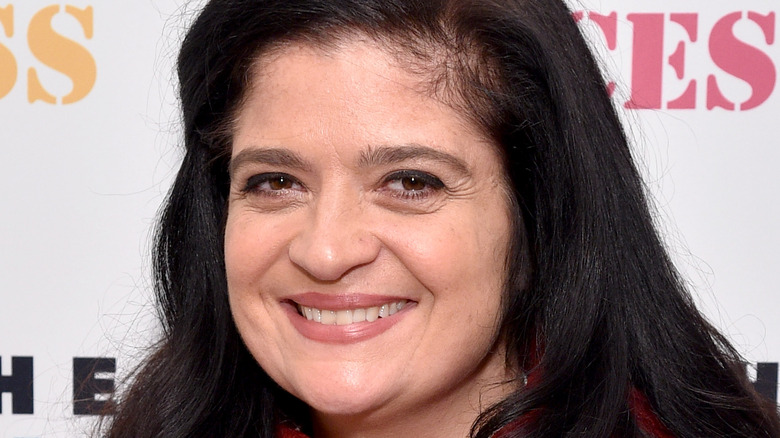 Bryan Bedder/Getty Images
Celebrity chef Carl Ruiz was a much-loved man who inspired many of his peers in the industry as well as his fans. As per Today, the chef was known for his numerous television appearances on shows such as "Guy's Grocery Games" and "Guy's Ranch Kitchen." He also had his very own YouTube series called "Omg Carl's Food Show" and was also the founder of the New York-based eatery, La Cuba.
Ruiz passed away in September 2019 when he was only 44 years old on account of a heart ailment. Chef Guy Fieri remembered his friend and tweeted, "I'm heartbroken that my friend chef Carl Ruiz is gone. I have no words to describe what a great friend he was to me and my family." Fieri added that the chef possessed a great sense of humor. 
Another chef who absolutely adored Ruiz was his friend, Alex Guarnaschelli, who has spoken about her friend on several occasions after his death.
Ruiz and Guarnaschelli were close friends
When Ruiz died in 2019 due to heart disease, Guarnaschelli took to Twitter to express her emotions. She wrote that her good friend pulled off many skills with panache, calling him "fatherly, comforting, wise, reckless, brilliant, wickedly funny [and] unique. ... My life will be lonelier without him. Love you Carl. I'll make sure no one puts pineapple on pizza best I can without you here." 
On a different occasion, Guarnaschelli remembered Ruiz again and spoke about their friendship; she wrote on Instagram that she felt that everyone must remember her legendary friend, who may not be around anymore, but is still missed and cherished. Also, only Ruiz could get away with calling Guarnaschelli  "lethal." She revealed this on Instagram on the chef's birthday, saying Ruiz was paying her a compliment whenever he called her "lethal" in a way no one else could. Aww.