How Rich Is The Culver's CEO And What's The Average Pay Of Its Employees?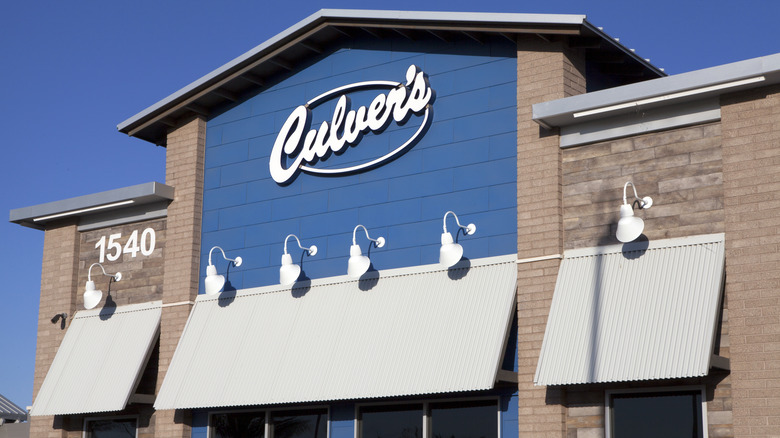 Shutterstock
If you've had the chance to eat at Culver's, you know there's no shortage of good food on the menu including tempting Butterburgers and frozen custard. The popular restaurant chain — which the official website notes as first opening in 1984 in Wisconsin — makes it their point to both celebrate and put their customers first, and each location strives to treat everyone that walks through their doors just like family. But, while customers leave feeling satisfied from all the good food and appreciation, do workers feel the same each time they walk in and out of those same doors? And more importantly, is that recognition reflected in their paychecks?
According to Indeed, both crew members and cashiers working for Culver's make around $10/hour while team members make slightly more with their average hourly rate coming in at $10.63. Kitchen team members, on the other hand, bring in around $11.01 per hour. Those that have the role as restaurant staff and assistant manager have an average hourly payout that falls within the range of $13. General managers, however, are the ones that make the most out of those on the team with a yearly salary of $49,005 or — when broken down hourly — about $25.52 per hour. But how does that compare to what Culver's CEO Rick Silva makes per year?
Rick Silva's net worth is pretty significant
Silva first assumed the role of Culver's CEO in early 2021, taking over the position from longtime executive Joe Koss who retired in 2020, according to Nation's Restaurant News in a February article. Because he's so new in the position, it's difficult to determine what Silva is officially making on the payroll. According to Comparably, however, the highest paid executive working within the Culver's brand brings in $518,000 per year and, since Silva is the CEO, it can be assumed that he is the one earning that amount. 
But with an extensive background in the food industry — including 13 years working as president and CEO of Checkers & Rally's Restaurants Inc. and on the executive level with Burger King (via Nation's Restaurant News) — one can assume that his annual pay is a bit higher than that. And, when you factor in investments, savings, and any other consulting that he does, it's easy to assume that Silva's net worth is comfortably in the millions.